How to Stop ZipRecruiter Mailing List: 3 Methods
When you're on the hunt for a new job, seeing a bunch of ZipRecruiter emails in your inbox can be a blessing. But if you ever want to take a break, it's good to know how to use the ZipRecruiter unsubscribe feature. Here are three ways you can stop ZipRecruiter emails for good.
1. How to stop receiving emails from ZipRecruiter on mobile
Using your smartphone or mobile device, you can stop ZipRecruiter emails in just a few steps.
Log into your ZipRecruiter account via mobile.
Click the menu in the upper right corner.
Choose Notifications.
Uncheck the types of messages you no longer want to receive.
Save changes.
2. How to stop getting emails from ZipRecruiter in a browser
Similar to unsubscribing from ZipRecruiter emails via mobile, you can follow this same process in your computer's web browser. Here's how:
Open a new browser and go to ziprecruiter.com.
Log into your account.
Click the three dots in the upper right corner.
Select Notifications.
Uncheck all types of messages you no longer want.
Save changes.
3. How to unsubscribe from ZipRecruiter emails in your mail provider
If you have a ZipRecruiter in your inbox, you can click that message and unsubscribe directly. Here's how:
Open the ZipRecruiter message.
Scroll to the footer to find the Unsubscribe link (read more about how the Gmail unsubscribe button works).
Follow the prompts to unsubscribe.
Alternatively, you can choose to send the message to your junk folder or mark it as spam.
This method also works for just about any type of email, including Facebook, Instagram, Reddit, Quora, and many others.
How to Stop Getting Emails from ZipRecruiter with Clean Email
Clean Email offers a faster way to clean up your inbox and get rid of ZipRecruiter emails. With our Unsubscriber feature, the app automatically unsubscribes you from unwanted newsletters in seconds.
Choose which messages you want in your inbox, and the app will take care of the rest. You can choose to filter certain messages to different folders, such as a Read Later folder so you can clean your inbox without losing potentially important messages. Review all new email subscriptions and approve only the ones you really want. Unsubscribe, pause, read later, or keep newest are just a few of the things you can do with Clean Email and save you hours of time and hassle every week.
The app supports all mail providers, including Gmail, Outlook, Yahoo!, iCloud, etc. You can also use Clean Email across multiple mailboxes, perfect for organizing your school, work, and personal inboxes. It gives you a faster way to manage your inbox compared to doing it manually, plus you never have to worry about missing an important message!
How to Stop ZipRecruiter Emails Using Clean Email
The app works wonders for ZipRecruiter emails. Here's how to unsubscribe in just a few clicks.
Log into the app and connect your inbox.
Select the Unsubscriber feature.
Click Unsubscribe next to the ZipRecruiter email subscription. You're done!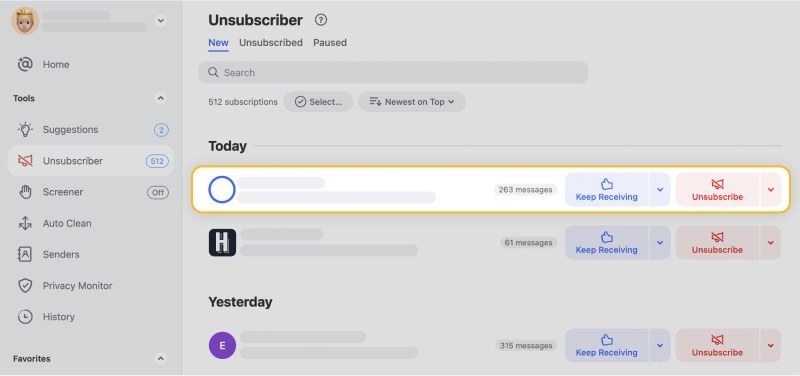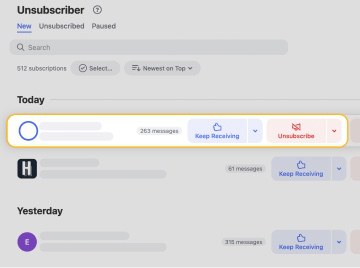 Bonus: the app also works to unsubscribe from New York Times emails, Uber, Quora, stop Apple News emails, and many more!
How to Block Emails from a Specific Domain in Clean Email
In some cases, unsubscribing from ZipRecruiter emails the "old fashioned way" doesn't work. That's because there may be multiple email addresses sending messages from the same domain. In this case, it's best to block the entire domain and stop ZipRecruiter emails forever.
Launch the app and sign into your mail account.
Open the Inbox or All Mail smart view.
Type @ziprecruiter in the search bar.
Click "Select All" and then choose "Block."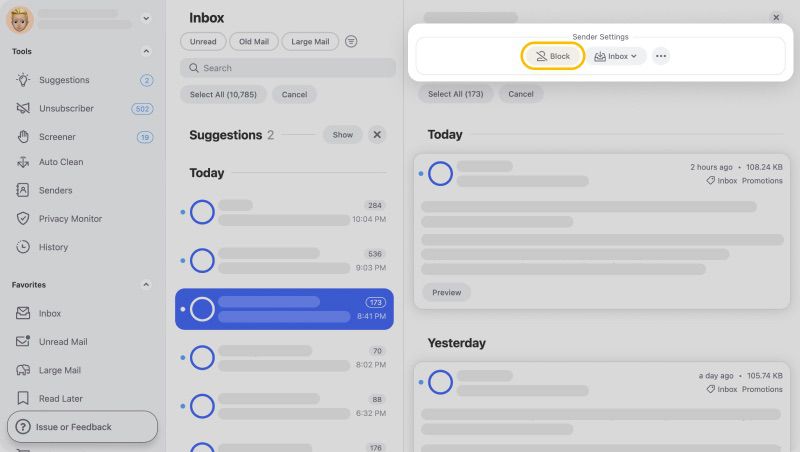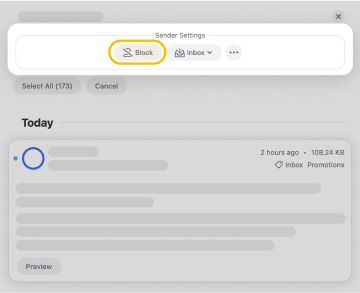 Move ZipRecruiter Emails to a Dedicated "Read Later" Folder
If you want to keep your messages but don't want to read them immediately, you can send them to a dedicated "Read Later" folder.
Launch the app and sign in with your mail account.
Select any ZipRecruiter message.
Choose the Read Later option (on the sender row). Messages will be automatically moved into their own folder.