How To Unsubscribe from Express Emails: 2 Methods
Tired of marketing newsletters from American Express? There are several ways you can change your email preferences and stop getting unwanted American Express emails. Try these simple methods in as little as a few minutes!
1. Stop receiving American Express emails in a browser
If you do not have the American Express app or prefer another method, you can use your regular email browser on a desktop or laptop computer. Here's how to do it:
Go to Americanexpress.com and log into your account.
On the home screen, click Menu.
Select Account Management from the navigation bar.
From the left column, select Alerts, Communications & Privacy.
Choose your email preferences and click Confirm.
2. Unsubscribe from American Express emails in your email provider
If you have a message from American Express sitting in your inbox right now, you can update your email preferences by using the link in the message.
Open an American Express email.
Locate the Unsubscribe button in the message (usually in the footer text).
Follow the prompts to opt out from their newsletters.
How to Stop Receiving American Express Emails Using Clean Email
There's a faster, better option to opt out of American Express emails (and other newsletters!) in bulk — the Clean Email app.
This app is a user-friendly tool that connects to your inbox and automates your email management. Our crowning jewel is the Unsubscriber feature, which allows you to unsubscribe from Wish, Reddit, LinkedIn, Zillow, Instagram, and tons of other emails with just a click.
Get more control over how your emails are displayed in the inbox. Pause messages for a period, keep only the newest message from a sender, block entire domains, or move emails to a Read Later folder for your convenience.
The app works across all major email providers, including Apple, Gmail, Yahoo!, Outlook, and more. It also works on iOS, Mac, Android, and on web, and even supports multiple accounts — perfect if you have work, school, and personal email addresses.
Unsubscribing with Clean Email is easier and faster than doing it manually. Instead of following the unsubscribe process for every unwanted newsletter you receive, you can manage all your subscriptions right from your inbox. It's a better inbox experience that puts you back in control!
Unsubscribe From American Express Emails In Clean Email
Want to see just how easy it is to get rid of American Express emails in Clean Email? Here's all it takes:
Log into the app and connect your inbox.
Select the Unsubscriber feature from the left sidebar.
Use the Search bar to find the Amex subscription.
Click Unsubscribe next to it and you're done!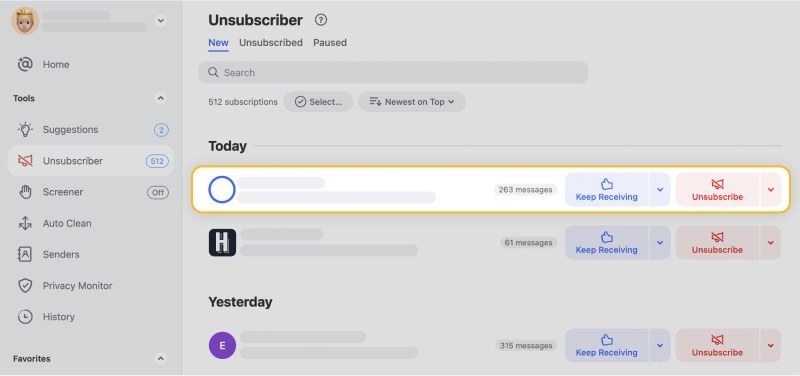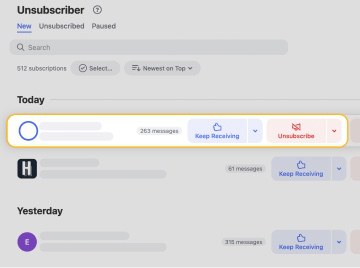 Bonus: the app also works to unsubscribe from DoorDash emails, Uber, Quora, stop Robinhood emails, and many more!
How To Block American Express Emails In Clean Email
Another option to get rid of American Express emails is to block the entire domain. This can be useful when a company sends messages from multiple mail addresses. Also, the unsubscribing process can take several days, so even after you opt out you may still receive Amex messages.
Here's how you can block an entire domain:
Launch the app and sign into your mail account.
Open the Inbox or All Mail smart view.
Type @americanexpress in the search bar.
Click Select All and then choose Block.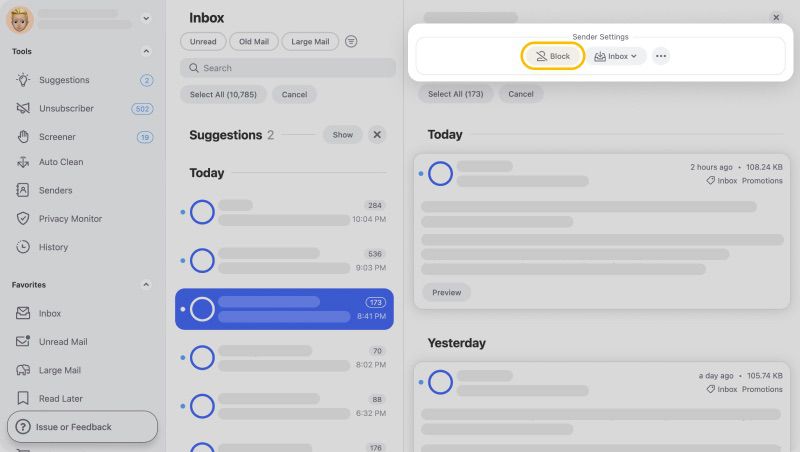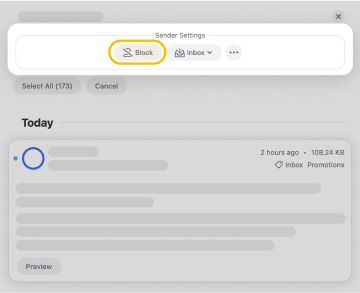 Move American Express Email Notifications to a Dedicated "Read Later" Folder
For even more flexibility, Clean Email offers a dedicated Read Later folder. Send messages here when you don't want to delete them, but you also don't want them clogging your main inbox. You can set up this rule one time and all future messages will be sent to this folder.
Launch the app and sign in with your mail account.
Select any American Express message.
Choose the Read Later option (on the sender row). Messages will be automatically moved into the Read Later folder.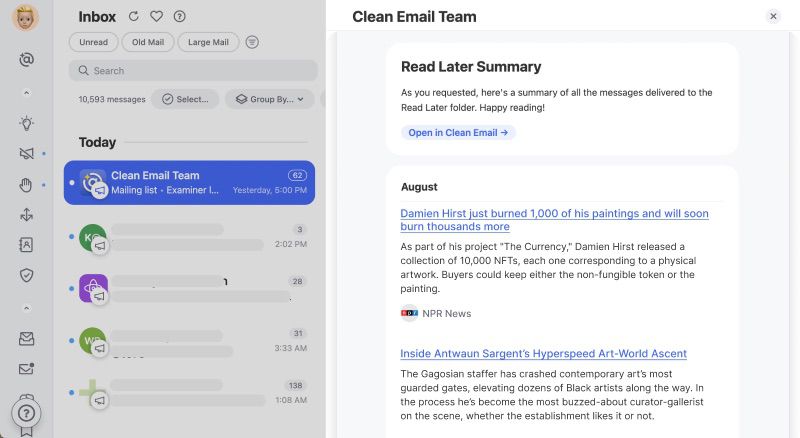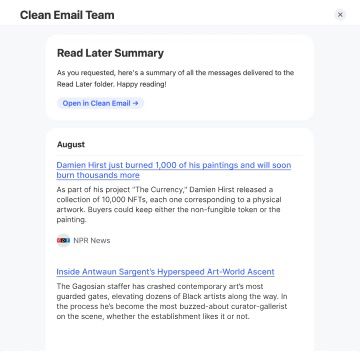 Set an Automatic Rule To Stop American Express Emails
The app offers a number of automation features to make inbox management easier. For example, the Auto Clean feature allows you to filter incoming messages based on specific rules sets. If you don't want to delete American Express email notifications, you can set up a rule to mark those emails unread, archive them, or move to a specific folder.
Wondering how to unsubscribe from emails on iPhone, stop Offerup emails, or how to stop getting emails from Wallgreens? Our blog will help you learn how to opt out from unwanted newsletters cluttering your inbox.