3 Methods to Unsubscribe from eBay Emails
Whether you're looking to reduce the influx of eBay promotional messages or wish to halt their product recommendations, the following methods should serve you well:
How to stop getting emails from eBay using Clean Email
Clean Email is an impressive email management tool that can help you streamline the handling of eBay communications. To effectively manage your eBay notifications, follow these step-by-step instructions:
Visit https://app.clean.email/ and sign in with your mail account.
Locate the Unsubscriber tab on the left pane of the home screen.
Enter ebay.com (without quotes) in the search box to isolate eBay messages.
For each eBay address you wish to cease receiving messages from, click Unsubscribe.

⚠️ Warning: Avoid unsubscribing from all eBay messages hastily. It's wise to keep crucial communications such as bid confirmation emails, shipping and delivery updates, or account-related notices. Explore the different types of eBay emails to get ideas on how to manage them efficiently.
How to stop eBay emails through your web browser
If you're looking to put an end to the influx of eBay emails through your web browser, follow these simple steps to unsubscribe:
Launch your web browser and head to ebay.com. Log in and click on the My eBay drop-down menu.
Select the Account tab and select Communication Preferences.
Scroll down to Marketing Communications and click on the Edit button.
From there, you have the option to either unsubscribe from all marketing emails or selectively choose the types of messages you prefer to receive. Click the Save button to confirm.
Additionally, within the Communication Preferences, you have the flexibility to modify your buying notification preferences, feedback notification preferences, and more as per your preference.
You can also unsubscribe from eBay emails directly through your email service provider. Here are the steps to turn off eBay email notifications without leaving your inbox:
Open your email on the web.
Search for an eBay message you no longer wish to receive and open it.
Every legitimate message must include an unsubscribe link, as mandated by the CAN-SPAM Act. This link may be concealed at the bottom of the message or written in a smaller font.

Locate this link, click on it, and follow any additional instructions to unsubscribe.
💡 Note: Keep in mind, this method may not be the most efficient, as you may still receive emails from different eBay addresses. This could make the process of unsubscribing rather time-consuming.
How to unsubscribe from eBay emails in the mobile app
If you are using the eBay mobile app, follow these steps to stop eBay emails:
Open the application on your mobile device.
Tap the My eBay button in the lower corner.
Select Settings and сlick on Emails.
From here, you can disable Buyer promotions, Buying activities, and Seller promotions and tips. You can uncheck as many options as you need to stop receiving specific messages.
Finding Alternatives to Unsubscribing: Consider Clean Email
While the aforementioned methods can help reduce the influx of eBay emails, it's important to note that you may not necessarily want to unsubscribe from all of them. In such cases, Clean Email offers a comprehensive solution with its diverse range of features. It provides an efficient way to manage eBay emails without completely halting them. Compatible with popular mail services like Gmail, Outlook, Yahoo, iCloud, AOL, and other IMAP-based email platforms, Clean Email serves as a complete solution for your email management needs.
Effortlessly control your eBay emails with Clean Email
Having thoroughly examined typical eBay email notifications, we've tailored solutions to proficiently handle them through Clean Email's features:
Use Auto Clean rules to

:

Archive: Implement this rule to automatically store some of your eBay buying activity emails, Bid/Buy confirmation emails, policy updates, and customer service interactions after a certain period. This helps in maintaining a clean inbox while saving vital information.
Star: Use this rule to emphasize billing issues or account-related alerts, ensuring crucial information doesn't vanish in an overflowing inbox.
Keep Newest: This rule retains only the latest email from a specific sender. It's handy for managing recurring messages like action alerts and your watched or outbid items.
Trash: This rule can automatically delete surveys and research emails a week after they've arrived in your inbox.
Move to Read Later

: This feature is perfect for postponing the reading of news, special events, discount coupons, and other special offers. The benefit of this feature is that these emails won't clog up your Inbox folder.

Block Sender's Domain

: In severe cases where you no longer want any communication with eBay but still receive their emails, you can permanently block all their addresses. This is a drastic yet effective solution.
Set automatic rules to filter certain eBay emails
Leverage the Auto Clean feature to effectively sort and manage your eBay emails. Filter out specific types of emails, such as Bid/Buy order confirmations, that you prefer not to delete or unsubscribe from. Through automated rules, you can configure the system to automatically move important messages to the Archive folder after they have been in your inbox for more than three months.
Here's how:
Go to https://app.clean.email/ and log in with your mail account.
On the left panel, click on the Auto Clean tab and select the Plus sign to add a new rule.

Choose Any sender or recipients and then select Sender (name and email). Type ebay (without quotation marks) in the search bar.
From the search results, click on the eBay email address that sends you Bid/Buy order confirmations. If you receive various types of messages from that email address, you can add a keyword like order in the Subject, sender, or recipients contain… line to ensure only order confirmations are included in the rule.
Select the Old Mail filter and set it to Older than 3 months.
Under the Apply Action section, click on Choose action… and select Archive.

If you want to apply this rule to all existing emails, toggle on the Apply to existing messages option.
Finally, click on Create Rule to save the rule settings.
💡 Note: In case you mistakenly apply the rule to the wrong messages, you have the option to undo your action within the app. Simply ensure that the Quick Cancel toggle, found in the account Preferences, is enabled. This allows you to swiftly reverse any unintended actions taken with the applied rule.
Clean Email not only helps you manage overwhelming eBay emails but also provides solutions to stop getting emails from LinkedIn, unsubscribe from Pinterest emails, block unwanted emails from Quora, and more.
Move eBay email notifications to the Read Later folder
To review your eBay discount coupons and special offers later without notifications cluttering your inbox, utilize the Read Later feature with the following steps:
Go to https://app.clean.email/ and log in with your mail account.
Navigate to the All Mail folder and enter @ebay (without quotation marks) in the search bar.
Select the empty checkbox next to the email address used by eBay to send you news and special offers.
Click on the Create Rule button situated in the blue action bar at the bottom.
Within the pop-up window, opt to Move to Read Later under the Apply action section.
Turn on the Apply to existing messages toggle if you want to apply this action to all existing emails. Click Create Rule and the rule is set.
If you wish to apply this action to all existing emails, enable the Apply to existing messages toggle. Then, click on Create Rule to set the rule.
💡 Note: Clean Email offers the option to send you regular summaries of the messages in your Read Later folder, ensuring you stay informed even when not actively checking the folder.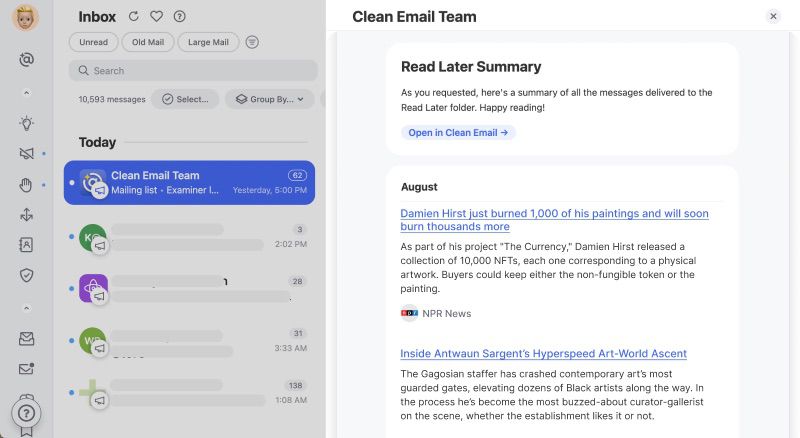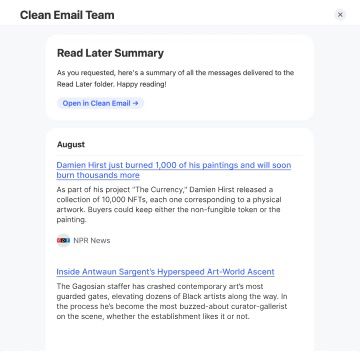 How to block eBay messages permanently
If you ever find the need to completely stop receiving ALL eBay emails, Clean Email offers a quick and simple solution. Here's how to stop eBay emails by blocking the entire domain:
Visit https://app.clean.email/ and log in to your mail account.
Select Auto Clean from the left panel, click the Plus sign, and give the new rule a name.
Click on Any sender or recipients.

Choose Sender Domain from the drop-down list and enter ebay.com (without quotation marks) in the search bar. You need to manually select the domain found to ensure that only those messages are affected.
Determine the action you wish to take, such as moving those emails to the Trash folder.
Click Create Rule to confirm. Once the rule is set, you will no longer receive any of those emails in your inbox.
Certainly, the app provides a convenient way to block Target emails, stop Amazon notifications, and manage unwanted emails from platforms like Facebook, Medium, Instagram, and more. Take control of your inbox, stay organized, and boost your productivity with Clean Email.