3 Methods to Unsubscribe from eBay Emails
If you want eBay emails to be gone forever, just follow our tips below.
1. How to unsubscribe from eBay emails in the mobile app
If you are using the mobile eBay app, follow these steps to stop eBay emails:
Open the application.
Click the "My eBay" button in the lower corner.
Click on "Settings".
Click on "Notifications".
From here you can choose "Seller" or "General" notifications. You can uncheck as many tabs as you need to stop receiving certain messages.
2. How to stop eBay emails in desktop browser
If you are on a desktop or laptop, this might be an easier way to unsubscribe:
Open up a web browser.
Navigate to www.ebay.com.
Click on "My eBay".
Click on "Account".
Click on "Manage subscriptions".
Turn off any subscriptions that you no longer wish to receive.
3. How to unsubscribe from eBay newsletters in your email service provider
No matter which service provider or email client you are using, the following steps will work for any of them:
Open a web browser or your preferred email application.
Open a message from one of the subscriptions or sellers.
Click on "Reply".
Type "unsubscribe" in the message box.
Hit "send".
How to stop eBay from sending emails using Clean Email
Although there are many ways to manually stop certain eBay notifications, some of these methods don't work permanently. You may still end up on new subscription lists, or certain settings may revert back to their original position.
Use Clean Email to prevent eBay from sending you notifications. Clean Email is a bulk email cleaner that supports managing and organizing emails across a wide range of providers, including Gmail, Yahoo, AOL, Outlook, ProtonMail, iCloud, Zoho Mail, and many others.
Whether you need to delete or organize your work, school, or personal emails, this app makes the task simple. You won't need to manually go into different accounts or applications to stop eBay notifications. If you run through this process just one time, you'll be set for good!
How to unsubscribe from eBay emails in Clean Email
Instead of using multiple apps or websites, the app can do most of the work for you! Follow these steps to stop eBay emails from cluttering your inbox.
Navigate to https://app.clean.email/.
Sign into your account.
Click the "Unsubscriber" button.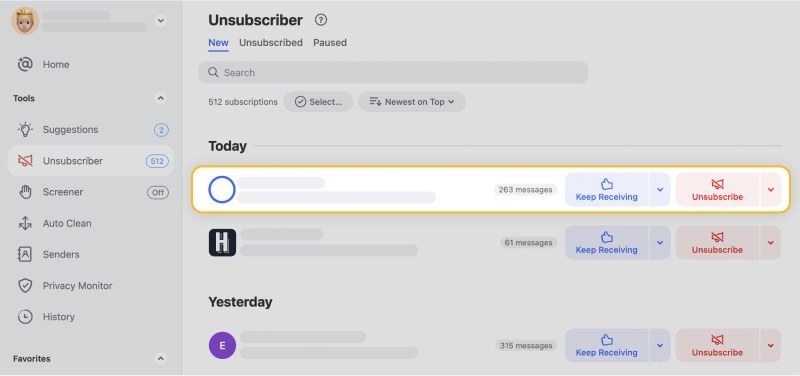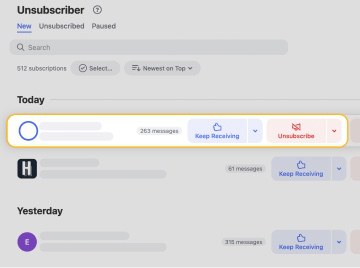 Choose the subscriptions that you would like to unsubscribe from.
Click "Unsubscribe" and you are done! Notifications from eBay will never hit your inbox again.
How to block messages from a specific domain in Clean Email
If you still get messages from eBay after you've unsubscribed from its newsletters, you can block all emails from eBay in general in a few easy steps.
Open the app or log into your account browser.
Click on Inbox or All Mail smart view.
In the search box, type "@ebay.com" without quotation marks.
Click on the "Select All" button.
Click "Block".
All messages from eBay will now be blocked.
How to move eBay emails to a dedicated "Read Later" folder
If you don't want to eliminate your eBay messages altogether, you can move them to a folder to read them later. This way, you won't get notifications but will still be able to read them at a later point in time.
Open the Clean Email mobile app or its web version.
Sign into your account, if needed.
Click on "Unsubscriber" button.
Search for "@ebay" in the search field.
Click on the "Read Later" tab on top.
New messages will now be sent to your "Read Later" folder.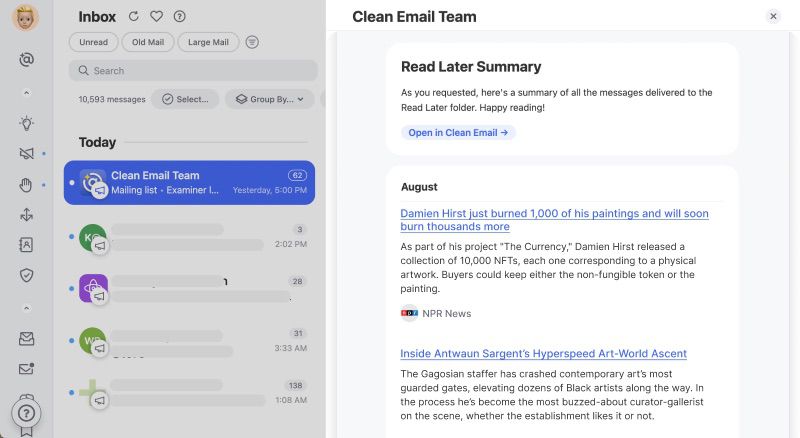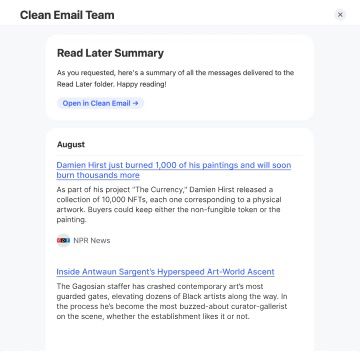 Set an automatic rule to filter messages from eBay
The app's Auto Clean feature lets you filter emails from a particular domain using your desired action. You can apply actions such as mark them as read or send them straight to trash. It is up to you.
Open the app or log into your account browser.
Click on the "Auto Clean" tab.
Check the "Selected and future similar emails" option.
Click on the rule that you want to apply to eBay emails.