Differentiating Unsubscribe and Block Options
When faced with unwanted emails in your Gmail inbox, you may wonder whether to unsubscribe or block the sender.
Unsubscribing: This notifies the sender you no longer wish to receive specific types of emails, like newsletters. Clicking the "unsubscribe" link generally leads to removal from their list. However, it doesn't stop all messages, isn't always respected by senders, and not all emails have this option.
Blocking: This tells Gmail to automatically move emails from a specific sender to your Spam folder, effectively hiding them from your inbox. The sender doesn't know they've been blocked. This stops all types of emails from the sender and is completely under your control.
To make an informed choice, you need to grasp the key differences between these two options:
Blocking is entirely in your control and doesn't rely on the sender respecting your wishes, while unsubscribing requires the sender to take action.
Unsubscribing typically only stops a certain type of message, while blocking stops all messages from a sender.
Blocked senders are not informed that they have been blocked, while unsubscribing usually involves informing the sender.
Blocked messages go to your Spam folder and may still be read if you choose, while unsubscribed messages should stop coming entirely (though this doesn't always happen).
With these distinctions in mind, you can make a judicious decision on whether to unsubscribe or block a sender, thereby effectively managing unwanted emails in your Gmail inbox.
Option 1: I'd like to unsubscribe from emails on Gmail
Check out this video to learn how to unsubscribe from emails on Gmail in bulk.
Option 2: I'd like to block emails on Gmail
Check out this video to learn how to block someone on Gmail.
How to Unsubscribe from Emails on Gmail: 3 Methods
Learning how to unsubscribe Gmail subscriptions is easy because the popular email service automatically recognizes subscription emails. This guide will outline three methods to help you opt out from unwanted emails in Gmail, keeping your inbox clutter-free and relevant.
Method 1: Using a Gmail unsubscribe button
Open your mail account.
In your inbox, click on the email from the sender you wish to opt out from.
Near the top of the email (next to the sender's name), look for an "Unsubscribe" button. If you see this, click on it.

A dialog box may appear confirming your decision. If so, click Unsubscribe to confirm.
💡 Note: Gmail typically displays an "Unsubscribe" button near the sender's address in the email header, but it's not always present. Its availability largely depends on whether the sender has followed certain email protocols, such as adding a List-Unsubscribe header.
Unsubscribing from Gmail subscriptions is indeed straightforward. However, this approach presents two challenges:
The Gmail unsubscribe link isn't consistently accessible.
This method doesn't support unsubscribing from multiple Gmail subscriptions at once.
Thankfully, the next method addresses both of these issues.
Method 2: Using a Gmail unsubscribe tool
Using Gmail unsubscribe tools like Clean Email provides a simplified and efficient way to manage your inbox. They allow you to mass unsubscribe Gmail subscriptions, automate unsubscribe requests, and even stop emails without unsubscribe link.
Here is how to unsubscribe in Gmail using Clean Email:
Visit: https://app.clean.email/ and log in using your email account.
From the left panel, select the Unsubscriber tool.
Choose the subscription you no longer wish to receive, then click the Unsubscribe button on the blue action bar at the bottom.
💡 Note: Alternatively, you have options to pause subscriptions, redirect them to a Read Later folder, or select Keep Newest to retain only the most recent message from the sender while deleting previous ones, and more.
⚠️ Warning: Be cautious when using free email unsubscribe apps, as many of them collect data about your purchasing habits and other personal information for marketing research. Opting for privacy-conscious subscription services, like Clean Email, can better protect your data.
Method 3: Clicking the unsubscribe link in the email content
The CAN-SPAM Act of 2003 mandates all commercial email senders to incorporate a functioning opt-out link in each subscription message.
This regulation, among others, ensures that most subscription emails nowadays include an unsubscribe link or button typically located at the bottom. To opt out, simply click the link and adhere to the instructions on the sender's website.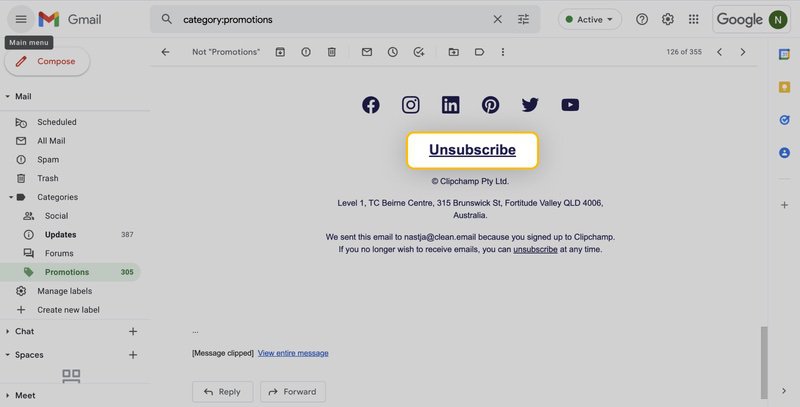 However, some senders intentionally complicate the process, necessitating a prior login and reason for unsubscribing before permitting access to the Gmail unsubscribe button.
💡 Note: If you're confident that you've received a message from a spammer, it's preferable to click "Report Spam" or "Report Phishing." Doing so aids Gmail in combating spammers more effectively.
How to Block Emails on Gmail
In Gmail, "blocking" a sender instructs the system to automatically redirect their future emails to your Spam folder. However, this must be done individually for each sender. Conversely, Clean Email, an excellent Gmail unsubscribe tool, provides an intuitive email grouping feature, allowing you to block individual senders, multiple senders, or even entire domains based on your preferences.
Here's how you can use Clean Email to block an entire domain:
Launch the app and select Auto Clean from the left-hand menu. Then, click the ✚ (plus) icon at the top.

Give your new rule a name and select Any sender or recipients.
Navigate to the dropdown list of available options and choose Sender Domain. In the search box below, enter the domain you want to block and select it from the suggestions.

Select the desired action to apply to emails from this domain (or domains), such as moving them to the Trash folder. Lastly, click Create Rule once again.
⚠️ Warning: Ensure you click on a search result when typing the sender domain. Manually entering the domain might affect all inbox messages.
To block a specific sender within the app, follow these steps:
Open the Senders tab from the left-side menu and select the sender you wish to prevent from emailing you.
Click on the Settings section (if it's not already chosen by default) and select the Block action.

Then click Confirm to finalize the process.
Explore More with Clean Email
Clean Email, while being a powerful Gmail unsubscribe tool, goes beyond the basics to offer comprehensive email management capabilities.
The app brings an advanced approach to inbox organization with its Smart Folders feature. These are intuitive pre-set filters that sort your emails into common categories like Seasonal Sales, Travel, Social Notifications, and more, providing an efficient and organized view of your mailbox.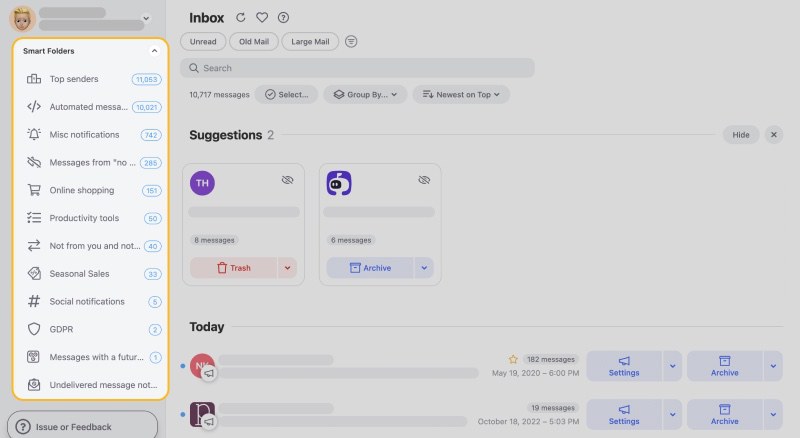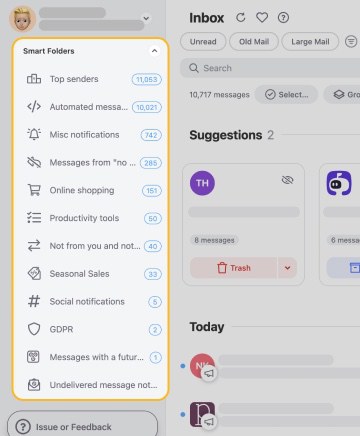 The Auto Clean feature is another powerful tool at your disposal. It enables you to establish rules that automatically apply actions to certain emails as soon as they land in your inbox. This feature alone can prevent your inbox from becoming overwhelmed with unread emails.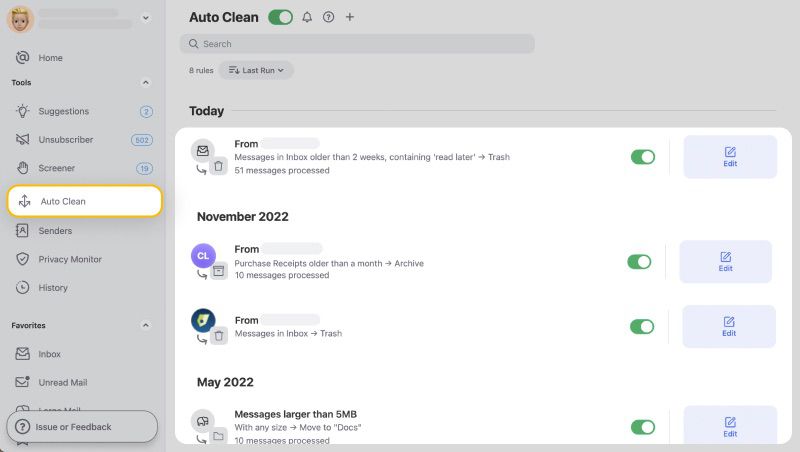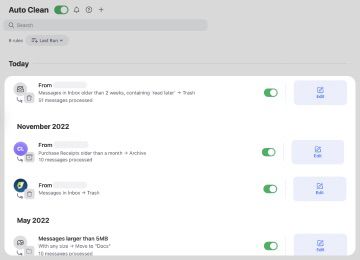 In contrast to other similar unsubscribing solutions, Clean Email firmly respects your privacy. It doesn't keep, sell, or analyze your data beyond the scope of its public features.
In summary, effectively managing your Gmail subscriptions and maintaining a clutter-free inbox is achievable with the right tools. By leveraging solutions like Clean Email, with its advanced features such as Unsubscriber, Smart Folders, and Auto Clean, you gain control over your inbox, ensuring a more productive and efficient email experience. Remember, a well-managed inbox contributes to an organized digital life and ultimately, enhanced productivity.
---
FAQs - How to Unsubscribe from Emails on Gmail
How do I unsubscribe from unwanted emails?
There are multiple methods to unsubscribe from unwanted emails. You may find Gmail unsubscribe links in the footer of subscription messages, but these aren't always provided by the senders. Hence, we suggest using an unsubscribe app like Clean Email. This tool can efficiently opt you out, even from subscription emails that lack the necessary Gmail unsubscribe link.
How does Gmail unsubscribe work?
Gmail automatically presents an unsubscribe link alongside addresses that send subscription emails. Clicking on this link redirects you to the sender's unsubscribe page, where you can confirm your decision to opt out.
Can you unsubscribe from multiple emails at once Gmail?
No, Gmail does not have a built-in feature to mass unsubscribe Gmail subscriptions at once. To mass unsubscribe from Gmail, you need a Gmail unsubscriber app like Clean Email. With this application, you can easily opt out from numerous subscriptions, even those without an unsubscribe link, in one interface with just a few clicks.
What does Gmail unsubscribe button do?
The Gmail unsubscribe button doesn't automatically opt you out from a subscription. Rather, it redirects you to the sender's unsubscribe page, where you are required to manually complete the unsubscribing process.
Is it possible to automate unsubscribe requests?
Currently, there is no built-in Gmail auto unsubscribe feature, so unsubscribing from emails remains a manual process. However, you can explore third-party tools such as Clean Email that offer Gmail mass unsubscribe options and assist in completing forms and sending unsubscribe requests.
How to unsubscribe from all emails on Gmail?
To opt out from all unwanted newsletters on Gmail, using an unsubscribe tool like Clean Email can be highly effective. After connecting your Gmail account to this app, use the Unsubscriber feature to easily opt out from all subscriptions in one interface, including those without unsubscribing links.