Manually Unsubscribe From a Mailing List
There are a number of methods to help you unsubscribe from emails. While they are all quite easy, some are ineffective and take a considerable amount of time to opt out from a large number of newsletters. Mail senders or marketers are required by email service providers to include an easy to locate unsubscribe link in every message they send. These buttons are usually found on the bottom of a message. Not adding these buttons is a violation of ESP's terms of service.
However, you will always find marketers breaking this rule. This button is either absent from some emails or it's made so small you won't recognize it. So, to use this method of unsubscribing, check the bottom of any received email. If the unsubscribe link is available, simply click it to opt out from this newsletter. Sometimes this can be a one-click process, other times you might be asked a few questions before the process is finalized. If you can't find the button, simply follow the steps described in the next chapter of this article.
Use Apple Mail Unsubscribe Option
The iOS 10 and later introduced a few tweaks. One such tweak is the ability for the Apple Mail app to identify emails from individuals and companies. Apple understood the shady practices of email marketers not adding unsubscribe buttons within emails and wanted to make unsubscribing easier for their customers.
With iOS 10 or later, when you receive a message from email campaigns, a boldly written unsubscribe link appears at the top of the page. To unsubscribe from emails on iPhone or iPad using this method, simply follow the instructions below.
Open any message from the desired newsletter or promotion in your mail app.
At the top of the message, you will find "this message is from mailing list" and an unsubscribe button.
Click Unsubscribe.
You will get a pop up asking you to confirm your choice, proceed with the unsubscribe link to finalize the process.
Manually Block Senders
Sometimes, email marketers ignore your decision to unsubscribe from their mailing list and keep on sending you emails. One of the alternatives to getting rid of such subscriptions is by blocking the sender's email address. To do so on iPhone or iPad, follow the instructions below.
Open a message from the unwanted sender.
Click Sender's name.
In the next screen, you will find the Block contact option.
Select Block, and in the next prompt confirm your decision.
To change how the Apple Mail handles your decision about blocking, follow the steps below.
Open iPhone or iPad phone settings.
Navigate to mail and open.
Select blocked sender option.
You will have three options to choose from (None, mark as blocked, leave in inbox, and move to trash.)
Use a Secure Third-party Email Unsubscriber
The last and the best answer to how to unsubscribe from emails on iPhone is with the use of a secure third-party email management app. There are tons of email cleaners out there, but only a few truly take your privacy seriously. Clean Email, for example, is verified by Google and passed the independent security assessment. With an email unsubscriber like this, you can save time and set parameters that filter unwanted messages and help you unsubscribe and block emails at the speed of light.
Best iPhone App to Help Unsubscribe From Emails
Here are some of the best iPhone apps to help unsubscribe from emails.
1. Clean Email
Clean Email has quite the number of remarkable features to help you clean your mailbox and unsubscribe from unwanted emails. With the app's Unsubscriber feature, you can find all your subscriptions in one place and get rid of them with a few clicks. Unlike Apple Mail's built-in features, you can save a good amount of time and increase your productivity with this tool.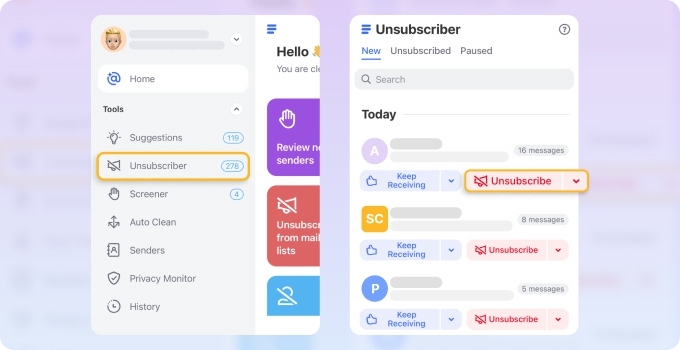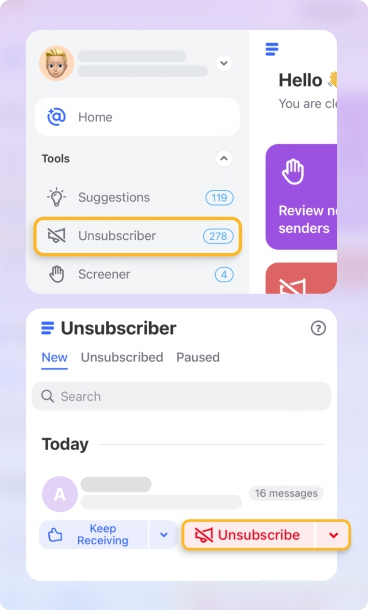 2. Edison Mail
Edison Mail is another email management tool with years of delivering quality email cleaning services to Apple users. The tool offers advanced features such as touch and face ID, spam blocker, unsubscriber, and even an alert tracker. Edison is rich in features, and that is what makes it one of the best email clients for Apple users.
3. Airmail
Airmail is a sophisticated app for one major reason, it allows you to create a unified view of all your email accounts in a single inbox. Its other regular features include undo email send, ID locker, spam blocker, and a few more. You can get the app for $3 per month for a single user.
Conclusion
This article covers everything you need to know about maintaining a clean inbox on your iPhone or iPad, and we hope you never have to ask how to unsubscribe from emails on iPhone again. Note that when choosing a third-party app for your email unsubscribing solution, ensure to prioritize privacy and email security like the Clean Email unsubscribe app does.
Wondering how to unsubscribe from emails on Yahoo or Outlook, notifications from YouTube and Amazon, or stop PayPal messages? Our blog will help you protect your inbox from email overload and increase productivity!
---
How to Unsubscribe from Emails on iPhone and iPad - FAQs
How do you unsubscribe from emails on iPhone?
One of the methods is by using Apple's built-in email unsubscriber. At the top of every message received from email campaigns, you will find the unsubscribe button. Click on it to stop receiving further messages from these senders. Alternatively, you can use an email unsubscribe app like Clean Email that will save you time and keep your data private and secure.
Is there an iPhone app to help unsubscribe from emails?
Yes, you can use the Clean Email app to opt out from all unwanted newsletters in a few clicks. Just download the app's iOS version, sign into your email account, and choose Unsuscriber from the left pane of the home screen. Select all subscriptions you no longer want to receive and click Unsubscribe next to each.
Does iOS mail unsubscribe work?
While the function itself works, email marketers with shady practices might keep sending you emails even after you unsubscribe. To get rid of such emails, you will have to block the sender.
How do I unsubscribe from email on iPad?
The process for unsubscribing is the same across all Apple devices. Simply open your default mail app for iOS 10 and later, and you will find the unsubscribe button on the top of all messages sent via email campaigns.