Why You Should Unsubscribe from Emails on Outlook?
The available limit for a free Outlook.com account is 15 GB of mail storage. While that may sound like a lot at first, more active users can easily approach this limit in just a few years. Fortunately, you can make your free account last a lot longer just by proactively unsubscribing from emails that no longer interest you.
Besides enjoying more storage space, you also won't have to spend nearly as much time managing your inbox as you would if you were to just let subscription emails pile on, which means more time to spend on things that matter the most in life.
Since Outlook provides a native solution for managing email subscriptions, you can clean up your inbox without any third-party tools. Of course, that doesn't mean that you shouldn't consider using Outlook unsubscribe apps because the features they offer are definitely worth the cost.
How to Unsubscribe from Emails Using the Outlook.com Unsubscribe Button
As an Outlook.com user, you can unsubscribe from emails with just a few clicks - no Outlook unsubscribe plugin or other third-party solution required. Here's what you need to do:
Log in to your inbox.
Click the Settings gear icon on the right side of the top toolbar.

Click the View all Outlook settings option at the bottom.

Go to Mail → Subscriptions.

Click the Unsubscribe button next to each and every subscription in which you're no longer interested.
Keep in mind that the list of active subscriptions doesn't include senders you've added to Blocked senders and domains.
You should also notice that there are three horizontal dots next to the Unsubscribe button. When you click on them, an option that lets you block the email address associated with the particular subscription appears.
The main difference between unsubscribing and blocking is that the former prevents any emails coming from the blocked sender from reaching your inbox - not just newsletters with subscription information.
How to Unsubscribe from Emails on the Outlook Mobile App
The latest version of the Outlook mobile app scans messages for unsubscribe links and displays a convenient unsubscribe option at the top of the message, above the sender information. This makes it really straightforward to opt out since all you need to do is the following:
Launch the mobile app.
Open any subscription message.
Click the unsubscribe option at the bottom or at the top of the message.

Confirm your choice.
Unfortunately, the unsubscribe option doesn't always appear because some marketers obfuscate unsubscribe links in their messages to discourage their recipients from unsubscribing. In such situations, you can unsubscribe from emails without a link using a third-party Outlook unsubscribe app, such as Clean Email (more about it in the last chapter).
How to Unsubscribe from Emails on the Desktop Version of Microsoft Outlook
The desktop version doesn't provide a convenient option for unsubscribing, but you can still stop unwanted subscription emails from ending up in your inbox by blocking their sender. Here's how:
Open any message sent to you by a sender from which you no longer wish to receive emails.
Click the Junk option in the top action bar.

Click the drop down arrow next to Junk action and select Block Sender from the drop down list.
The Block Sender option will prevent any messages coming from the sender's email address from reaching your inbox. If that's not what you want to happen, then you can opt out manually or use a dedicated Outlook unsubscribe app, such as the one described in the next section of this article.
How to Use an Outlook Unsubscribe App for Microsoft Outlook
An Outlook unsubscribe app like Clean Email lets you quickly and easily opt out from any unwanted subscription with a simple click to make sure that the same subscription will not show up in your inbox ever again.
Here's how to unsubscribe from emails on Outlook using Clean Email:
Go to: https://app.clean.email
Log in with your email address.
Select Unsubscriber from the left pane.
Click the Unsubscribe option next to any email address from which you no longer wish to receive subscription emails.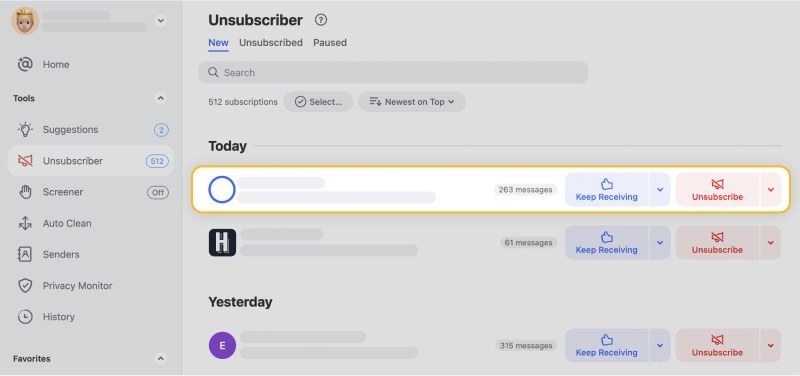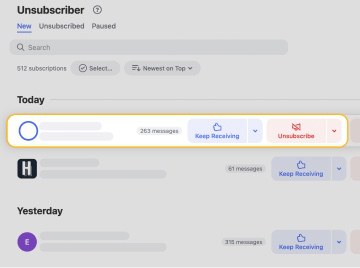 In addition to helping you opt out from unwanted subscriptions, Clean Email can also segment your inbox using rules and filters, allowing you to do any actions with groups of emails instead of managing them one-by-one.
Whenever you apply a certain action, you can tell Clean Email to apply the same action automatically in the future to automate your repetitive email management tasks.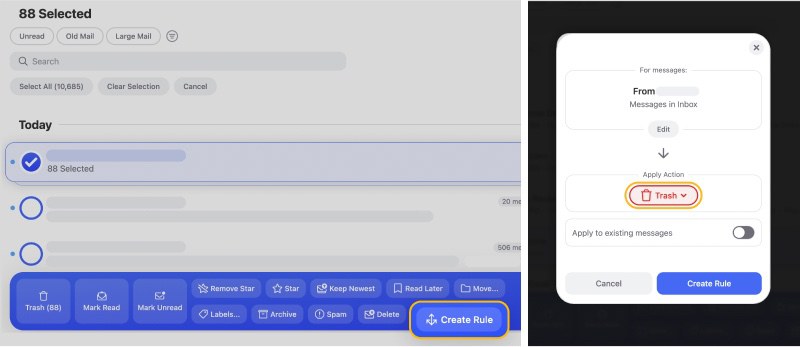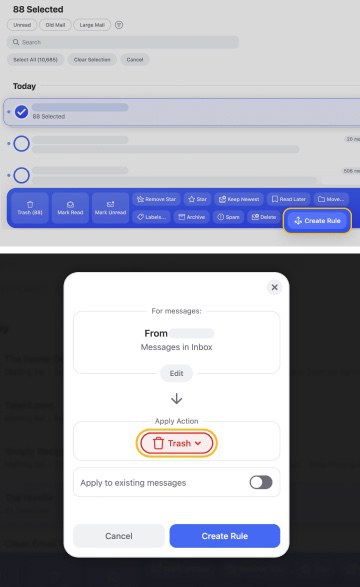 Best of all, you can get started with Clean Email for free just by logging in with your Outlook email address.
Conclusion
As you can see, learning how to unsubscribe from emails on Outlook is not difficult at all. With the right unsubscribe app, you can not only get rid of all unwanted subscriptions in just a few simple steps but also clean up your inbox to free up precious email storage space, block senders from which you no longer wish to receive messages, and more. Clean Email is a great choice because it works flawlessly with Outlook, is easy to use, and offers a whole host of useful features.
Wondering how to stop PayPal emails, notifications from Facebook, Amazon, or unsubscribe from Quora emails? Our blog will help you stop unwanted messages from cluttering your mailbox!
---
How to Unsubscribe from Emails on Outlook - FAQs
How do I manage email subscriptions in Outlook?
Microsoft has made it very easy to manage subscriptions in Outlook.com. All you need to do is view all settings, open Subscriptions under Mail, and opt out from any subscription in which you no longer have any interest.
Is there an app to unsubscribe from emails on Outlook?
Yes, you can use a third-party bulk email unsubscriber like Clean Email. With it, you can also delete multiple emails at a time, block unwanted senders, and easily automate the management of your Outlook inbox, among other things.
What are subscriptions in Outlook?
Subscriptions in Outlook are known senders whose messages contain subscription information in the message body, along with an unsubscribe button or link. The mail service provider aggregates these senders in one place, allowing you to opt out from their newsletters with a simple click.
What is subscribe folder in Outlook?
In the Outlook desktop client, you can select which folders from an added IMAP account appear in the folder list. The selected folders are called subscribed folders because their content is regularly synchronized with the mail server.
Is it possible to unsubscribe from email newsletters in the Outlook app?
The app offers a native unsubscribe option at the top of an opened message, and you can also opt out from an email newsletter by clicking the unsubscribe link or button at the bottom of an opened message.