Why It's Important to Unsubscribe From Unwanted Emails
First and foremost, it is important to understand the two types of messages that most commonly show up in your inbox. The first are emails from companies you are familiar with. Often these come from subscriptions you signed up for on a company's website or app. The second type of emails are spam from companies or senders that you do not know. This type of correspondence finds its way into your inbox without your permission.
Not only should you try to avoid receiving messages from unknown senders, but it is also a good idea to cut down the amount of subscribed emails you receive that are irrelevant to you; below are two reasons why it's important to get rid of unwanted emails from your inbox.
Cleaning out your email increases work productivity. Unwanted and spam emails make it harder to locate important content, as messages quickly pile up in your inbox. Cleaning out your inbox, and unsubscribing from unnecessary senders, will increase your ability to efficiently complete your daily tasks.
Unwanted emails sometimes include malware, scams, and links to malicious websites. These schemes continue to become more sophisticated, making them harder to detect. Removing sources of malware is important as malware can steal your information, spy on your online activity, and slow down your computer.
How to Unsubscribe From Emails Without a Link
Not only will the following five methods teach you how to remove yourself from marketing chains you've voluntarily subscribed to, but they also teach you how to stop spam emails without unsubscribe link.
1. Use a reputable email cleaner, such as Clean Email
Clean Email makes it easier to manage your inbox through tools that help group, organize, remove, label, and archive emails.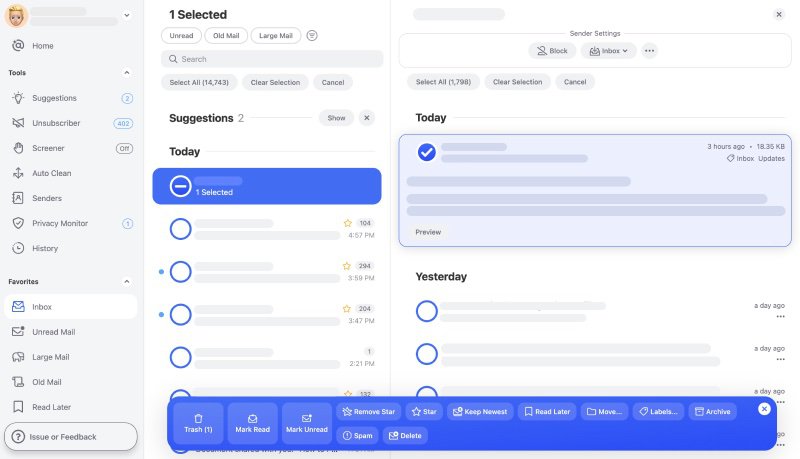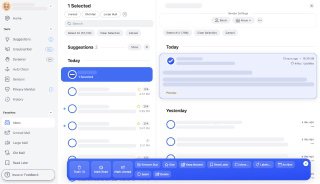 This app utilizes powerful rules and filters, which save you time and effort by providing the below solutions:
Unsubscribing from unwanted messages.
Removing, labeling, archiving, and moving selections of emails in bulk instead of one by one.
Organizing your emails into bundles for easy review and simple email management.
Automating repetitive actions in your inbox.
Choosing the 'read later' option to get reports for emails you want to leave unread for future purposes.
To use the Clean Email's Unsubscriber feature, follow these steps:
Go to https://app.clean.email and sign up with your mail account for free.
Click the Unsubscriber tab on the left-hand pane of the home screen.
Choose the subscriptions that you would like to unsubscribe from.

Click Unsubscribe in the action bar at the bottom and you are done!
Clean Email works with the following service providers: Gmail and GSuite, iCloud, Yahoo Mail, Hotmail, Outlook, Office 365, AOL, Fastmail, GMX Mail, and any account that supports IMAP.
2. Email the sender and ask them to remove you from the list
One way to remove these unwanted messages from your inbox is to respond to the sender. This method only works with certain types of senders, as some emails come from do-not-reply sources. However, this is the first method to test without an unsubscribe link in email. Draft a message explaining that you would like to be removed from the list; if you'd like, you can also include a reason for leaving the marketing list.
3. Filter messages from companies in your inbox
Most email providers offer an option to filter specific emails. In Gmail, follow these steps to filter.
Log into your Gmail account.
Locate the "Settings" icon in the top right-hand corner of your screen.

Select the "Filters and Blocked Addresses" in the top navigation bar.

Select the "Create a New Filter" in the middle of the page.
A form will pop up with multiple filtering options. You can choose to filter by a specific email address, or filter by specific words that show up or do not show up in the subject line or body of the email.
Follow our guide on how to unsubscribe from emails on Gmail.
4. Block the sender
Sometimes you get fed up with all email correspondence from a specific company or brand. If you know that you never want to receive information from them again, just block the sender. Below are the steps to follow in Gmail to block a sender.
Open the email from the sender.
Click the three vertical dots in the right-hand corner of the email.
Select "Block Sender."
5. Mark the email as spam, report spam, or report phishing
Similar to the block sender feature, reporting messages as spam will remove emails without unsubscribe link. Follow these steps to report an email as spam in Gmail.
Open a message from the sender.
Hover over the top navigation bar in the email.
Select the octagonal icon with an exclamation mark; this is the report spam button.

A pop up box will show up; select "Report spam & unsubscribe."
Follow these steps for an additional way to report spam or phishing.
Open the message from the sender.
Click the three vertical dots in the right-hand corner of the email.
Select "Report Spam" or "Report Phishing."
Conclusion
Though it is illegal to omit an unsubscribe button from marketing messages and other correspondence, shady companies often leave these options out of mail. However, if you are trying to find a way to unsubscribe from an email sender without a button, you are in luck; there are multiple solutions to this problem including messaging the sender and asking them to remove you, filtering messages, blocking the sender, marking the email as spam or phishing, and using reputable unsubscribe apps, such as Clean Email.
Wondering how to stop Facebook emails, notifications from Uber, Twitter, or unsubscribe from PayPal emails? Our blog can help you stop unwanted newsletters from cluttering your inbox!
---
How to Unsubscribe From Emails Without a Link - FAQs
1. Are emails required to have an unsubscribe?
While email subscribe links are completely voluntary for people to sign up with, U.S. law requires that emails include options for people to remove themselves from these subscriptions.
2. How does unsubscribe link work?
These links are used to allow subscribers the option of opting out from messages sent by a certain company or brand. In most messages received from a sender, the unsubscribe link is placed in the footer of a message. Clicking on this link will take you to a new webpage where you can officially unsubscribe from a company's newsletters. Certain mailing platforms provide their own ways to remove yourself from correspondence. The Gmail unsubscribe link is placed directly in the navigation bar of your message.
3. Why is unsubscribe functionality important?
Unsubscribe functionality is important because, even when someone clicks an email subscribe link, there are always circumstances that cause someone to want to end correspondence with a brand. Additionally, hackers are becoming increasingly proficient at bombarding inboxes with spam. Having the functionality to remove unnecessary mail from an inbox allows people the opportunity to remove these senders from their inbox.
4. How do I stop emails without unsubscribe links?
For a full answer to this question, review the sections under the header, "How to unsubscribe from emails without unsubscribe link." In summary, here are the main suggestions:
- Message the sender and ask them to remove you from the list.
- Filter messages from companies in your inbox.
- Block the sender.
- Mark the email as spam, report spam, or report phishing.
- Use a reputable email cleaner, such as Clean Email.
5. Is Gmail unsubscribe safe?
The unsubscribe link in Gmail is safe. When Gmail released this update in its inbox, it was the most sophisticated way to unsubscribe from emails. It has since stayed one of the easiest solutions to remove subscriptions as it ends an email contact from the specific company immediately.