How to Stop Emails from Evernote: 3 Methods
Evernote periodically sends emails about products, updates, news, and other communications. But if you no longer want to receive updates from this service, there are a few things you can do about it.
1. Evernote Unsubscribe Email Options On Mobile
If you have the Evernote app on your phone, you can change your mail address right from the mobile app. Unfortunately, it's not possible to change the other mail preferences or opt out from their newsletters on mobile.
Open the Evernote mobile app.
Click the Settings gear icon to open your account settings.
Choose More Settings.
Then go to Manage email address option under the Email section.
Input a new email address (the one you mostly use for spam or unwanted emails).
2. How To Stop Getting Emails From Evernote In a Browser
Many people prefer using the big screen of a web browser to update their Evernote email preferences. Here's how to do it using a normal web browser.
Go to Evernote.com.
Sign in to your account.
Click Personal Settings.
Uncheck the boxes of the mailings you no longer wish to receive.
Click Save Changes.
3. How To Unsubscribe From Evernote Email In Your Mail Provider
Just like Netflix, Quora, Amazon, Facebook, and other popular mail senders, you can unsubscribe from Evernote emails from your inbox. Here's how easy it is:
Go to your mail inbox.
Open a message from Evernote.
Locate the Unsubscribe or Update Email link in the email (usually in the footer). If it is not there, check out this guide on how to unsubscribe from emails without an unsubscribe link.
Follow the prompts to change your preferences.
Unsubscribe from Evernote Emails Using Clean Email
Want a better, faster way to stop Evernote emails? You'll love the Clean Email app!
The app connects directly to your mailbox and gives you ways to unsubscribe, filter, block the emails of your choice, and much more. For Evernote emails and any other unwanted messages (think LinkedIn, Instagram, Chase, GameStop, Robinhood, and more!), you can quickly opt out in bulk with just a few clicks. Simply select the newsletters and click Unsubscribe — that's it!
Clean Email goes to work in the background to stop future messages from infiltrating your inbox. We use all the same channels to unsubscribe you that you would have to go through manually. And even though some email unsubscribe requests can take days or even weeks, this email unsubscribe app starts working immediately to stop unwanted newsletters.
The Clean Email app supports all mail providers with IMAP, including iCloud, Gmail, Outlook, Yahoo!, and more. You can use it across all of your email accounts, including school, work, and personal mailboxes. Unsubscribing from unwanted mailings using this app is faster and easier than doing it manually. Let us help you take back your time and receive the best possible outcomes!
How to Unsubscribe from Evernote Emails in Clean Email
When we say using our app is simple and easy, we mean it! Here's how you can unsubscribe from Evernote emails using Clean Email:
Launch the app and connect your mailbox.
Select the Unsubscriber feature from the left-hand pane.
Use the Search bar to find the Evernote subscription (you may select other unwanted newsletters too).
Click Unsubscribe next to it and you're done!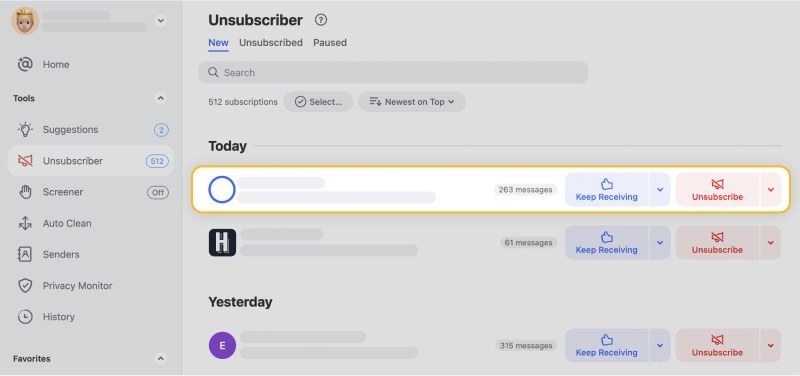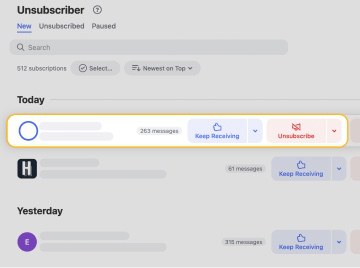 How To Block An Entire Domain In Clean Email
The app offers another way to stop getting Evernote emails — block the entire domain. This can be helpful when you have already tried to unsubscribe from Evernote emails, but they continue to flood your inbox. Sometimes this happens because a company will send messages from multiple mail addresses. If you do not block all senders, you may continue receiving unwanted messages.
Launch the app and sign in to your mail account.
Open the All Mail folder on the left-side pane.
Type @evernote.com in the search bar.
Click Select All and then choose Block.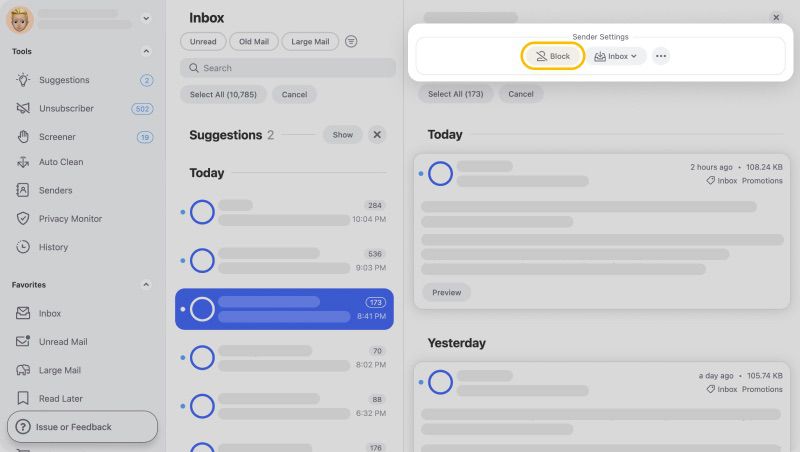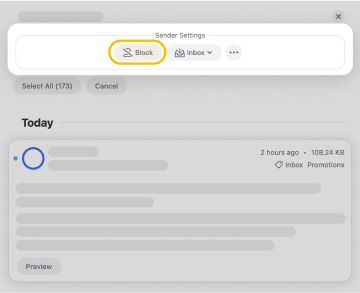 Move Evernote Email Newsletter to a Dedicated "Read Later" Folder
If you're not ready to kiss all of your Evernote emails goodbye forever, there is another option. Clean Email allows you to automatically move the selected messages to a dedicated folder where you can enjoy them at your convenience. This is a great way to keep your main inbox free and clear of unwanted messages without unsubscribing.
Launch the app and sign in with your mailbox.
Select any Evernote message.
Choose the Read Later option (on the sender row). Messages will be automatically moved into the Read Later folder.
Set an Automatic Rule to Stop Evernote Emails
Clean Email offers even more features to simplify your inbox management. For example, our Auto Clean feature allows you to set up some easy automation rules to organize your inbox however you like. If you do not want to permanently delete all Evernote emails, you can set up a rule to mark them all read, archive them, keep only the newest, or move them to a folder of your choice.
Wondering how to unsubscribe from Morning Brew emails, stop College Board emails, or how to stop getting emails from Fashion Nova? Our blog will help you learn how to opt out from unwanted newsletters cluttering your inbox.