Why Stop LinkedIn Emails?
Knowing how to stop LinkedIn emails goes beyond a desire to keep a clean inbox. For many, seeing that little red notification that you have a message gives you hope when you're trying to find a job or get a new client. Then you realize it's just a paid promotion, and all the wind blows out of your sails. The good news: there are ways you can unsubscribe from LinkedIn emails. Let's look at your options.
How to Stop LinkedIn Emails: 3 Methods to Try
There are a few ways you can stop these messages, all of which are easy to do. Choose the one that's most appealing to you.
1. Unsubscribe from LinkedIn Emails Using the Mobile App
Mobile is often the fastest way to unsubscribe from LinkedIn emails. The process should take you less than a minute.
Open the app and click on your profile image in the top left corner.
Click Settings (next to the View Profile link).
Select Communications to open your email preferences.
Open the Email option under "How you get your notifications."
For each option that is "on," you can toggle to "off."
2. Stop LinkedIn Emails in a Browser
If you prefer to use your desktop browser to manage your LinkedIn unsubscribe email options, the process is very similar to using a mobile device.
Open your account on your web browser.
Click your profile image and select Privacy and Settings.
Select Communications from the left side bar menu.
Open the Email option under "How you get your notifications."
For each option that is "on," you can toggle to "off."
3. Opt Out of Notifications in Your Email Service Provider
The first two options to stop LinkedIn notifications in your inbox should work. However, you may also choose to change the settings with your email client. Here's how:
Open your most recently received message from LinkedIn.
Find the menu that gives you more options to manage emails. This menu will vary depending on your service provider. For example, you'll click the three vertical dots to see all your options.
Select "Block LinkedIn" or similar verbiage, depending on your mail client.
How Do I Unsubscribe from LinkedIn Emails with Clean Email?
Clean Email is a unique tool that helps you cut the clutter and keep a cleaner inbox. You can breezily unsubscribe from Amazon emails, Twitter, LinkedIn, Uber, and more, even if the message doesn't offer an unsubscribe option. Here's how it works:
Add the app to your inbox, then tell it which messages you no longer want to see. The app goes to work in automatically deleting or archiving messages so they don't crowd out the stuff you actually want to see.
It supports all mail service providers and operating platforms. You can also use the app across all your accounts, including work, school, and personal. Unsubscribing with this app is easier and faster than doing it manually, so you can start to enjoy its benefits immediately!
How to Stop LinkedIn from Sending Emails In Clean Email
Follow these steps to unsubscribe from LinkedIn emails through Clean Email. Bonus: it also works to unsubscribe from Facebook, Medium, eBay, PayPal, and many more!
Visit https://app.clean.email/ and sign into your account.
Click the "Unsubscriber" button.
Choose all LinkedIn's senders you want to stop receiving messages from, then click "unsubscribe" next to each of them.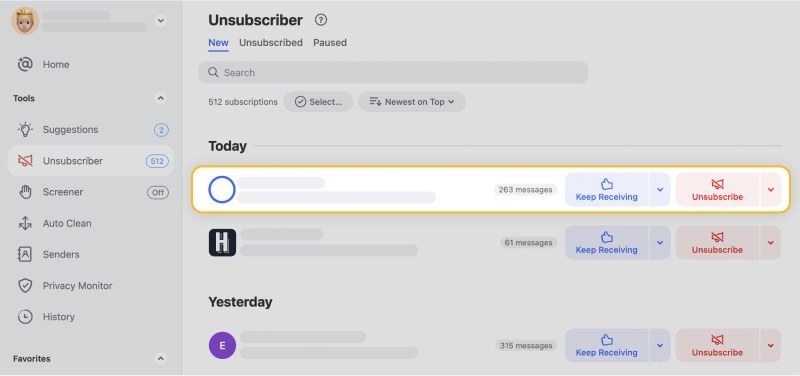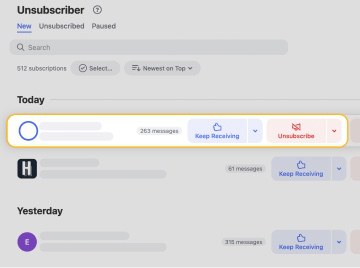 You can also tell the app which LinkedIn messages to read later, pause, or keep newest. Enjoy a cleaner, clutter-free inbox now!
How To Block Emails From a Specific Domain In Clean Email
The app gives you the option to block all messages from a specific domain. Here's how:
Launch the app and go to Inbox or All Mail view.
In the search box, type in "linkedin.com" (without quotation marks).
Click "Select All," then select "Block."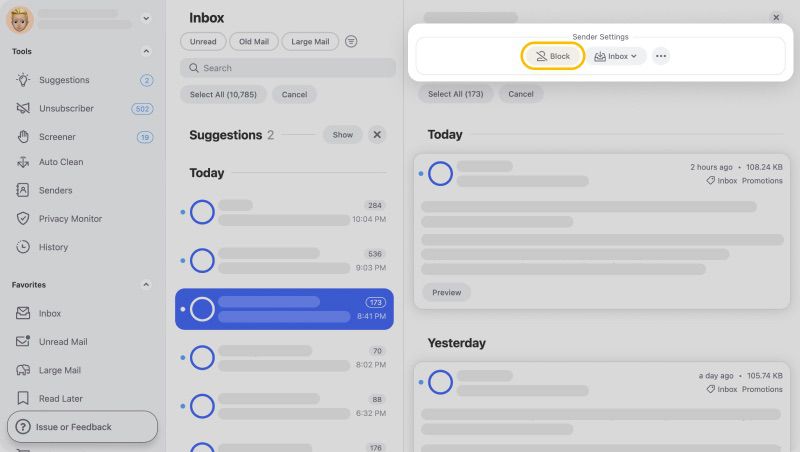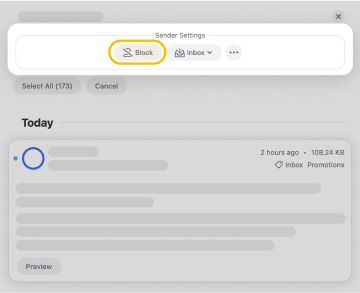 Move LinkedIn Emails to a Dedicated "Read Later" Folder
The Read Later feature lets you move messages to a dedicated Read Later folder, where you want to check at your convenience.
Clean Email will automatically create a Read Later folder in your Inbox if you don't already have one.
Designate messages as Read Later emails.
Messages marked Read Later will be transferred here.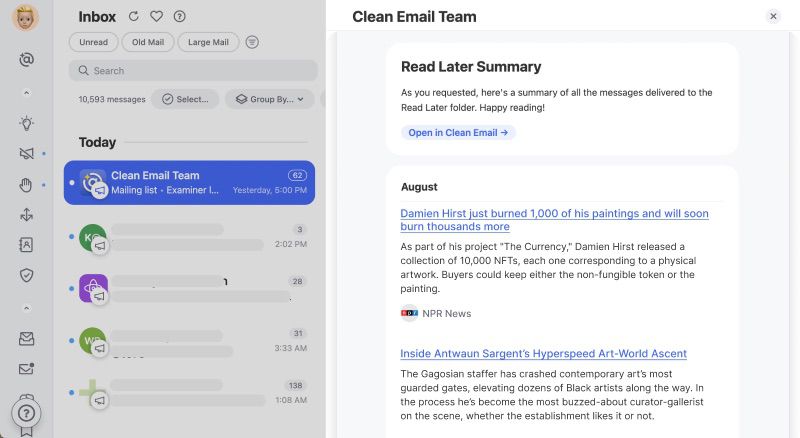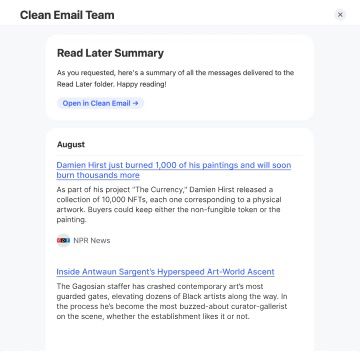 Set an Automatic Rule to Filter Emails from LinkedIn
The app has an Auto Clean feature that filters incoming messages matching a rules set. If you don't want to delete LinkedIn notifications, you can set a rule to make them unread, archive, or move to a specific folder. This video shows you how to set up rules-based filters.
Wondering how to unsubscribe from emails on iPhone, stop Yahoo emails or Outlook emails without unsubscibe link? The Clean Email blog will explain you how to stop unwanted messages from cluttering your inbox.