How to Stop Getting Emails from Twitter: 3 Ways to Unsubscribe
There's more than one way to make your Twitter emails a thing of the past. Choose the method to turn off Twitter emails that's easiest for you:
Option 1: Stop Twitter Email Notifications via the Mobile App
If you have Twitter on your smartphone, open the app and follow these steps:
Head to the Settings & Privacy menu.
Select Email Notifications.
If email is enabled, click Turn Off to stop all emails.
If you only want to turn off certain messages, scroll down to uncheck the types of emails you no longer wish to receive.
Click Save Your Changes at the bottom.
Option 2: Opt Out via Your Desktop Browser
Alternatively, you can change your Twitter email settings using the same steps in Option 1 via a desktop browser. Just log in to your account and do the following:
Go to the Settings & Privacy menu and choose Email Notifications.
If email is enabled, click Turn Off.
If you only want to turn off certain emails, scroll down to uncheck the types of messages you no longer need.
Then click Save Your Changes.
Option 3: Unsubscribe from Twitter Emails via a Twitter Email
If you have a message from Twitter in your inbox right now, you can open it to unsubscribe and stop Twitter email notifications for good.
Open the message.
Locate the Unsubscribe link (this may vary depending on the mail service provider you're using). Clicking this link will redirect you to Twitter to update your preferences.
You will receive confirmation that your changes are successful.
A Better Option: Use Clean Email to Unsubscribe from Twitter Emails
The above methods may not completely turn off Twitter emails, as it may continue to send you important updates, such as changes to terms and conditions.
The best method to get rid of these messages is to use Clean Email to manage your inbox on your behalf. This is an automatic inbox cleaner that manages and organizes all of your messages. It's compatible with a wide range of mail service providers, including Gmail, Outlook, AOL, Yahoo, Zoho Mail, and more.
The app supports a better inbox by helping you get rid of unwanted messages without having to unsubscribe from them individually. And if for some reason emails aren't actually unsubscribed, like the case with Twitter, Clean Email will remove them so they don't clutter your inbox.
How to Unsubscribe from Twitter Emails in Clean Email
Ready for a cleaner inbox? Here's how to use our app to get rid of Twitter emails once and for all. Bonus: it also works to unsubscribe from LinkedIn emails, Medium, Quora, PayPal, and many more!
Sign up for your account at https://app.clean.email/.
Once your account is connected, click the Unsubscriber button.
Select the subscriptions you no longer want (in this case, Twitter emails.)
Click Unsubscribe and never see these messages again!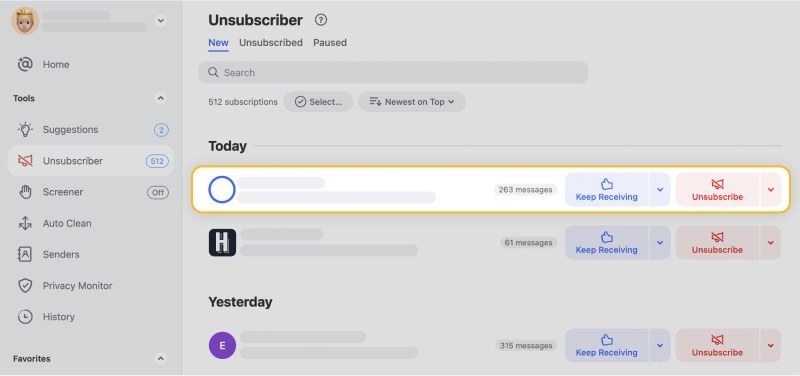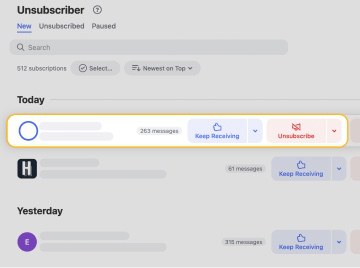 How to Block Messages from Specific Domains Using Clean Email
Twitter sends multiple types of messages and notifications. If you no longer wish to receive any of them, regardless of content, you can block all emails that come from their domain. Here's how:
Log into your app's account.
Click on Inbox or All Mail smart view.
In the search bar, input the following: @twitter
Choose "Select All" and click "Block." All messages matching the rule will now be blocked.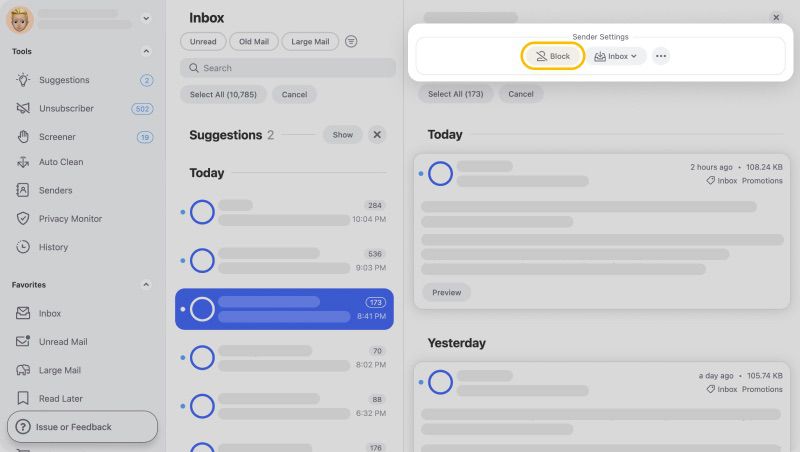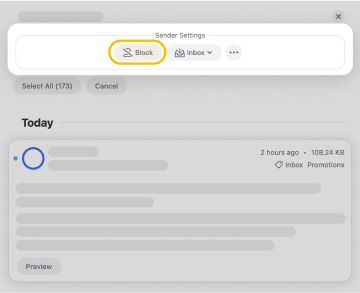 How to Save Some Twitter Emails in a "Read Later" Folder
You don't have to get rid of all Twitter emails completely. If you occasionally like to read them but don't want to see them all the time, Clean Email can transfer them to a Read Later folder. This way, you have less inbox clutter without losing potentially important content.
Open the app.
Click the "Unsubscriber" button.
Search for @twitter in the search bar.
Click the "Read Later" tab.
All new Twitter emails will now appear under your "Read Later" folder.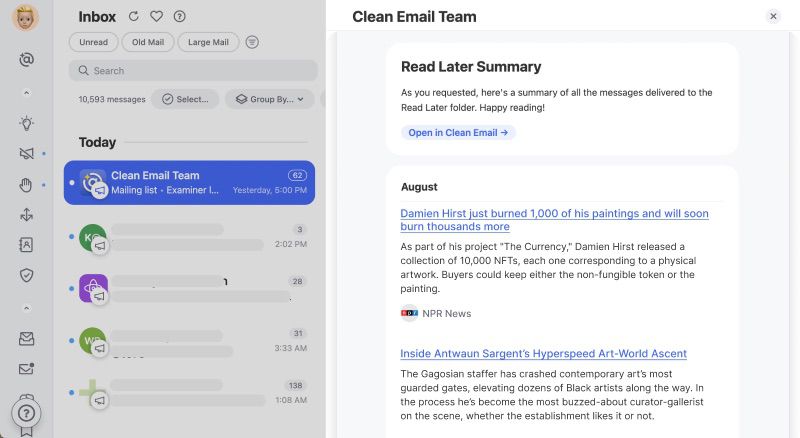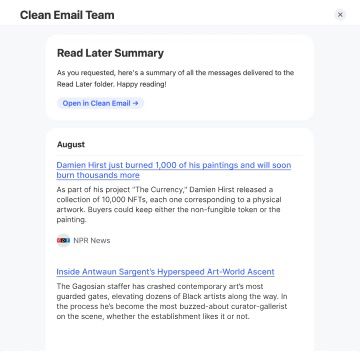 Create an Automatic Rule to Filter Your Twitter Emails
If you want to filter incoming messages in your own way, our unsubscribe app makes it easy to set up your unique preferences. You can apply specific actions, such as Mark as Read, or send them straight to your trash folder.
Launch the app and sign into your account.
Click on "Auto Clean."
Check the box for "Selected and Future Similar Emails."
Select the preset rule you wish to apply to Twitter emails.
Wondering how to unsubscribe from emails on Yahoo, Outlook, or stop emails without unsubscibe link? The Clean Email blog will help you learn how to stop unwanted newsletters from cluttering your mailbox.