Unsubscribe From Uber Emails: 2 Methods
If you want Uber messages to be gone forever, just follow our tips below.
1. How to stop receiving Uber receipt emails in a browser
Uber doesn't allow you to unsubscribe from transactional emails, but you can opt out of other emails from Uber by visiting their unsubscribe page and enter in your email address.
2. How to stop getting emails from Uber in your email service provider
If you don't feel like going to Uber's site, you can also pull up any email from Uber and click "unsubscribe" at the bottom of the message.
How to Stop Uber Emails Using Clean Email
Although Uber claims they make it easy to unsubscribe from marketing emails, the company uses multiple email addresses to send different types of communication. Furthermore, it doesn't allow you to opt out of transactional communications directly from them.
However, Clean Email's Unsubscriber feature helps you keep unwanted emails from Uber out of your inbox for good. With the app, you can even pause subscriptions, automate unsubscribe requests, and block emails from certain addresses entirely.
Clean Email works with a wide range of providers, including Gmail, Outlook, Yahoo, AOL, iCloud, ProtonMail, Zoho Mail, and any other email provider who uses IMAP. The app also works with any web browser and operating system, which means you can use it from any computer or device. You can also use it to manage multiple inboxes from one place, which can help you keep your work, school, and personal inboxes clear so you can stay productive.
How to Unsubscribe From Uber Emails In Clean Email
Follow these steps to unsubscribe from all Uber emails (including transactional ones) through Clean Email.
Launch the app and sign into your mail account.
Choose "Unsubscriber" from the main menu.
Choose all Uber's senders you no longer wish to receive messages from, then click "unsubscribe" next to each of them.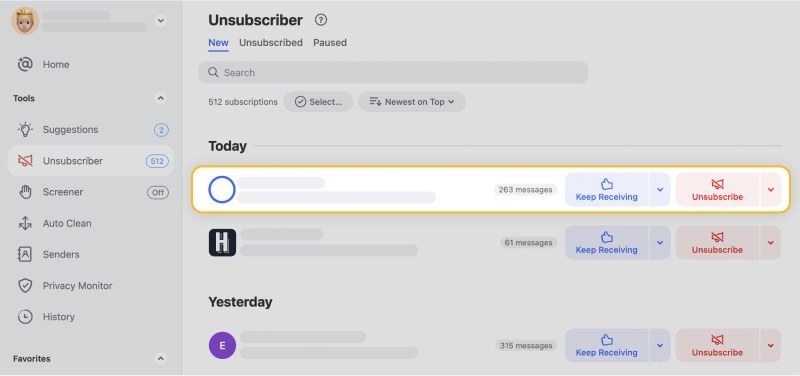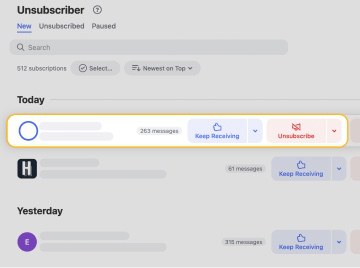 Of course, the app can help you easily stop Amazon emails and other unwanted notifications, including those coming from Facebook, Twitter, Quora, Medium, LinkedIn, etc.
How to Stop Receiving Uber Emails with Block Feature In Clean Email
Like most other major corporations, Uber uses multiple addresses to send messages to you, including email@et.uber.com and noreply@et.uber.com. Because of this, unsubscribing can be difficult.
However, Clean Email offers a Block Feature that allows you to block all emails from a certain domain, like Uber. Follow these steps:
Open the app and sign into your account.
Choose the Inbox or All Mail smart view.
In the search box, type in "uber.com."
Choose "Select All."
Select "Block," and you're done!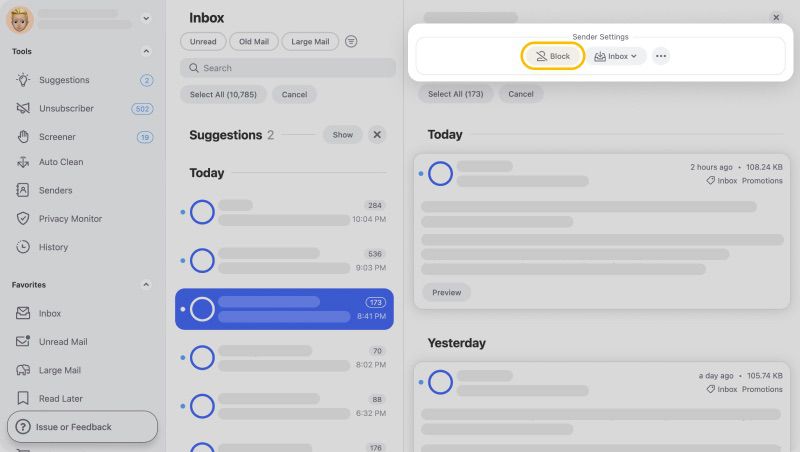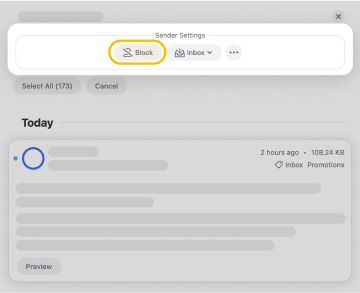 Move Uber Email Notifications to a Dedicated "Read Later" Folder
Clean Email also offers a Read Later feature that allows you to move any messages out of your inbox without deleting them. To use the "Read Later" feature, follow these steps:
From the main app's menu, choose Unsubscriber.
Type "@uber" in the search box.
Select the "Read Later" tab.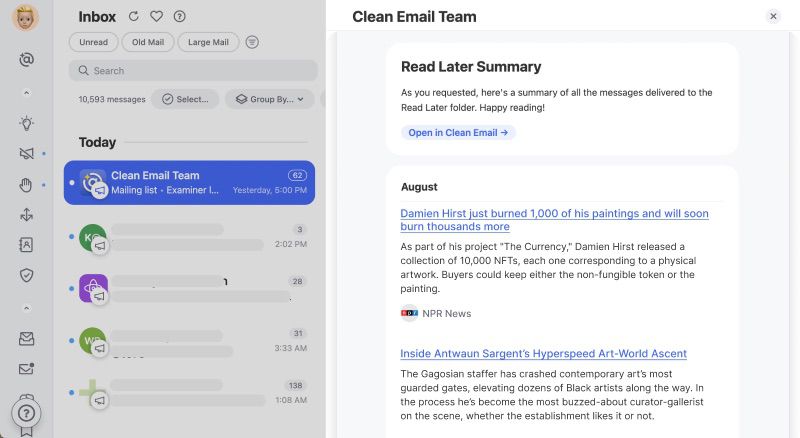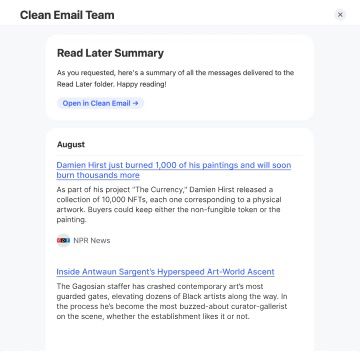 Set an Automatic Rule To Filter Emails from Uber
The app's Auto Clean feature lets you filter incoming messages automatically by establishing rules for emails based on the address. The Auto Clean feature can help you archive Uber emails, mark them as read/unread, or file them in a specific folder in just a few simple steps:
Go to app.clean.email and choose Auto Clean from the home screen.
Click on "Selected and future similar emails."
Choose the rule that you want to apply to Uber emails and save.
Wondering how to unsubscribe from Pinterest emails, Facebook, or Amazon notifications? Visit our blog to clean up your inbox and boost your productivity!