How to Stop Getting Emails From Unroll Me: 3 Methods
At one time, you might have needed to get Unroll.Me emails. But if your needs have changed since then or you just don't like the service, it's time to learn how to opt out from these messages. Lots of people are ditching Unroll.Me after it was discovered they sold their customers' data. Here's how you can stop Unroll Me emails for good.
1. How to stop Unroll Me emails on mobile
Got Unroll Me on your Android or Apple device? You can unsubscribe from their mailings straight from the app. Here's how:
Log into the Unroll Me app.
Go to Settings.
Go to Rollup Preferences.
Scroll down and click the Deactivate Rollup button.
This option deactivates your Unroll Me account. However, since the service sends lots of different types of messages, you may still receive some emails from them. There is no way to change your email preferences in the user account. We'll discuss how to block all Unroll Me emails in a later section.
2. How stop emails from Unroll Me in a browser
Similar to using the Unroll Me app, you can use your web browser to deactivate your Unroll Me account.
Log into your Unroll Me account.
Go to Settings.
Scroll down and click Deactivate Rollup.
Again, there's no way to update your email preferences in your user account. Deactivating your service will help you stop unwanted messages, along with other options we'll explore later.
3. Unsubscribe from all Unroll Me subscriptions in your mail provider
If you have added the this service to your inbox and want to get rid of it, you can do so in a few easy steps. Here's how to disconnect Unroll Me from your Google account.
Sign into your Google account.
Go to Sign-In and Security.
Go to Connected Apps and Sites.
Click Manage Apps.
Click Unroll Me to expand your options.
Click Remove, then click OK.
How to Unsubscribe from Unroll Me Emails with Clean Email
Unroll Me won't let you update your email preferences without deactivating your account altogether. But using the Clean Email app makes getting rid of Unroll Me emails a breeze.
This unsubscribe app connects directly to your inbox. Once connected, you can use the Unsubscriber feature to unsubscribe from Unroll Me emails, as well as emails from other frequent senders like Zillow, Twitter, Instagram, LinkedIn, Quora, Reddit, Amazon, and more!
The Clean Email app supports all mail providers, including Gmail, Yahoo!, Outlook, iCloud, and more. You can use it across all of your mail accounts, including work, school, and personal. It makes unsubscribing from unwanted newsletters so much easier, faster, and more effective than doing it manually. Let's explore how you can use it to get rid of Unroll Me emails.
How to Block Emails from a Specific Domain in Clean Email
Unroll Me sends lots of different types of messages, so unsubscribing from one might not unsubscribe you from all emails. Clean Email can block the entire domain so you never receive emails from the unwelcome senders again.
Launch the app and sign into your mail account.
Type @unroll.me in the search bar.
Click Select All and then choose Block.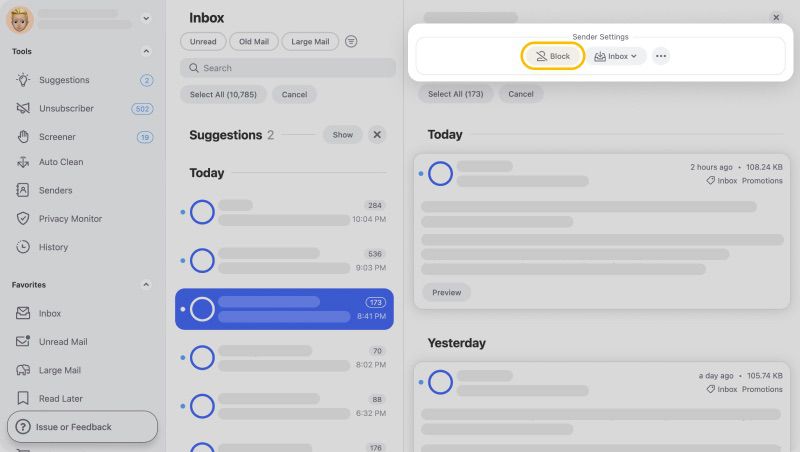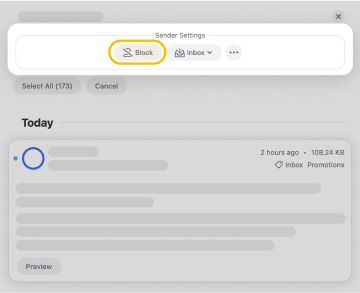 Move Unroll Me Emails to a Dedicated "Read Later" Folder
Don't want to completely get rid of Unroll Me emails? Move them to a dedicated Read Later folder in Clean Email. This way, you can continue receiving messages without them getting in your way. Read them at your convenience!
Launch the app and sign in with your mail account.
Select any Unroll.me message.
Choose the Read Later option (on the sender row). Messages will be automatically moved into the Read Later folder.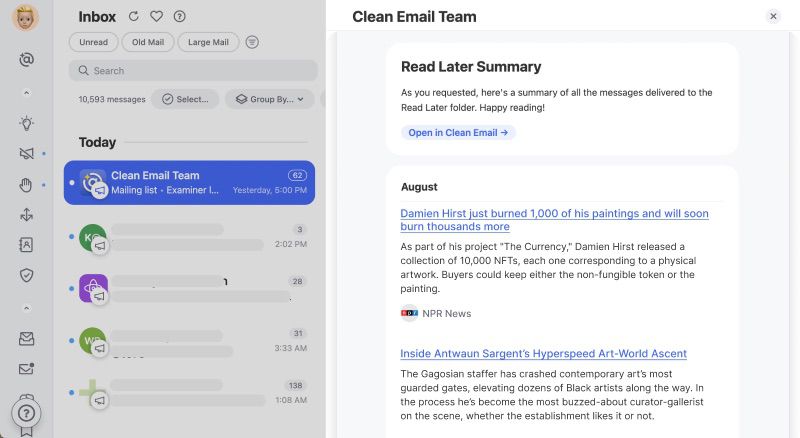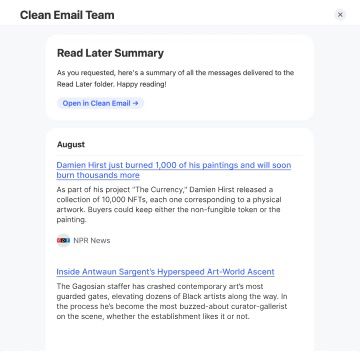 Set an Automatic Rule To Filter Unwanted Messages
Clean Email also has an Auto Clean feature to filter incoming newsletters according to your rules. Choose to archive emails, mark them unread, keep only the newest message, or move them to a specific folder. It's your inbox, your way!
Wondering how to unsubscribe from Offerup emails, stop DoorDash emails, or how to stop Robinhood emails? Our blog will help you learn how to opt out from unwanted newsletters cluttering your inbox.