Stop Walgreens Emails: 3 Methods
We have explored several Walgreens unsubscribe email options to share with users like you who are tired of the digital clutter. Here are our top picks on how to unsubscribe from Walgreens emails quickly.
1. How to stop getting emails from Walgreens on mobile
One of the easiest ways to get rid of these messages is to use your mobile device if you have the Walgreens app. Here's how to do it:
Log into the Walgreens app.
Navigate to your account settings.
Confirm you wish to opt out of emails.
2. How to stop Walgreens emails in a browser
If you don't have the Walgreens app or would prefer to use your computer's browser, the steps to unsubscribe are very similar.
Go to walgreens.com and log into your account.
Go to Account Home.
Go to Emails & Alerts.
Select your communication choices.
Save changes.
3. How to unsubscribe from Walgreens emails in your email provider
If you have a Walgreens email sitting in your inbox, you can unsubscribe directly from the message. Here's how:
Open a Walgreens email.
Scroll down to the Unsubscribe link (read more about how the unsubscribe button works).
Follow the prompts to update your preferences.
This method also works for just about any type of email, including Best Buy, Medium, Reddit, Uber, and many others.
How to Stop Walgreens Emails with Clean Email
There's a faster way to get rid of unwanted newsletters without having to jump through hoops — Clean Email. We designed this app to be the ultimate time-saver to help you take back control of your inbox.
With our unique Unsubscriber feature, you can unsubscribe from dozens of email lists in just a few clicks. Even if you're not a master of technology, you can use our easy-to-use interface to locate unwanted messages and click a button to make them disappear for good. And once you set up your rules for deleting or moving emails, you never have to do it again unless you change your mind.
The app supports all email providers, including Outlook, Gmail, Apple, and Yahoo! It also works across all of your mailboxes, making it ideal for work, school, and personal use. Spend less time managing your inbox manually by using the automation power of Clean Email — it's worth it!
How to Unsubscribe from Walgreens Emails In Clean Email
Want to see how easy it is to use the app to get rid of Walgreens messages? Here's all you need to do:
Log into the app and connect your inbox.
Select the Unsubscriber feature from the left sidebar.
Use the Search bar to find the Walgreens email subscription.
Click Unsubscribe next to it and you're done!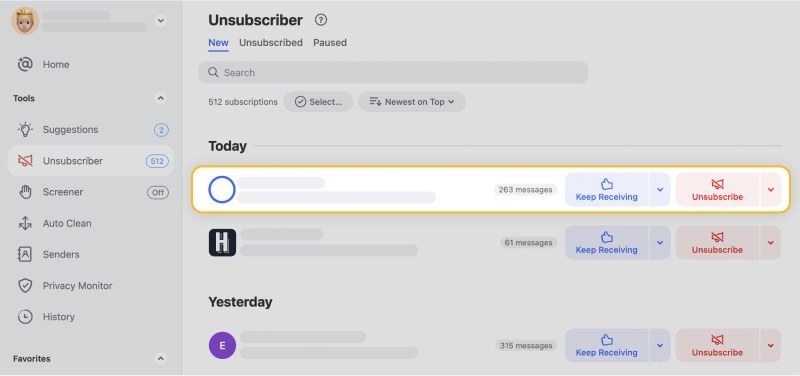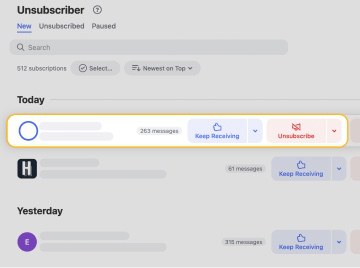 Bonus: the app also works to unsubscribe from Apple News emails, Uber, Quora, stop ZipRecruiter emails, and many more!
How to Block Walgreens Emails in Clean Email
The app is packed with useful email management features, including the ability to block an entire domain. This is particularly helpful with Walgreens emails, since this service sends several types of communications from multiple mail addresses. So when you unsubscribe from one email, it might not apply to all Walgreens messages.
Here's how you can block an entire domain:
Launch the app and sign into your mail account.
Open the Inbox or All Mail smart view.
Type @walgreens in the search bar.
Click "Select All" and then choose "Block."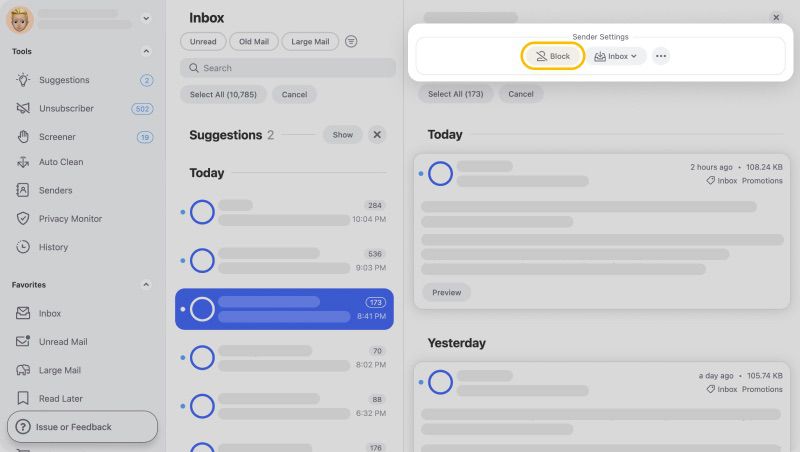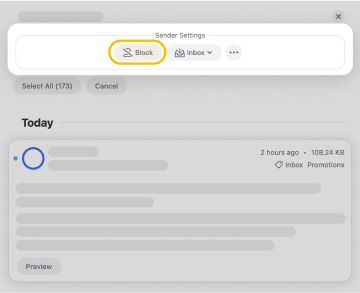 Move Walgreens Email Notifications to a Dedicated "Read Later" Folder
If you don't want to miss all Walgreens emails but also don't want them cluttering your main inbox, Clean Email can automatically move them to a "Read Later" folder. They'll be in this folder when you're ready for them.
Launch the app and sign in with your mail account.
Select any Walgreens message.
Choose the Read Later option (on the sender row). Messages will be automatically moved into the Read Later folder.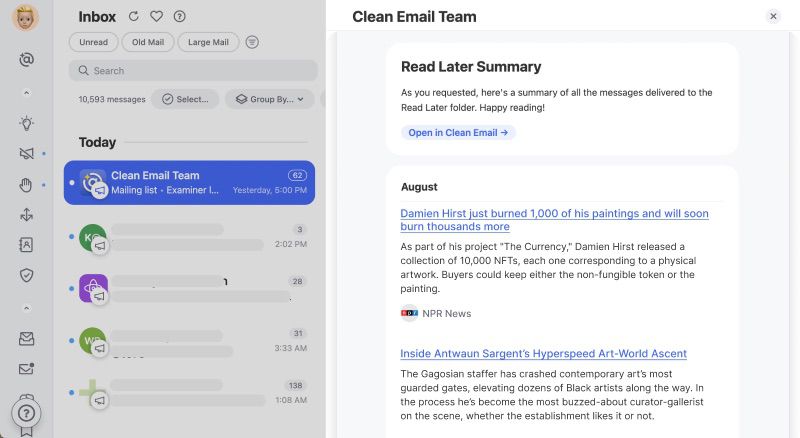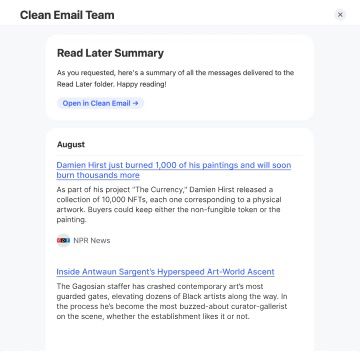 Set an Automatic Rule to Stop Walgreens Emails
Deleting or unsubscribing from Walgreens emails aren't your only option. Clean Email puts the power of automation into your hands by allowing you to control what happens to your messages. You can set up your own rules to mark messages read or unread, move to a specific folder, archive them, and more.
Wondering how to unsubscribe from Instagram emails, stop Netflix emails, or how to stop getting emails from Reddit? Our blog will help you learn how to unsubscribe from unwanted newsletters from cluttering your inbox.