Everyone Has Multiple Email Accounts
Many of us rely on technology to perform a large number of daily tasks both in the office and at home. Because of this, most people have at least a few addresses to manage. Unfortunately, though, email management can be a bit of a pain, especially if you are trying to manage multiple inboxes at once.
Luckily, there are lots of great ways to manage multiple mail addresses. In fact, there are even apps out there to help you manage all your messages from one place!
Best Tips for Managing Multiple Email Addresses
Although there are many benefits to having multiple accounts, managing each inbox can feel overwhelming at times. However, these tips for organizing multiple mail addresses can help you keep everything straight without letting email take over your life.
1. Turn Off Push Notifications For Email Accounts
First and foremost, you should consider turning off push notifications for as many mail accounts as possible. Notifications on your phone or desktop instantly distract you, and these notifications can happen constantly if you have multiple inboxes, including business email accounts. However, turning off these notifications keeps you focused on your work and lets you check your messages as you have time, which is great for time management.
2. Dedicate Each Mail Address To A Specific Purpose
Also, if you aren't sure how to manage email overload, dedicating each mail address to a specific purpose can really help. For example, you can set up one mail address for all of your subscriptions and newsletters while using another address for all of your work-related emails. This helps you sift through messages more quickly since each inbox only contains certain type of emails.
3. Use Folders And Filters
Folders and filters can help you better organize your messages within each inbox. Folders help keep all of your messages sorted, which helps both when checking emails and when looking for messages later on. However, sorting every message manually takes lots of time too, which is why automated filters are so handy. You can set up filters to sort your emails, then you can quickly go through folders one at a time and keep what you need while deleting the rest.
4. Use A Desktop Mail Client
Finally, a desktop mail client can help you manage multiple email accounts in one place. Desktop email clients like Outlook or Thunderbird let you quickly check multiple inboxes at once, which can save you tons of time. Furthermore, many desktop clients offer tools that can help you snooze notifications, filter out spam messages, and sort emails into folders — all of which save you time.
5. Use Email Management Software to Organize Multiple Accounts
Although the tips mentioned above can certainly help you manage your inboxes, they don't always address the underlying issue of having so many emails to go through. Believe it or not, there are actually apps and tools that are designed to help you organize your inboxes and manage all emails in one app. In fact, email management software just might be the missing piece of the mailbox management puzzle for you.
If you're looking for a tool that offers all of the best email hacks for better inbox management, then we strongly recommend Clean Email.
Clean Email Helps You Put All Emails in One App
Clean Email is an inbox management tool that allows you to manage all of your messages and newsletter subscriptions in one place. Although you can't write and send emails with this app as you would with a mail client, you can add all of your mailboxes to your Clean Email account for easy inbox management. You can delete, move, archive, block, unsubscribe, and more, all from a single app.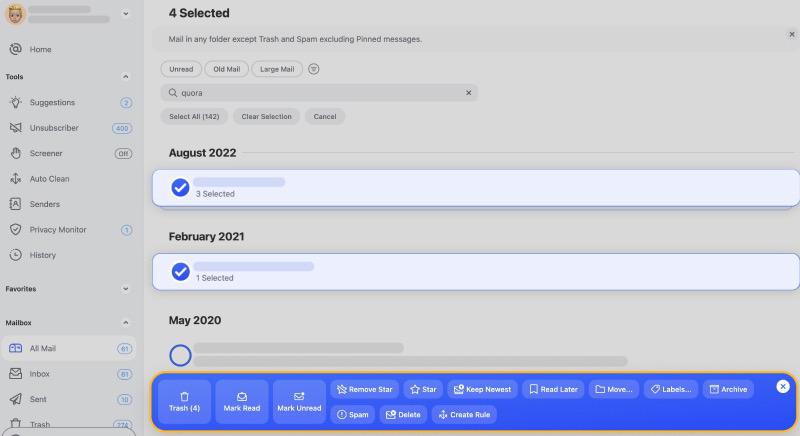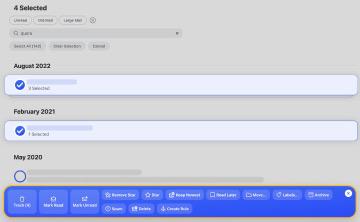 Clean Email connects with most mail service providers and offers many features that can help you carefully organize your emails. For example, the Smart Forlders feature helps you sort all of your messages into smart bundles such as "social media notifications" or "emails older than 1 year." These smart views can help you go through your mail in minutes, which saves time for you to tackle other important daily tasks.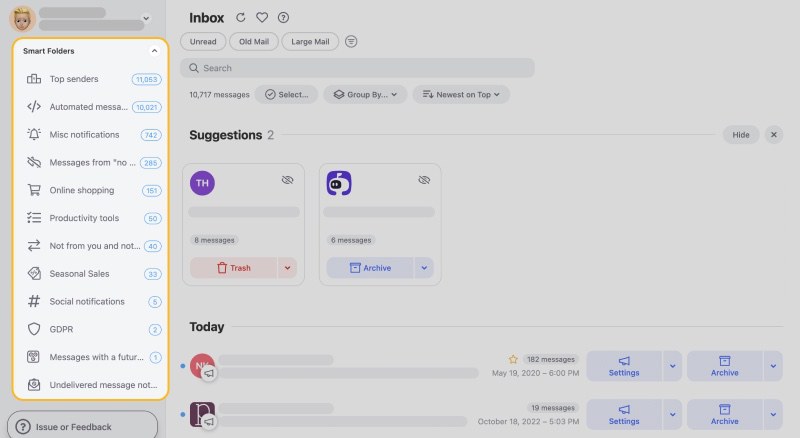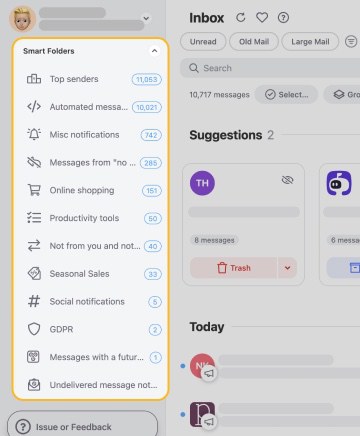 Additionally, the Auto Clean feature lets you automate any of your routine mail tasks. To create an Auto Clean rule for your inbox, simply log into your app's account, head over to the Auto Clean feature, then check the "Create New Rule" option. It's super simple!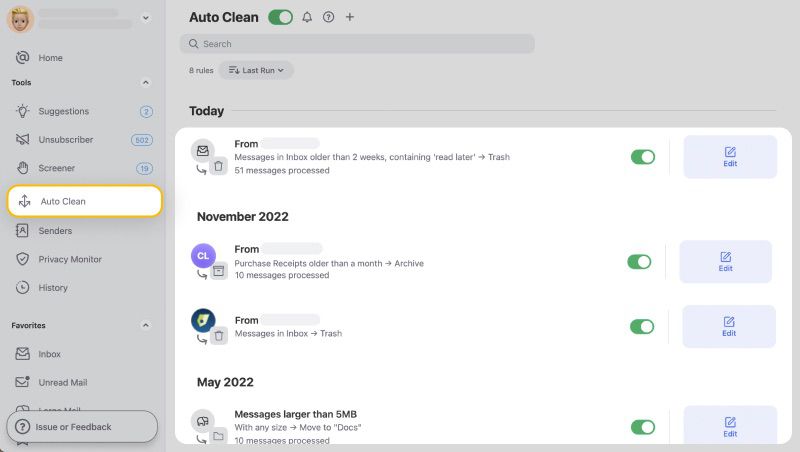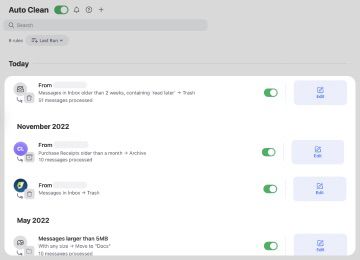 The Unsubscriber tool helps you clean up your inbox permanently by removing any newsletters or promotional emails you simply do not want. Or, if you'd rather just clear certain newsletters from your inbox but check them when you have free time, Unsubscriber can also help you by moving selected emails to the 'Read Later' folder.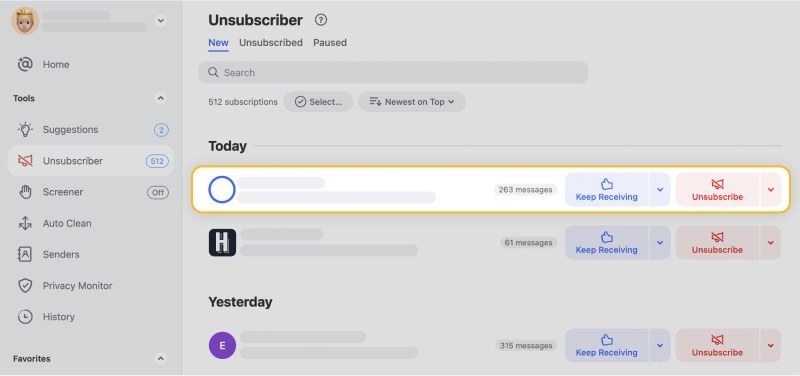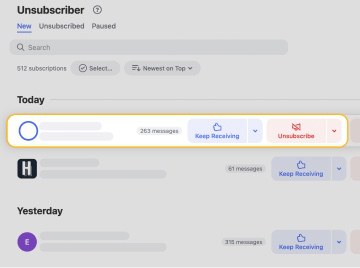 Are you ready to manage multiple mail accounts more effectively and work your way to Inbox Zero? If so, it may be time to learn more about how Clean Email can help you achieve all of your email goals.
---
How To Manage Multiple Email Accounts - FAQs
Can I have multiple email accounts?
Absolutely! Because our lives are so technology-based, many people have multiple mailboxes that they use on a daily basis. Most of the time, people have at least two accounts, but some people have as many as five or more.
Is it bad to have multiple email accounts?
While some people have a hard time juggling all of the messages they receive through multiple email addresses, it's not a bad idea to have several mail accounts. In fact, many people consider having several mail addresses for security purposes and easier inbox management.
What is the best way to manage multiple email accounts?
There are many ways you can manage multiple mail addresses. You may use a mail client that supports adding several mailboxes or an inbox management app like Clean Email to help them organize all emails in one tool.
Which app is best for multiple email accounts?
Since every multiple mail accounts app offers different features, it's best to think about what you need before selecting an app to help you organize your messages. With that being said, Clean Email offers a lot of great features to organize your messages in smart bundles, unsubscribe from all unwanted newsletters, block unwelcome senders, etc.