What Is Email Organization and Why Does It Matter?
Every day, you receive hundreds (if not thousands) of electronic messages. Unfortunately, many people don't do a great job of sorting these messages or establishing any sort of rules for inbox management. But here's the thing: your inbox is just like your home, and you need to keep it clean.
Email organization, or mailbox management, is a systematic approach to email that involves effectively reading, sorting, and cleaning out your email account so it stays neat and tidy. When you organize inbox emails, you spend less time checking emails each day. This helps you stay productive at work and lets you minimize your time in front of your screen at night.
Email Organization Best Practices And Tips
Even if you understand why email inbox organization is important, you may not know where to start when it comes to organizing your own inbox. That's where these email organization strategies come in — they make it easy for you to remove clutter and put every message in its place so you aren't sifting through thousands of emails to find one file.
1. Delete Messages You Don't Need
Many people are guilty of holding onto messages for way too long. Unfortunately, all this does is clutter your inbox and make it harder to sort through messages to find what you need. So, don't be afraid to press that delete button on messages you do not need.
In general, you should delete any emails that don't contain important information. You can also delete emails older than 60 days old that you haven't touched or any emails with attachments you have already downloaded and saved.
If you use email organization software like Clean Email, you can actually establish automatic rules that delete messages after a specified period of time, which helps you remove outdated messages without actually doing the work.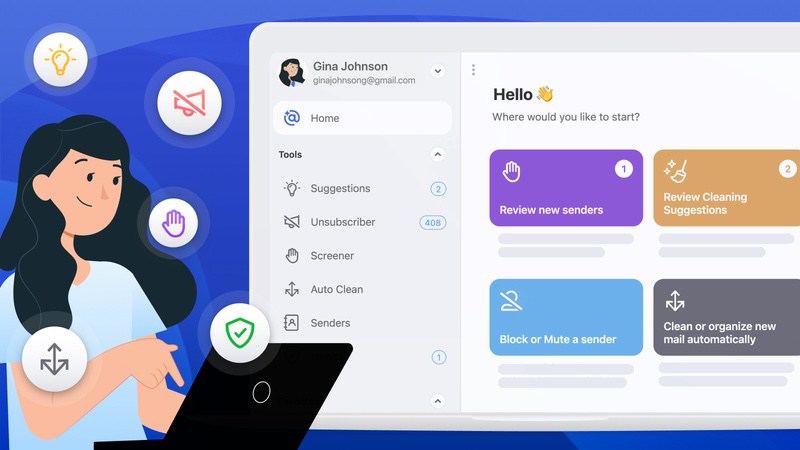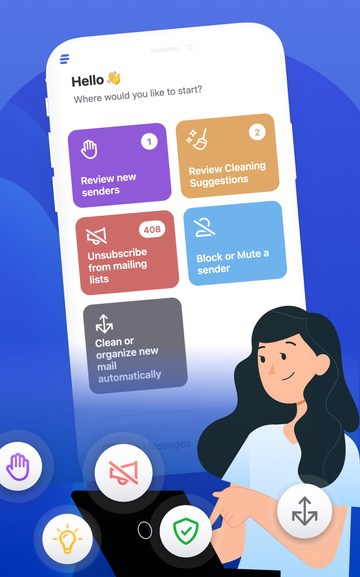 2. Use The Archive Tool
Sometimes you do not need an email to sit in your inbox, but you may not be ready to delete it just yet. If that's the case, you can archive the message instead. When you archive an email, it will move from your inbox to the archive folder.
When you archive a message, you can still find it with the search function or by going to the dedicated archive folder. You can still download any attachments or even reply to the message if needed. If someone else replies to the message, it will reappear in your inbox instead of your archive folder.
3. Create Folders to Organize Messages
Folders are a great way to sort emails quickly into smaller buckets so you can quickly locate them. Sorting messages into folders lets you keep your primary inbox clean, so you only deal with brand-new messages each time you open your mailbox.
Most email providers let you create folders and name them anything you'd like, so you can create a folder system that makes sense to your brain. You can categorize them based on the contents, the sender, or anything else that helps you separate messages and easily find them.
4. Use Subfolders and Labels
Sometimes folders aren't enough — you may need to sort messages even further. In this case, you can create subfolders within the main folder to micro-file your emails. This can be helpful for those who may need to sort work messages based on clients and projects, or it can be a way to sort financial messages based on the sender. Regardless, subfolders make it even easier to sort and later find messages.
Similarly, labels can help you sort messages in a second way. For example, you may want to place a message in a folder based on its contents, but you may also want to label it based on other criteria. This is a way to see which messages require a response, include tasks for you to complete, or involve something else.
5. Categorize Every Email
Once you create folders and labels, you need to use them. You can do this by categorizing each message as it enters your mailbox. This lets you quickly sort messages, respond to urgent ones, then deal with non-urgent messages in groups when you have time. Some email clients even allow you to color-code messages, making categorizing them easier.
Failing to categorize messages as they show up in your inbox is one of many email organization mistakes people make. However, taking the time to do this will dramatically change how you approach electronic messages and save you tons of time. This is another place where email organization tools like Clean Email come in handy, because they can label messages for you.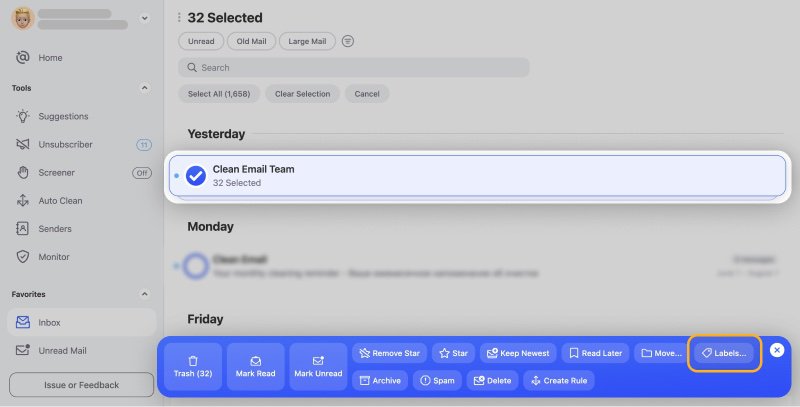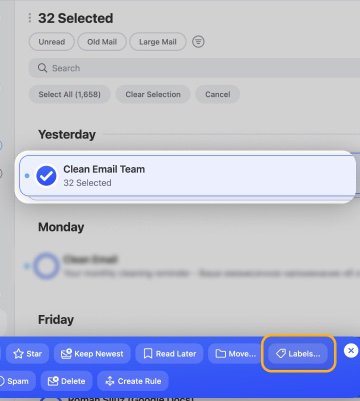 Moreover, the app uses pre-set labels called Smart Folders. They organize similar messages into easy-to-review bundles such as Automated messages, Finance, or Productivity tools, and more. You can easily click the necessary label, choose all emails from the unwelcome sender, and select an action like sending them to Trash. No need for setting rules and filters manually.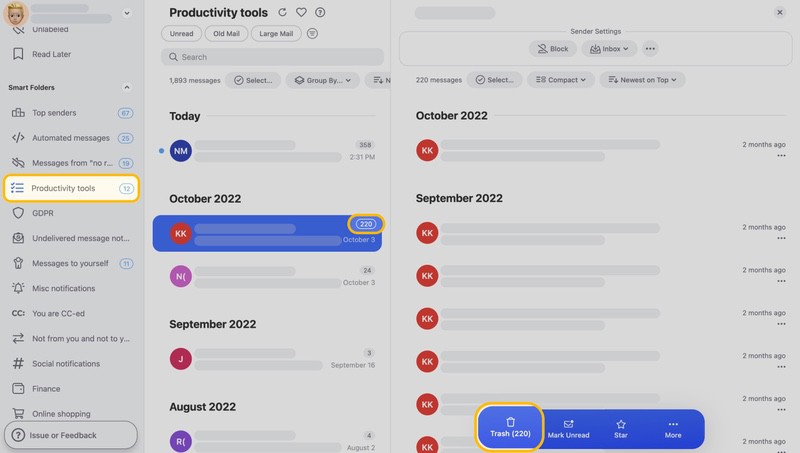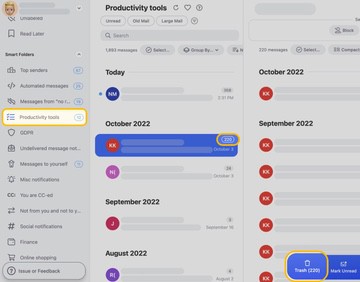 6. Block Unwanted Spam Messages
Chances are there are many messages you receive in your inbox each day that are not only unnecessary, but unwanted. You may just ignore these messages or delete them as you find them, but that doesn't stop the sender from filling your inbox with more clutter the next day.
If you really want to cut down on the junk mail you receive, you should block senders you don't wish to receive messages from. Most email providers make it easy to block senders, and this helps minimize the number of emails you receive per day.
7. Set Up Mailbox Rules
Believe it or not, some mail providers now give you the option to automate tasks like sorting messages into folders or assigning labels. This makes the task of categorizing and sorting messages take even less time, and it ensures that your emails get sorted so you can quickly work through them.
Outlook and Gmail let you set up filters or rules, or you can use a third-party email organizer like Clean Email to set up these automations.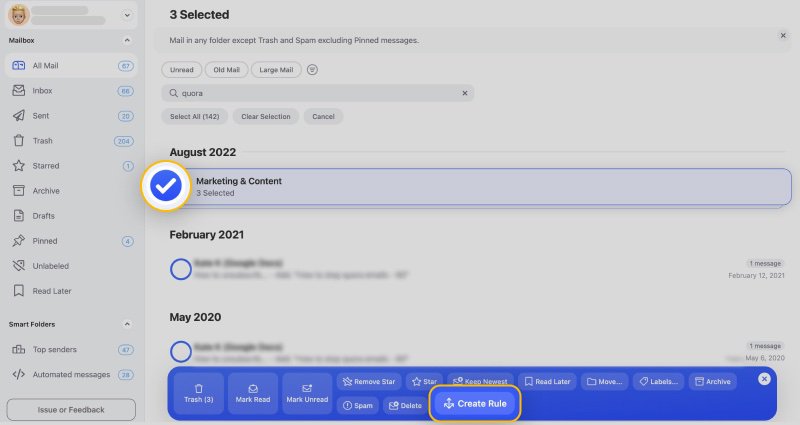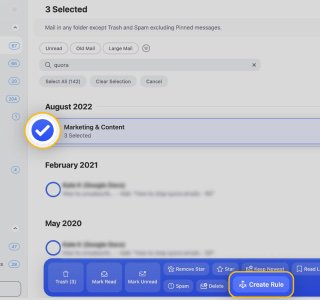 8. Use A Mailbox Management App
As previously mentioned, third-party email organizers are a great way to set up automations. However, these mailbox management apps can actually handle most of your email organization needs.
Mailbox management apps make it easy for you to execute all of the email organization tips in this list because they are programmed to remove clutter, sort messages, and help users achieve inbox zero. In many cases, email organization apps are also very affordable, especially when you consider the time they save you each day.
Some great email organizers include:
Clean Email (which we will talk more about below)
Boomerang
Mailstrom
SaneBox
9. Evaluate Your Inbox at Least Once Per Week
As you can tell, there are many ways to keep your inbox organized. However, no amount of email organization strategies will help you if you aren't putting them into practice. Therefore, you need to set aside some time each week to ensure these email organization best practices are happening.
You shouldn't need much more than one hour per week once you get going, and you can simply schedule it like you would any other meeting or recurring task. Then, when the time comes each week, you simply login to your mailbox and begin the work.
Let Clean Email Organize Your Email For You
The best email organization strategy is to find a system you can set and forget so you don't spend hours sorting messages. Luckily, Clean Email is the best mailbox management app for the job.
With Clean Email, you can sort messages, set up automations, and remove clutter without even lifting a finger. In fact, the app offers over a dozen unique inbox management features, including:
Auto Clean: This feature lets you set up automatic rules that run in the background so you don't have to manually organize your inbox.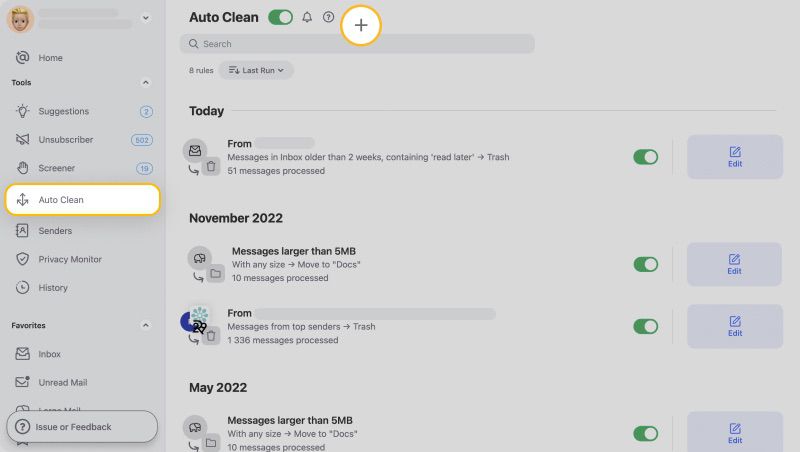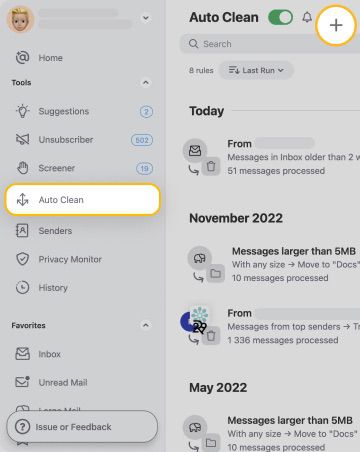 Screener: This feature places messages from unknown senders in a quarantine folder instead of your inbox.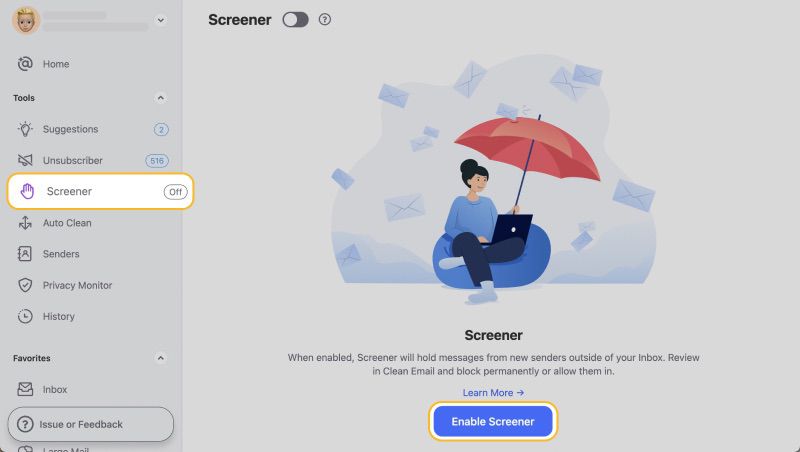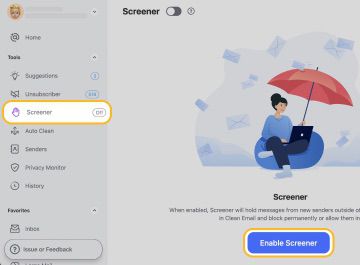 Unsubscriber: This feature removes promotional messages from your inbox by automatically sending unsubscribe requests on your behalf.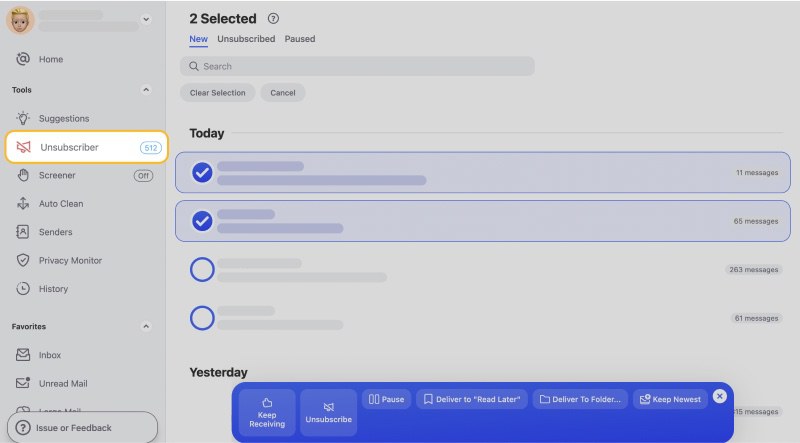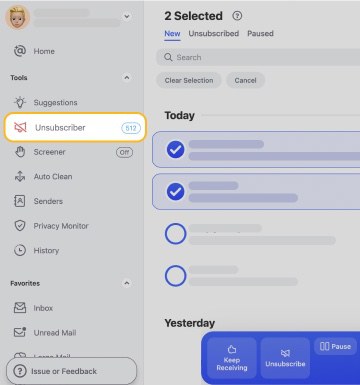 Senders: This feature automatically clears messages from flagged senders when they hit your inbox.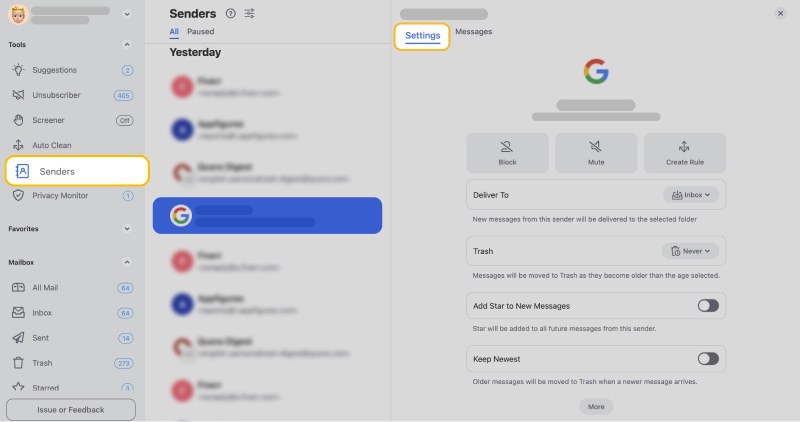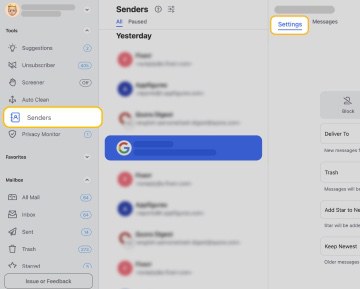 Furthermore, Clean Email groups messages by sender by default. This means you can apply actions to group of messages from the specific sender (like sending them to Trash) without ever going through the steps of setting up any filters and rules like you would with email providers like Yahoo or Gmail. This saves you even more time and helps organize your messages automatically.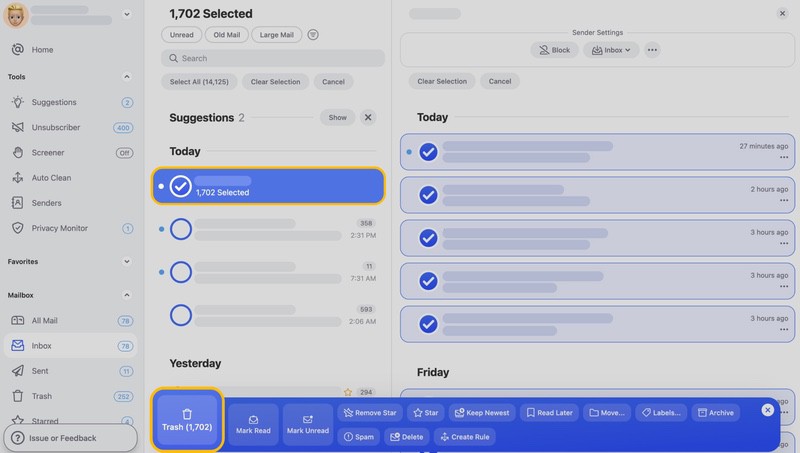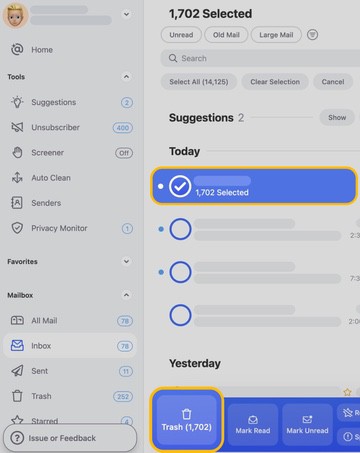 The app works with all IMAP-based providers and is available for iOS, Android, Mac, and on the web. Also, Clean Email takes security quite seriously and will never collect or sell your data. Everything remains secure and, more importantly, private.
---
Email Organization Strategies - FAQs
What is the best way to organize emails?
If you are trying to organize your inbox, then you will want to develop a clear organizational system of folders and labels, then categorize emails as soon as they arrive.
What are the 6 folders typically organized in an email account?
When most people organize their emails by folder, they use a system that includes Inbox, Action (or Today), Waiting (Pending), Projects, Review, and Reference. Alternatively, some people use a date-based system of Inbox, Today, This Week, This Month, and Reference.
How do I organize too many emails?
If you have too many emails, the best approach is to mass delete as many messages as you can to clear out the clutter. You can do this by deleting all messages from senders you know are junk or not needed.
How can I improve my email organizational skills?
If you struggle with email organization, consider using email organization software like Clean Email to help make it easier. These tools automate a lot of the things people suggest for inbox organization, so it makes it easy for anyone to do.