Why Should I Clean My iCloud Emails and Where Can I Find iCloud Storage?
Whether you've had your email account for a few weeks or years, making sure your inbox is clean and doesn't take up unnecessary space in your storage is important. Here are five reasons why you should regularly clean out your iCloud emails:
You'll have additional space for apps, photos, notes, and music.
Your Apple Storage plan stays free because you aren't using more than 5GB of space.
A clean inbox is less stressful to look at and navigate through.
The 5GB of free space applies to all devices syncing to your iCloud account.
However, before you start organizing your inbox, you'll need to know where your storage information is located. Don't worry if you don't know how to do this yet, we're going to walk you through each step for iPhone, Mac, and Windows devices.
How to locate iCloud storage information on your iPhone
First, go into your Settings app.
At the top, click the rectangular box that has your name and a small arrow that's located and pointed toward the right side.
Select the rectangular box labeled iCloud to see the amount of storage available, what's taking up its space, and where to go to start making room.
Where to look for your iCloud storage information on Mac
Click the Apple symbol at the top left corner.
Select System Preferences.
At the top right corner, click the icon that says Apple ID.
If iCloud isn't automatically selected, click iCloud on the left sidebar to find the current amount of storage you have to use, what apps or data are taking up your space, and where you can go to make changes.
How to access iCloud Storage on Windows PC
Open your browser and type in iCloud.com.
Click the Account Settings option to view the amount of room you have left and the apps or data that are taking up the most space.
How to Mass Delete iCloud Emails
Deleting messages one by one is a tedious task for most people. If you're wondering "How can I delete my iCloud emails all at once" - we've got you covered. Luckily, Apple gives you the option to mass delete emails from iCloud.
Go into your Mail App into All Inboxes or choose the individual mailbox you want to clean.
Select Edit.
Click Select All or manually click each message you want to be deleted.
Select Trash to delete all emails with a checkmark by them.
If you're using an Android or PC, go directly to the iCloud website to delete your emails.
How to block emails on iCloud
If you have email addresses sending you unwanted messages that you can't unsubscribe from and tired of deleting, this service provider allows you to block emails too. We'll show you how to block emails on iCloud in three simple steps.
Open the mail app to click the message from the pesky sender you want to block.
When you select the sender's address in the From: field, it will take you to its contact page.
There, you can select Block this contact twice to complete the steps.
How to Clear iCloud Storage
There are many ways to free up iCloud storage space and here are some ideas on how to do this.
Deselect the app's tab you don't use often or need for multiple devices to stop it from syncing
Clear the app's data or disable it in the manage storage bar
Delete old devices and apps you no longer use that are being stored in the backups app
Have photos shank into smaller sizes by setting your photo syncing option to optimize iPhone storage.
Empty your email trash can
Archive emails you need to save offline
Archive files for Mac or Windows PC to iCloud Drive
Select which apps you want to sync to iCloud Drive
Utilize email cleaner apps
How to Forward iCloud Email to Gmail
The easiest way to forward an email is to open the mail app on your device and go to your iCloud email settings to select "preferences". Under "Preferences", you'll have an option that says "forwarding" under the "general" tab where you'll check the box and type the Gmail address you want to start forwarding emails to.
How to Use Clean Email App to Organize iCloud Mailbox
The Clean Email app makes it easy and simple to organize and clean your iCloud mailbox. Instead of manually sorting every incoming message, apply actions to email groups that the app automatically sorts for you.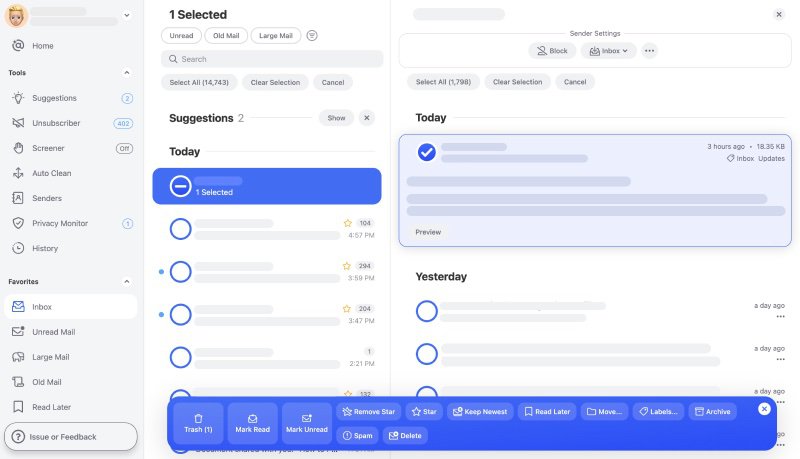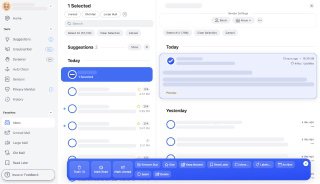 Also, this email cleaner uses rules and filters to help you keep your inbox clean, and minimize the amount of storage space your messages take up. You can set up rules to filter incoming messages that match certain criteria automatically. Create rules and filters once and manage all of them from the Auto Clean dashboard.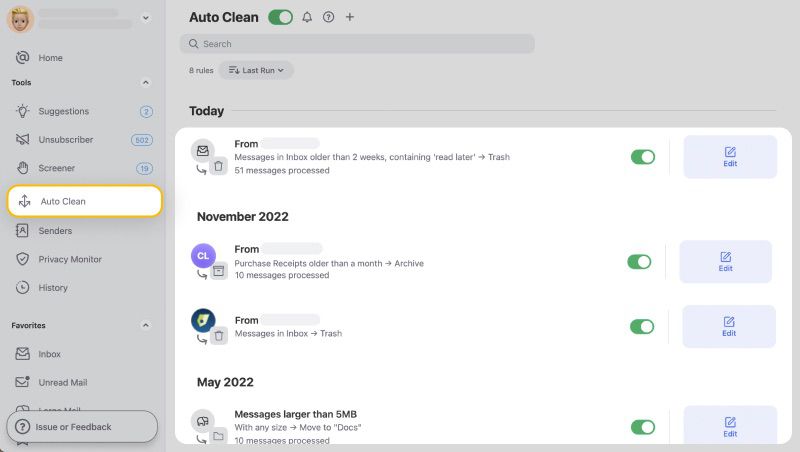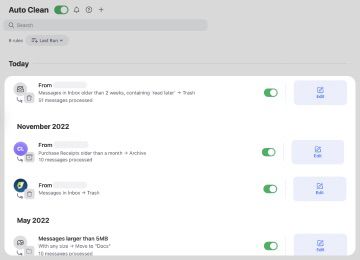 You can also unsubscribe from all unwanted subscriptions with several clicks using the Unsubscriber feature. The app will send unsubscribe requests and complete the unsubscribe forms for you. Alternatively, you can send certain newsletters to the Read Later folder to get back to them later.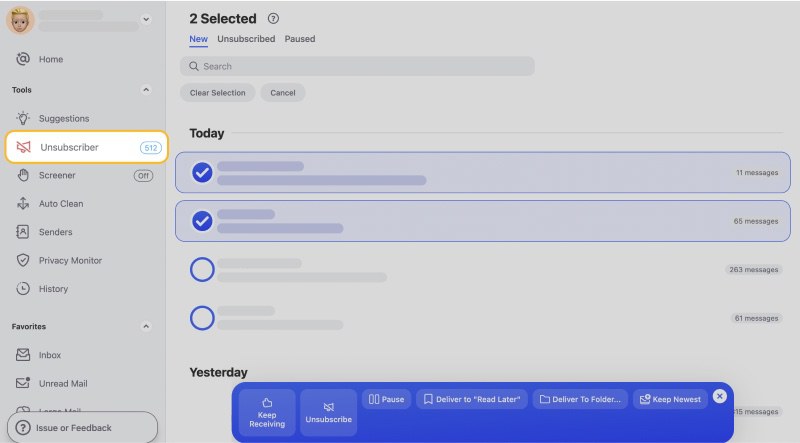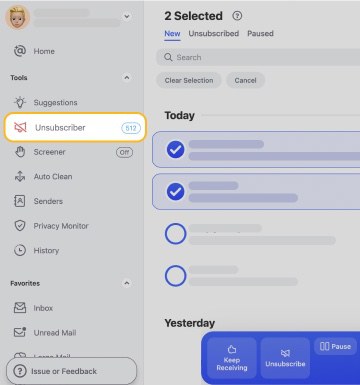 Follow our other guides about what email organizer for Mac to use and the most common email organization mistakes people make.
Conclusion
Knowing how to organize iCloud to free up storage space is half the battle. However, we know you're busy and don't have time to constantly monitor your inbox or go through all the steps to keep your mailbox clean. That's why we recommend using the Clean Email app to clean up your emails without compromising storage space and allow you to focus on what matters most.
---
How to Organize iCloud Emails - FAQs
How do I check my iCloud mail?
You can find your inbox in the Mail App or on the iCloud website. If you have a bulk email organizer like Clean Email, you'll be able to check your messages in the app as well.
How to change iCloud email account?
You can change your email address in the mail app under the "accounts" tab.
Does iCloud storage affect emails?
Yes. When the storage has reached its capacity, it prevents you from sending and receiving future emails.
How to retrieve deleted emails from iCloud?
You can go to the Mail app to recover iCloud email by moving the deleted message to your inbox. If you have emptied your trash can, there is no way to restore that email.
How do I clean out my iCloud?
Keeping your mailbox clean can be done by reducing photo size, deleting and organizing emails, and deciding which app's data you want to sync to your cloud or save directly to your device. One way to expedite your cleaning process is by downloading an email cleaner app to avoid your messages from taking up too much space.
How to check iCloud email on Android?
You can go to iCloud's website on your Android's internet browser to easily check your emails.