Filing Messages Can Help Organize The Clutter
Maintaining a clean, clutter-free inbox is hard, especially given how many emails we each receive in a day. However, Outlook gives its users several tools to help sort, label, and organize their messages. One of these tools is folders.
Folders are essentially digital filing systems that let you drop messages into them so you can easily locate them and deal with them later. However, learning how to organize Outlook emails into folders can be tricky, especially if you don't know where to start.
Best Practices for Organizing Outlook Email Folders
If you know how to organize folders in Outlook, then you can use them to maintain a clean, well-organized inbox. In fact, you can even create a system that saves you time when checking your messages during the day. These best practices can help you organize email into folders in Outlook for Mac or PC, regardless of whether you use the Outlook desktop app or webmail.
1. Create labels that help you be more productive
One of the biggest mistakes people make when they organize Outlook folders is they don't create a filing system that makes sense for productivity. In fact, many people create filing systems based on the sender, their client list, or some other parameters that could just as easily be covered with a category label.
The best way to organize Outlook folders is to create folders that help you move through messages quickly. When deciding how to organize email in Outlook, you may want to create filing places for "Follow Up," "To-Do," and "Read Later." You may add a couple of other folders as well, but the point is to sort messages so you can quickly go through several messages that all need the same thing at once.
2. Use Clean Email's Smart Folders to organize Outlook emails
Unfortunately, organizing Outlook email folders takes time. If you use the Clean Email app, however, you can save time and energy by simply using the Smart Folders app's feature.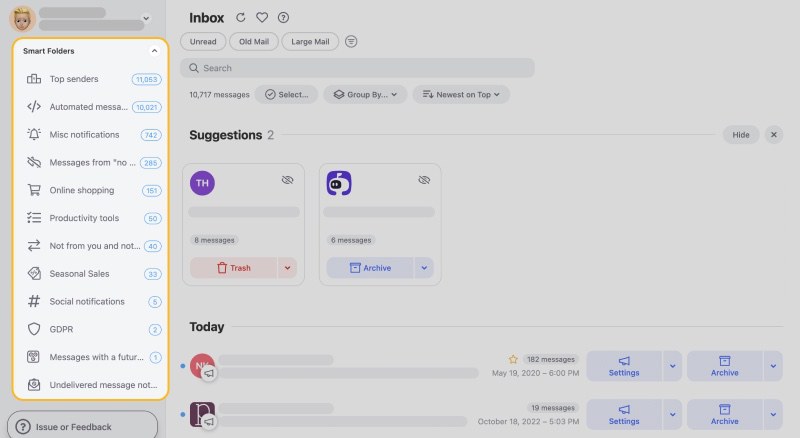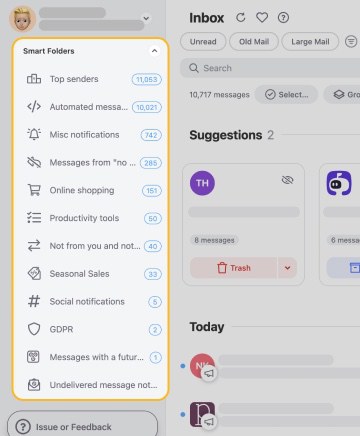 This feature applies predefined filters to your inbox. You can then view messages who meet the parameters of each smart folder and quickly go through dozens of messages in a few minutes. You can even apply additional filters and save these settings to create Favorites in your Smart Folders panel.
A great use of Smart Folders is for messages that you may not even need to read. For example, if you receive email notifications from the productivity tools you use, the app will automatically sort all of these messages into a folder for you. Then you can simply click the entire group and delete, move, or label them without going through each message manually.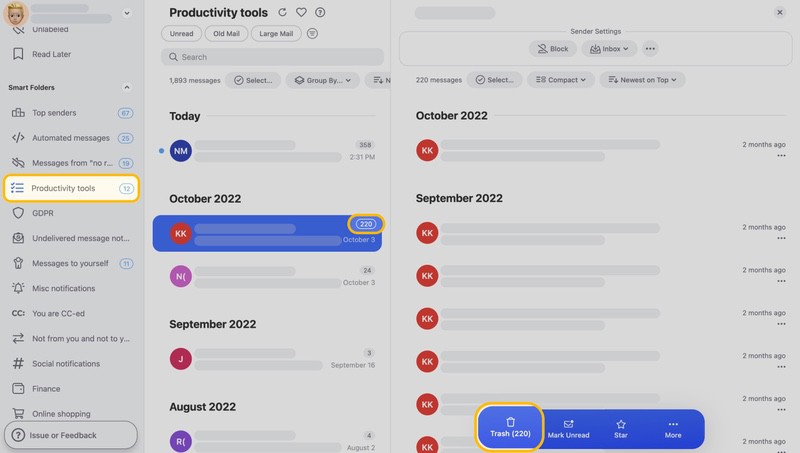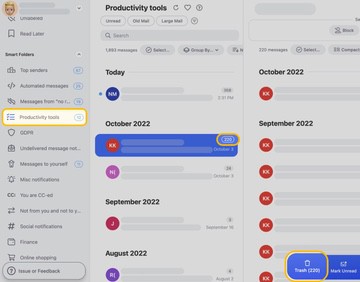 Furthermore, you can use the Favorites setting to set up Smart Folder parameters and save them. You then don't even have to move messages into these files manually one by one. Instead, you can select everything in that smart folder view and perform an action (i.e. move) to every message at once, thereby sorting them into any folder you wish.
3. Use the four D's to sort messages
As you decide how to organize folders in Outlook, you can use the four D's to help you organize things further. This means you'll look at messages and decide to immediately delete, delegate (forward) to someone else, sort it into your to-dos, or defer it for later.
4. Set up subfolders to help organize further
As you sort emails in Outlook, you may find that you need to scale items down further than just "Follow Up" or "Read Later." For example, you may need to have a "Follow Up Today" or "Follow Up Next Week" folder. Thankfully, you can use subfolders to help you accomplish this.
To make a subfolder, you will first follow the steps to create folders in Outlook. Then, if you are using Outlook web, you can simply hold and drag the subfolder to nest it into the folder you'd like to place it in.
If you are using the Outlook desktop app, you will need to go to Actions → Move Folder to move the folder you created into another folder. Click OK when you are done to save the changes.
5. Use rules to automatically move messages into folders
Organizing Outlook email folders manually takes time. However, once you create your folders, you can use Outlook rules to automatically sort messages into files for you.
To create a rule in the Outlook desktop app, locate a message and right click on it. Then, click Rules → Create Rule… and follow the steps to create the automation.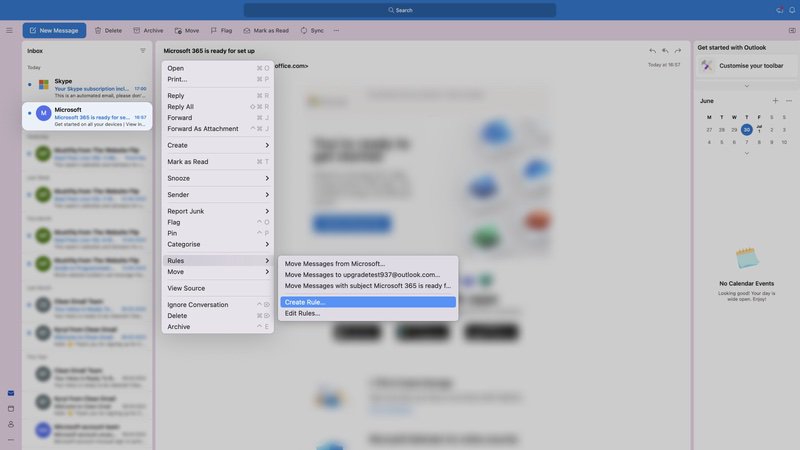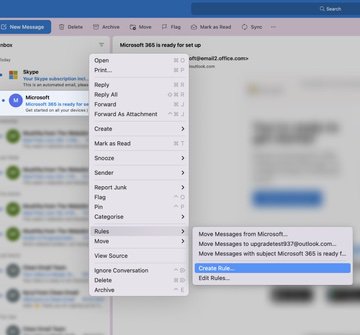 The process in Outlook web is nearly identical, but you will right click and select Advanced Actions → Create Rule instead.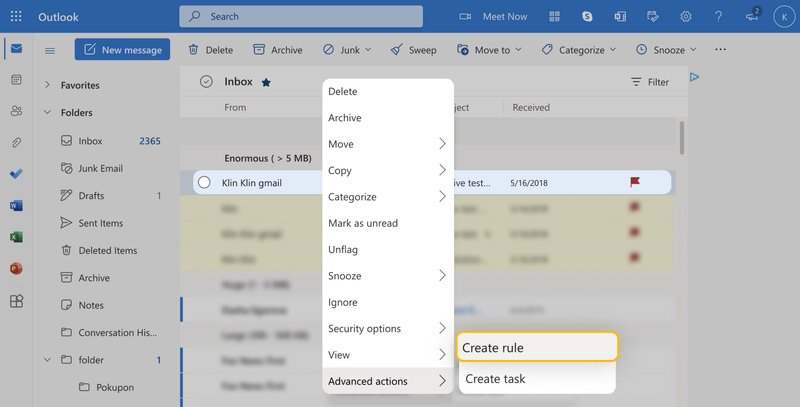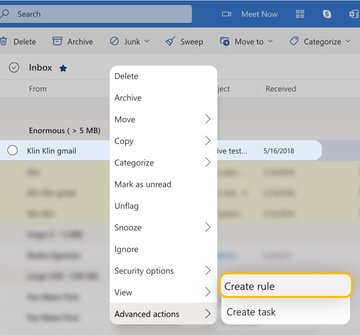 6. Don't make too many folders
Last, but not least, be careful about how many folders you create. When people learn how to organize Outlook folders, they can sometimes go overboard. Unfortunately, more folders mean more work for you, so keep the number to a minimum and focus on productivity and efficiency.
If you set up folders and decide later that you do not need them, you can always delete folders in Outlook. All you need to do is right-click on the folder and select Delete Folder to get rid of it.
💡 Note: If you delete a folder with messages in it, Outlook will move these messages to your Trash by default.
How to Search Folders in Outlook Desktop App
In Outlook, you can create a Search Folder so you can find all the items in your mailbox that match specific criteria. Although some folders like this already exist in Outlook, you can create your own so you can perform a custom search. This is handy if you need to keep up with specific messages throughout the month or if you need to locate all of the messages you've exchanged about a certain project.
To create a custom search folder in Outlook Desktop:
Select the Folder menu.
Go to New, then choose New Search Folder.
Next, scroll to the bottom and click Create a Custom Search Folder.
Move to the Customize Search Folder section, then select Choose.
Name your folder.
Now, click on Criteria, and select any options you want for the search.
Click on OK to finalize changes.
How Clean Email Can Organize Your Emails
As previously mentioned, Clean Email offers a Smart Folders feature that can help you organize folders in Outlook. However, that's not all Clean Email has to offer. This mailbox management app can make your digital life much easier to manage thanks to nearly a dozen different features.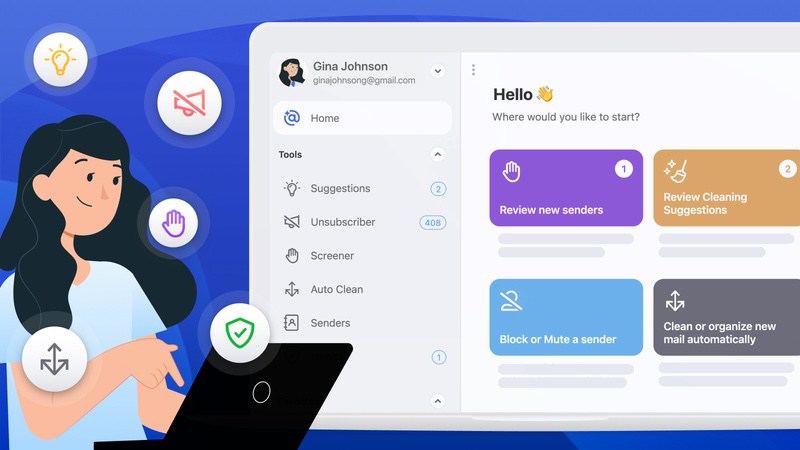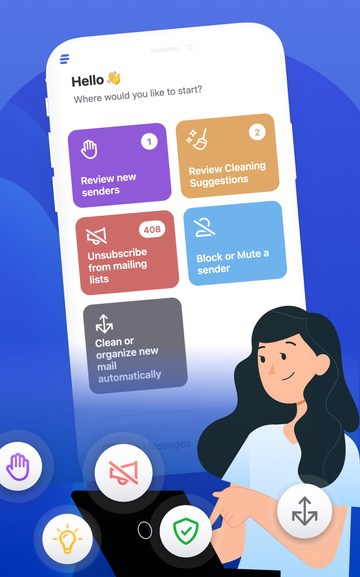 Some standout features include:
Auto Clean, which lets you set up automatic rules for sorting, labeling, and removing messages from your mailbox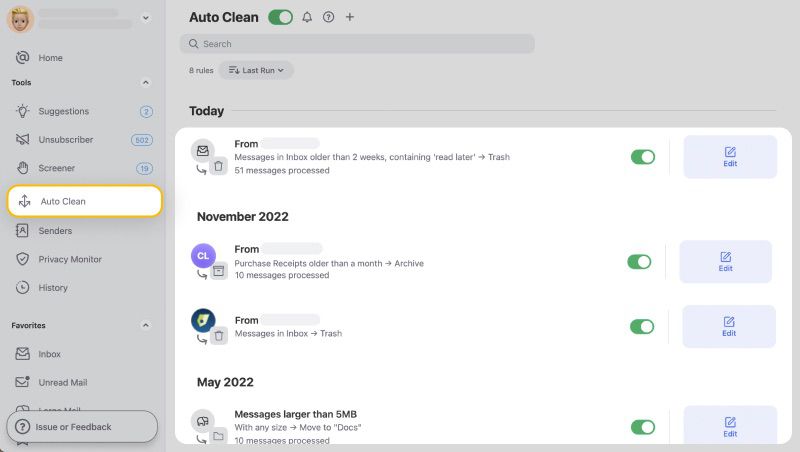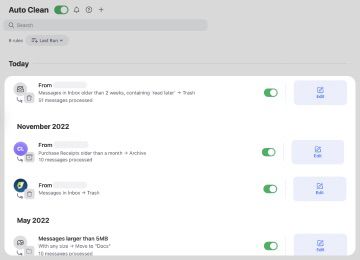 Screener, which places messages from unrecognized senders into a special quarantine folder so they don't clutter your primary inbox
Unsubscriber, which removes promotional messages from your inbox by sending unsubscribe requests on your behalf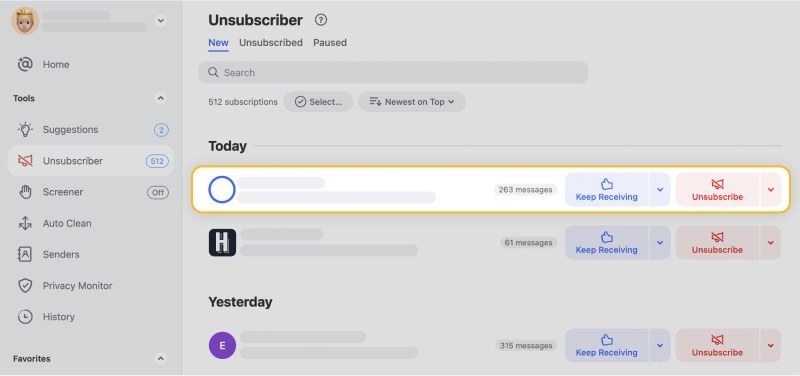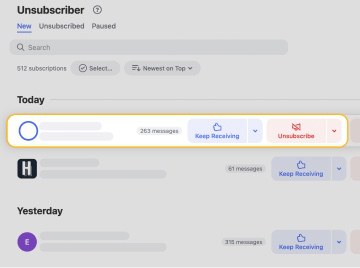 Senders, which clears messages from flagged senders so you don't have to deal with them
Privacy Monitor, which checks your address against known data breaches and alerts you if there's an issue
As you can see, the options are endless with Clean Email. It's the perfect solution for anyone looking to organize their mailbox and spend less time checking email.
💡 Note: The app cannot make changes to messages and folders from third-party providers you open in Outlook — it can only control Outlook inboxes where Microsoft is the provider. To manage other mailboxes, you will need to sync your Clean Email account with each individual email address separately.
---
Outlook Folder Organization Best Practices - FAQs
What is the best way to organize Outlook folders?
The best way to organize them is by setting up a consistent system that encourages productivity.
Can I rearrange folders in Outlook?
Yes, you can move folders in Outlook with just a few clicks. You can sort personal folders in a way that makes sense to you, or even create subfolders within the primary folders.
How do I organize my Outlook subfolders?
You can create subfolders just like you do primary folders. Then, you can simply drag and drop them into a main folder to make them into a subfolder.
Why is Outlook not alphabetizing folders?
Outlook will only alphabetize personal folders, meaning ones you made. However, if you move the folders around, Outlook will save them in the order you set up, which may not be alphabetical.