What Is an Email Organizer?
An email organizer is an app whose purpose is to help you organize your email. The best email organizers support all major email providers, including Gmail, Yahoo, Outlook, AOL, Fastmail, and iCloud. Some email organizers are available as desktop applications, but most modern ones embrace the SaaS (Software as a Service) model, in which software is licensed on a subscription basis and is centrally hosted.
Most email organizers can be tested for free, with paid premium subscription plans available for those who would like to keep using them. Considering that the average office worker receives more than 100 emails a day, it's easy to see where the value of organizers comes from and why it makes sense for businesses and individual users alike to pay for one.
Why Should I Use an Email Organizer?
A good email organizer app such as Clean Email allows you to efficiently eliminate email clutter with just a few simple clicks. Instead of going through your emails one by one and manually separating emails you want to keep from those that can be deleted, an email organizer app can analyze the headers of your emails and use the information in them to organize your emails into easy-to-review bundles.
Many people waste hours trying to figure out how to organize email inbox and ensure that it won't become cluttered ever again only to find it unusable after just a few weeks. Clean Email and other advanced email organizers provide you with an assortment of useful tools that can help you maintain a clean inbox going forward.
Instead of pondering how to organize work email when you barely have enough time to meet deadlines, you can apply automatic actions to incoming emails, so they always end up in the right folder and are labelled accordingly as soon as they arrive.
Let's say that each email you receive takes you just 5 seconds to organize manually. If you, like most office workers, receive around 100 emails a day, you spend 500 seconds, or a little over 8 minutes, every day on email management alone. That may not seem like much at first but consider that 8 minutes of email management a day adds up to more than 2 days over the course of a year. That's a lot of wasted time that can be saved with virtually no effort at all just by using an email organizer app.
Top 10 Best Email Organizer Apps
If you've read everything so far, our first choice of an email organizer app shouldn't surprise you because we've already mentioned it several times. Clean Email is an excellent email cleaner app designed for people who want to achieve Inbox Zero with minimal effort.
The app relies on sophisticated algorithms to analyze email headers that contain subject line, sender and recipient information, dates, email size, and similar metadata. Because Clean Email never touches the actual content of your emails, you can trust it even with your most personal information, which is something that cannot be said about every email organizer app out there.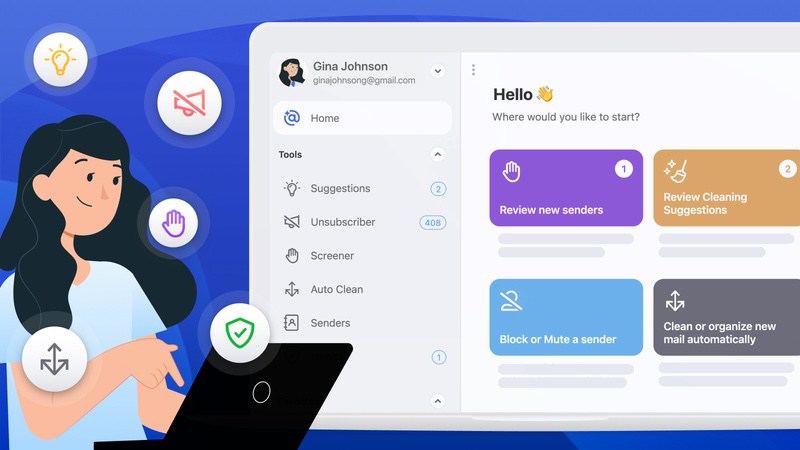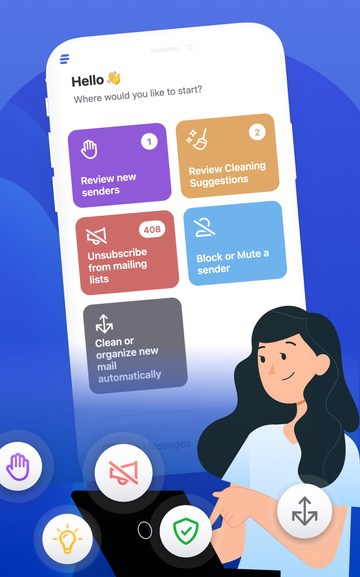 It takes just a few minutes to learn how to organize your email with Clean Email. To get started, all you have to do is sign in with your email service provider and authorize the app to access it. Clean Email will automatically analyze your emails and categorize them into easy-to-review bundles. You can then remove, archive, move, label, and do other things with entire groups of emails instead of selecting individual emails one by one.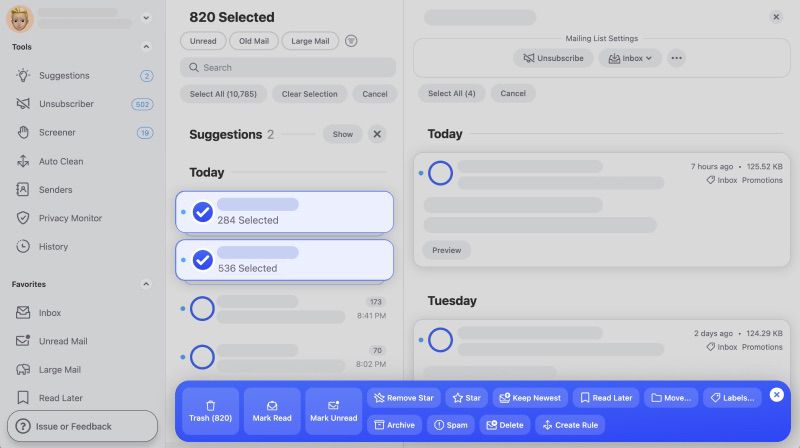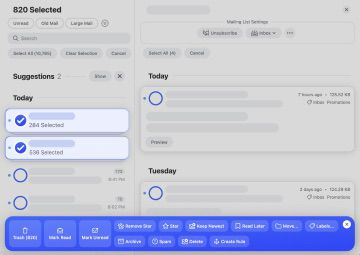 You can also automate your routine email tasks with this app. For example, you can automatically mark all emails from social networks as read or you can automatically archive all forwards from your coworkers. All the automation rules you've created can be managed from a single dashboard, so there's no need to worry about missing emails because of an old automation rule you forgot about.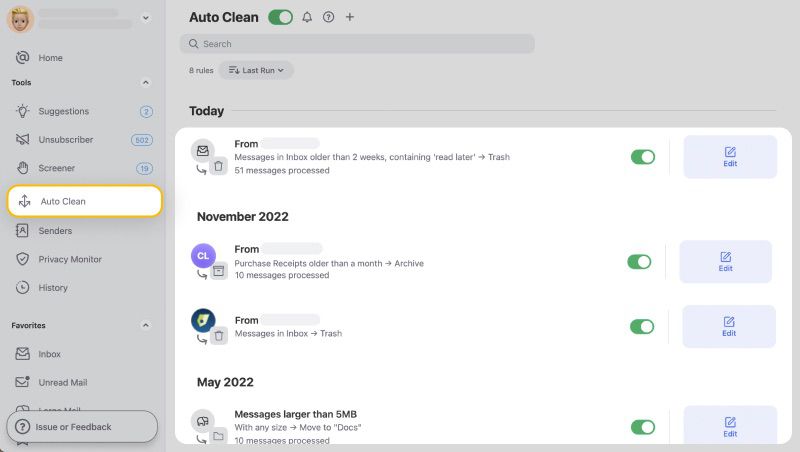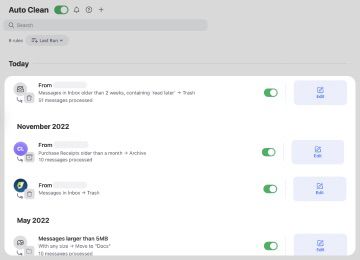 👍🏼 Pros:
Easy to use
Powerful features
User-friendly privacy policy
Excellent customer support.
👎🏼 Cons:
Not all features are available for free.
Follow our guides on how to organize iCloud emails, organizing Yahoo Mail, and what the best email organizers for Mac are.
Have you ever noticed that important emails have the tendency to arrive at the worst possible moment? With Boomerang, you can take messages out of your inbox until you actually need them with a simple click of the Boomerang button. This simple yet extremely useful tool for Gmail will archive any email you select and bring it back to your inbox, marked unread or starred when you need it again.
You can also use Boomerang to automatically send emails at the perfect time—all you have to do is write them beforehand and tell Boomerang when to send them. Boomerang is available on the Chrome Web Store, and its basic version is free.
👍🏼 Pros:
Adds useful features to Gmail
works in all popular web browsers.
👎🏼 Cons:
Works only with Gmail
the free version is very limited.
Much like Clean Email, Unroll.Me is an email organizer app that can unsubscribe you from unwanted subscriptions with a single click. Unroll.Me can also combine your favorite subscriptions into one beautiful digest called the Rollup, so you can keep up with all the latest deals and social media notifications without spending too much time on them.
Unroll.Me is available as an Android and iOS app, and it currently supports Gmail, Google Apps, Yahoo! Mail, AOL, and Outlook.com accounts. Unfortunately, the company behind Unroll.Me, Rakuten Intelligence, an e-commerce measurement business that provides companies with insights into industry trends, corporate performance, and the competitive landscape, is known for selling user information to third parties, making Unroll.Me unsuitable for email users who value their privacy.
👍🏼 Pros:
Works with one click
available for Android and iOS devices.
4. Unsubscriber
Update: Unsubscriber is no longer working.
Unsubscriber app is a popular inbox cleaner that lets you block email from unwanted senders with ease. All you need to do is select the senders you want to block, drag them to the Unsubscriber folder, and enjoy a clean inbox. Unsubscriber used to work with just about all major email service providers, but that's no longer the case.
Due to changes in Gmail's Terms of Service, Unsubscriber is no longer able to provide service to Gmail users, but it still works with Microsoft, Yahoo, GSuite, and other email providers. The reason why Unsubscriber can't serve Gmail users anymore has everything to do with the fact that it accesses and analyzes the content of email messages, which Google no longer allows. In comparison, Clean Email and other safe email organizers access only meaningless metadata.
👍🏼 Pros:
Works with multiple email service providers
instant results
easy to use.
👎🏼 Cons:
Doesn't work with Gmail
accesses and analyzes email content
doesn't comply with Gmail's privacy policy.
Cleanfox is a great looking email organizer that cares about the environment. According to Cleanfox, one email generates 10 grams of CO2 per year. If you multiply this number by the total number of unopened emails in your inbox, the negative impact of unwanted email messages on the environment becomes obvious.
To protect its users from email clutter and the environment from pollution, Cleanfox offers a simple way how to delete and subscribe from unwanted newsletters. Cleanfox keeps track of how many emails it blocks and calculates how much CO2 you've saved by using it. Because Cleanfox puts your emails in the trashbin, you can restore them if you act quickly enough otherwise it will empty automatically after a few days.
👍🏼 Pros:
Gamification elements
informative stat page
well designed.
👎🏼 Cons:
Inbox scans take a long time
delay when deleting messages
limited features.
Mailstrom is a straightforward inbox cleaner that allows users to view messages by sender, subject, time, size, and several other criteria. With its one-click block function, you can stop emails from any unwanted sender with ease to keep your inbox nicely organized. Mailstrom employs industry-leading encryption to keep your personal information safe, and it works with Gmail, Outlook, Yahoo, and other IMAP-based email providers.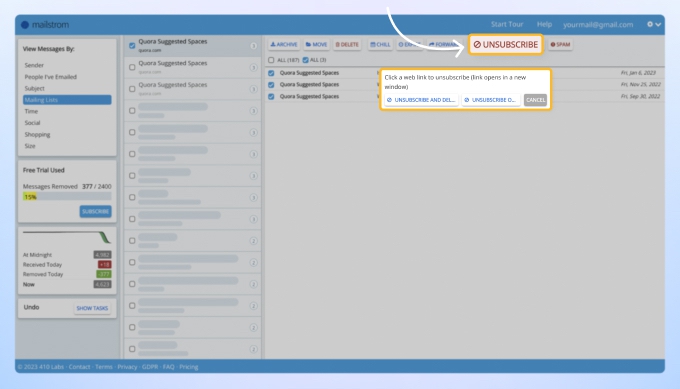 The main difference between our favorite email organizer, Clean Email, and Mailstrom is that Mailstrom doesn't organize emails into smart bundles. With Clean Email, you can organize your emails into easy-to-review smart bundles (called "Smart Folders"), such as Emails from "dead ends", "Seasonal sales", "Productivity tools", "Bounce" notifications, Emails to yourself, "Emails not from you and not addressed to you", "Finance", "Travel", and others. Clean Email's Smart Folders make it very easy to clean a messy inbox, and Mailstrom doesn't have them.
👍🏼 Pros:
Work with all IMAP-based email providers
lets you organize thousands of messages in just a few click.
👎🏼 Cons:
Doesn't support smart email bundles.
Learn why Clean Email is the best alternative to Mailstrom.
SaneBox is "interfaceless" inbox cleaner that's designed to learn your email habits and sort email messages into relevant "Sane" folders. It's been operational since 2010, helping users identify important messages, hide distractions, banish annoying senders, and more. It works with all email addresses and can be used for free for 14 days.
To use SaneBox, you simply sign in with your email address, let it create SaneBox folders, and wait for its AI to sort your emails for you. You can teach the AI by moving any misplaced email to the correct folder with any webmail/email client, but that's about it. The good news is that SaneBox can be used in conjunction with Clean Email, which is far more effective when it comes to removing unwanted emails.
👍🏼 Pros:
Interfaceless inbox cleaner
works with any email address
14-day free trial.
Email Studio is a suite of powerful tools for Gmail, which include Email Scheduler, Email Draft Copier, Email Forwarder, Email Responder, Email Merge, and Email Clean Up. Anyone who's battling inbox clutter should give Email Clean Up a try because it makes it easy to unsubscribe from bulk mail and auto-purge messages older than a few days.
Just like all other Email Studio tools, Email Clean Up works only with Gmail, so users of other email services have to look elsewhere.
👍🏼 Pros:
Comprehensive suite of email management tools
completely free.
Leave Me Alone is an email unsubscription service that lets you unsubscribe from emails automatically and with a single click. With Leave Me Alone, you can see all of your subscriptions, newsletters, and spam emails in one place, favorite senders you want to keep, set a reminder to scan again, and more.
You can get started with Leave Me Alone for free, but you will most likely have to purchase credits to clean your entire inbox. Depending on how many emails you need to clean, the price of Leave Me Alone can be quite high. Still, it's better to spend some money on Leave Me Alone instead of using a free inbox cleaner that sells user data to third parties.
👍🏼 Pros:
One-click unsubscribe
uses a unique Subscription Score to rate subscriptions by quality.
Triage is an iOS app for people who struggle to stay on top of their email. You can think of Triage as a simplified email client that brings clarity to your inbox, allowing you to quickly decide which emails to keep and which to delete. That said, Triage doesn't actually replace a full-fledge email client like Outlook or Mailbird because its features are very limited.
Triage works with Gmail, Yahoo, iCloud, and other IMAP accounts, and it costs just $1.99 in the App Store. If you have thousands and thousands of emails to organize, we recommend using Triage together with a bulk email organizer like Clean Email.
👍🏼 Pros:
Inexpensive
supports all IMAP-based email accounts.
👎🏼 Cons:
Work only on iOS devices
doesn't replace a regular email client.
Conclusion
We hope that you now understand what makes email organizers so useful. Email isn't going anywhere anytime soon, so it's better to learn how to keep it organized now than wait for things to get even worse. Even though the number of spam emails users receive on average every day is constantly rising, a great email organizer app such as Clean Email can help you maintain a clean inbox regardless of how many emails you receive every day.
Wondering how to organize Outlook email inbox or how to organize Gmail? Check out our blog to get the detailed guidance.