Outlook Doesn't Always Catch Junk Messages
Many of us rely on email spam filter services to keep unwanted messages out of our mailboxes. Unfortunately, technology is never foolproof, including Outlook junk email filter settings.
Sometimes, the Outlook junk email filter may not be calibrated to catch specific messages. Other times, junk mail settings may break or simply fail. In fact, you may even recall a recent incident in which Microsoft identified an issue with their filters that affected many Outlook users.
Regardless, when you notice an issue with your spam blocker for Outlook, you'll want to learn how to determine why it isn't working. Furthermore, you'll want to know how to stop spam emails in Outlook so you can avoid unwanted messages in your mailbox.
Why Is My Outlook Spam Filter Not Working?
The built-in spam blocker for Outlook usually does help block unwanted emails. Unfortunately, even if you mark as spam in Outlook, you may notice your Outlook junk filter not working from time to time. But what causes it to stop blocking messages?
The most common issue is that you still have the default settings on. By default, Microsoft sets its junk mail filtering to No Automatic Filtering, meaning you'll notice the Microsoft Outlook junk mail filter not working and will need to go enable it yourself.
Other times, filters may not be calibrated to correctly catch all the messages you want to be marked as spam. You can go into the Junk settings (which we will explain below), or learn how to create Outlook rules that can help filter out spam.
In some cases, it may not be an issue with your Outlook spam filter not working but rather that you signed up for spam mailings without realizing it. There are some online settings where you may have "opted in" to marketing or other messages when giving your address out to sign up for something.
Regardless of the reasoning behind it, spam messages are annoying and take up valuable real estate in your inbox. That's why it's important to know how to fix the problem once you notice it.
How To Fix Outlook Not Filtering Spam
Outlook has a Junk Email folder for spam messages users have no interest in reading. When the junk filter works correctly, it blocks spam from your inbox by sending it to that folder. But for many, Outlook is not blocking junk mail, filling up the primary inbox.
When it's working properly, the Outlook junk folder can catch spam messages before they hit your inbox. However, there are times when the filters don't work correctly. In those times, you need to know how to set junk mail filter in Outlook to fix Outlook not filtering spam.
Looking for instructions for another email provider instead? We also have helpful guides on Yahoo spam filter not working and how to set up spam filter in Gmail.
Make Sure 'No Automatic Filtering' Is Disabled
First, before you change any other settings, it's worth checking to ensure that the "no automatic filtering" default setting isn't still turned on.
To check this:
Open the Outlook desktop app.
From the Home menu, click on Junk.
Next, select Junk E-mail Options.
In the Options tab, look at the selected level of protection. If the box is selected next to "no automatic filtering," you can change it to any of the other levels. This will enable spam filtering.
Click Apply and OK to save changes.
Set Junk Protection to High
One of the easiest ways to fix your spam filter is by setting your protection level to "high." This will filter more messages, and hopefully fix the issue.
To change the protection level to high:
Open the Outlook desktop app.
From the Home menu, click on Junk.
Next, select Junk E-mail Options.
In the Options tab, select High from the filtering options. This specifies that most junk mail will be caught, but it may catch some regular mail as well. You'll need to monitor for a few days.
Click Apply and OK to save changes.
Manually Block Individual Senders
If changing the filter settings doesn't help, you can always block individual addresses. This is a good way to cut off senders who are persistent, especially if the junk filter isn't catching them.
To manually block individual senders:
Open the Outlook desktop app.
From the Home menu, click on Junk.
Next, select Junk Email Options.
Go to the Blocked Senders tab.

Next, click Add.
Enter the address(es) you'd like to block, and click OK after each one.
Once you've entered all addresses, click Apply and OK to save the changes.
Keep Out All The Junk With Clean Email
Even if you do all of the above, there's a decent chance that Outlook won't filter messages as much as you'd like. That's where mailbox management apps like Clean Email come in handy: they give you even more tools to filter spam, reduce clutter, and automate routine email tasks.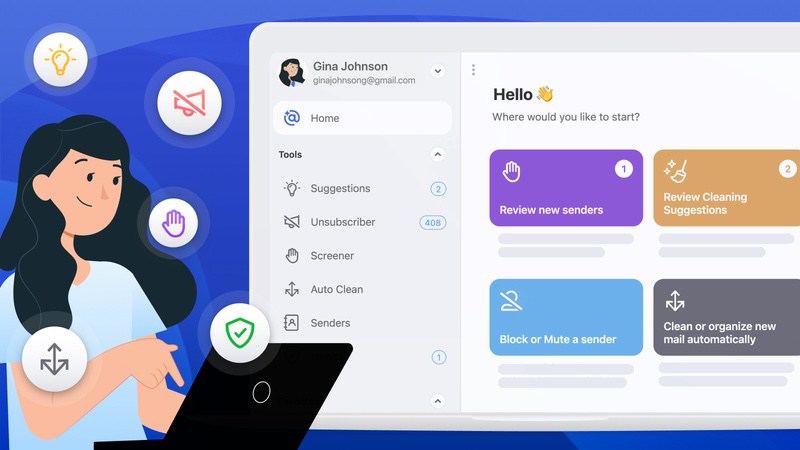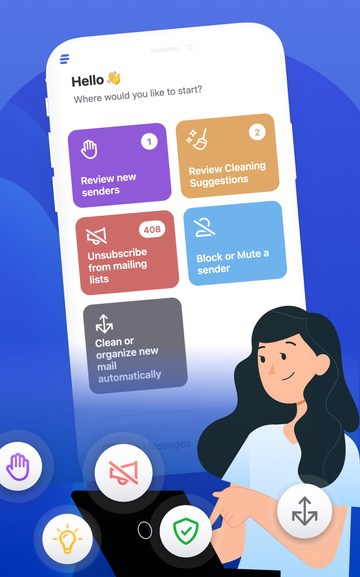 For example, the Screener tool acts as its own form of spam control by sending all messages you receive from new senders into a dedicated folder. Then, when you have time, you can review these senders individually and block them immediately or choose to deliver their messages to the desired folder.
When you review messages in Screener, you have several options:
If the sender is someone you don't want messages from because they are truly spam, you can simply Block all future messages from that email address.
If the messages are unwanted subscriptions from a specific domain, you can Unsubscribe right from the Screener tab and never receive messages from that domain again.
If certain messages are legit and you'd like to receive new emails from these senders in the future, you can click the Allow button or choose to Deliver to [desired folder].
While all of these features are handy and not included in your Outlook client, Clean Email offers even more options for you to take advantage of as well.
Some other amazing features included in the app are:
Smart Folders: Clean Email offers predefined filters (similar to labels) that are applied to any message you receive based on criteria picked out from the sender, subject line, and other details. When you open the app, you can select a Smart Folder from the view options and only look at messages that meet those criteria (ex. social media notifications) and apply bulk actions (delete, archive, spam, star, etc.). This helps you spend less time sorting messages from your main inbox.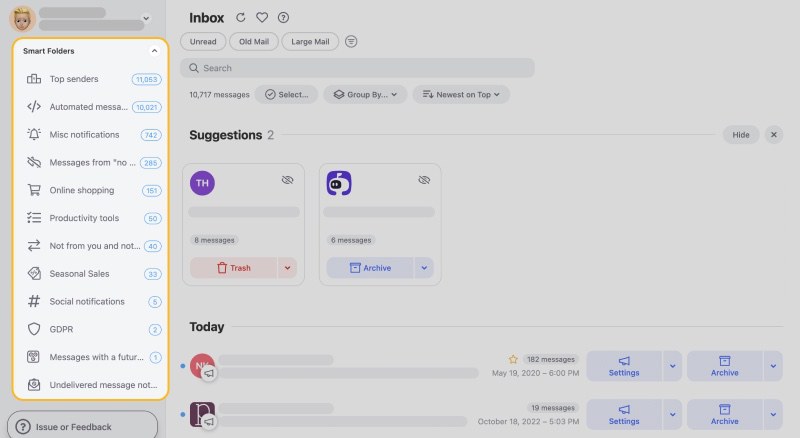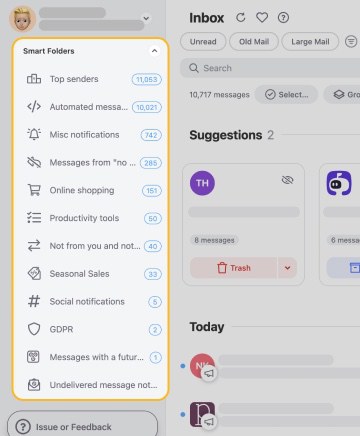 Cleaning Suggestions: With Cleaning Suggestions, the app offers each user a customized list of suggested actions based on past decisions with similar messages in your inbox. Then, all you have to do is approve these recommendations, and Clean Email performs the tasks automatically.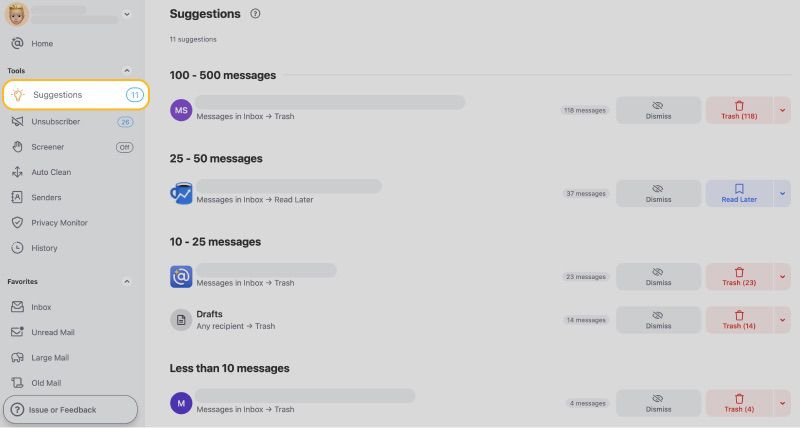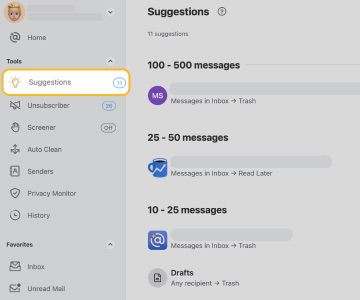 Action History: Unlike most other email providers, Clean Email actually tracks every task it performs for you so you can review it. All you have to do is enable Action History, and you will receive regular updates on anything the app does. This includes Auto Clean settings you've programmed and more.
Unsubscriber: The Unsubscriber tool helps you unsubscribe in bulk from newsletters and other mass mailings you don't want in your inbox. You can also use it to temporarily pause certain subscription mailings, set up rules to only save the most recent email from a certain sender, and more.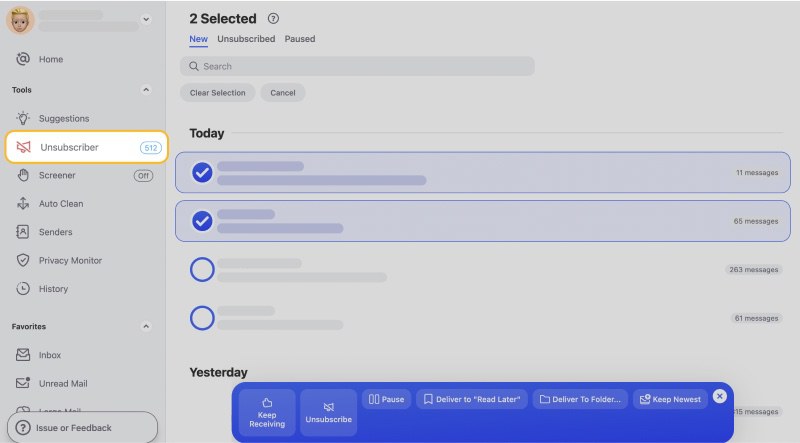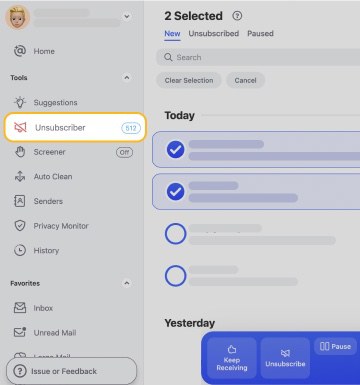 💡 Note: Within Outlook, users can add an email address directly connected to Microsoft or use an email address from another provider (Yahoo, Gmail, etc.). Clean Email cannot change messages and folders from other mail providers within the Outlook app. Instead, users should log into Clean Email with each individual email address separately.
---
Is your Outlook spam filter not working? - FAQs
Why am I getting so much spam in my Outlook email?
When you first open a new Outlook account, the default settings do not prevent spam. You may want to check the junk settings if you notice you are receiving a lot of spam in Outlook.
Does Outlook have a good spam filter?
Outlook's junk filter lets you set different security levels based on how much you'd like Outlook to filter out. Additionally, you can manually block addresses or add addresses to a "safe" list, making Outlook one of the most thorough spam filters out there.
How do I improve my junk filter in Outlook?
If you know how to check spam filter on Outlook, you can change the settings to different levels to improve the filter. The higher the settings, the more Outlook will filter out.
How do I automatically delete junk or spam emails in Outlook?
Outlook files all junk messages into a dedicated junk folder that you then have to delete manually. However, if you use Clean Email, you can use the Screener tool to catch spam messages and set up an Auto Clean rule to automatically delete spam from certain email addresses.