How Email Address Validation Works
Email address validation identifies invalid addresses that can increase your bounce rate. It can also identify spam traps that hurt your sender reputation. When you validate your mailing lists, you have a better chance of reaching your target market because your campaigns will be sent to valid and active email addresses.
The quickest and easiest way to validate email addresses is to use a validation service. These services automate the verification process by performing a number of checks automatically. Most services verify the validity of an address by looking at the address syntax and the DNS entries of the address. These services may also search your mailing list for role-based and disposable addresses, look for spam traps, and determine if an IP address or domain name has been found in the body of spam email messages.
Types of Email Validation
There are several ways to validate email addresses. When evaluating an email validation service, look at which of these options is best for your mailing lists and choose the service that offers the type of validation that meets your needs.
Syntax check: A syntax check looks at the email address and determines whether it is in the correct format. This is the simplest type of validation check. Still, it has limitations because it identifies addresses with special characters as invalid. A syntax check also doesn't look for inactive or non-existent domains and user accounts.
Double opt-in: This type of validation sends a confirmation email to the person who signs up for a newsletter or enters their address in a website form. When the person receives the confirmation email, they click a link in the message to confirm their email address and that they want to be included in future mailings. The downside is that if an incorrect address is entered, that person won't receive the confirmation email.
Real-time validation: Many email validation services provide an API that checks an email address for the correct syntax when the email address is entered on a website. Most real-time validation checks only look for syntax errors. While this method may reject many addresses, it can increase the quality of the email addresses in a mailing list.
Bulk or batch cleaning: This type of validation is best for marketing professionals who have many existing email addresses that have never been validated. These mailing lists are usually uploaded to the service as a CSV file, and it may take the service hours or days to check the addresses.
What Is an Email Validation Service?
Your email list is one of the most valuable assets when it comes to digital marketing. You can use it to attract new customers and also to keep existing ones engaged. However, you can't expect the mailing list to fuel your marketing campaigns effectively unless you take good care of it.
What does it mean to take care of a mailing list? Well, it means proactively removing addresses that have become inactive, addresses with spelling or syntax mistakes, disposable mail addresses, honeypots, and other entries that wouldn't lead to successful delivery.
While you could do this work manually, it's more efficient to use an email validation checker and let it take care of everything for you. Here's a small sample of what the best email validation service providers do:
Remove improperly formatted addresses
Verify the DNS entries of email addresses
Get rid of throwaway/disposable addresses
Detect honeypots and bogus email addresses
Perform deep-level extended SMTP verifications
Flag role-based accounts
Sounds great, right? The good news is that getting started with email list validation is easy—you just need to pick the right service and upload your mailing list. Most services charge based on the number of validations you perform, so you don't have to worry about blowing your budget if you're just starting out and your list is relatively small.
Best Email Validation Services Currently Available
In 2023, there are many excellent email address validation services to choose from. To help you get started, we've picked ten tried-and-tested options that offer impressive features at affordable prices.
ZeroBounce is a leading email address validation service that can instantly increase the return on investment of your email marketing campaigns with its AI-powered email scoring, which takes into consideration a plethora of factors to determine which email addresses are valuable and which should be discarded.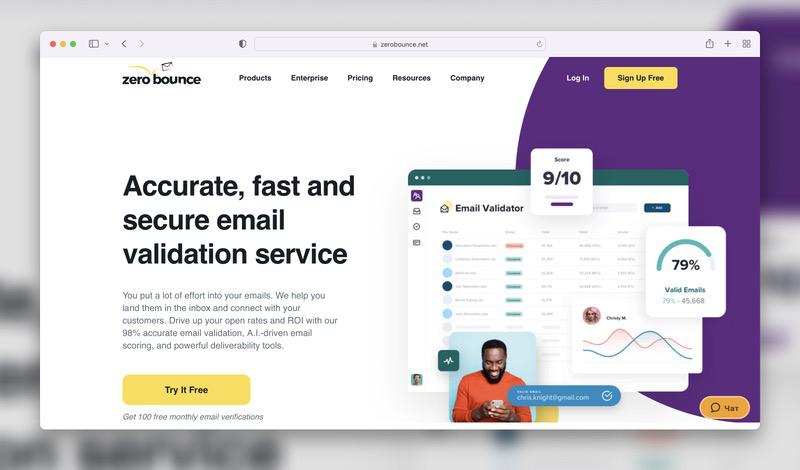 Because sending emails to valid email addresses is only one part of the email marketing equation, ZeroBounce offers other tools to make sure your emails reach the intended inboxes. For example, its email deliverability test feature can tell you if your emails are likely to land in the inbox or the spam folder before you send them out, preventing you from becoming blacklisted.
The service also uses an AI scoring system to find catch-all email addresses, integrates with the popular email and marketing platforms, and offers an API that you can use with your lead pages and registration forms.
ZeroBounce has a guaranteed accuracy of 98% and offers 24/7 support, so you can be assured that your mailing lists are accurate and that you'll receive the best support whenever you need it. Plus, the service uses military-grade security and is GDPR compliant, so your data is protected and kept private.
ZeroBounce also offers a generous free account that includes 100 monthly email verifications, email provider integrations, real-time results, and API access. This is a great deal for new marketers that collect only a few new addresses each month. For those who want to test out the ZeroBounce service, the free account gives you plenty of verifications to determine if the service will work for your campaigns (check out our top of the best free email list cleaners).
👍🏼 Pros:
Highly accurate
Weekly free credits
Intuitive user interface
Less false positives than competing services
Fast and helpful customer support
👎🏼 Cons:
Sometimes it takes a while for files to upload
Pricing:
2,000 credits a month for $15
5,000 for $35
10,000 for $64
25,000 for $150
50,000 for $278
GetEmail.io is an excellent email validation service online that uses big data and machine learning algorithms to detect as many invalid addresses as possible before removing them in one fell swoop. The service is used by some of the world's largest organizations, including Oracle, Shopify, and Monster, which should tell you a thing or two about its performance. The co-founders of GetEmail.io know a lot about email marketing, having created multiple profitable online companies. They've used their extensive experience to make the validation of mail addresses a breeze.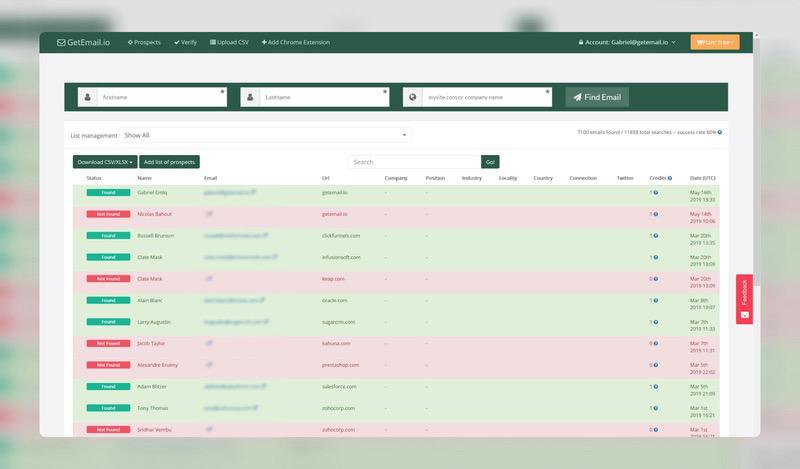 You'll find GetEmail.io most useful if you're building your mailing list. This service scans websites and finds the format those sites use for their email addresses. From there, they recreate those addresses so that a simple name search will give you a prospect's email address. This can be a time saver when building your cold calling lists and can help you gain more leads.
To make the process even easier, GetEmail.io offers a Chrome plugin that quickly finds email addresses from LinkedIn profiles and other sources. The free plan offers 10 credits each month and all the services provided in the paid plans (CSV download and API access), except: free accounts do not have access to customer support.
👍🏼 Pros:
Affordable pricing
Easy to use
Helpful customer support
Impressive set of features
👎🏼 Cons:
Only available in English
Pricing:
10 credits a month for $0
300 for $49
1,000 for $99
2,000 for $149
10,000 for $399
Snov.io Email Verifier allows you to validate all emails no matter how you got them — found them on any web page or got them from someone directly. With this tool, you can verify a single email address or emails in bulk. Each email goes through a 7-tier verification process that looks for valid addresses and domains, catch-all addresses, and free email accounts. It also checks MX records and pings SMTP servers. All this helps you remove invalid email addresses and reduce your bounce rate.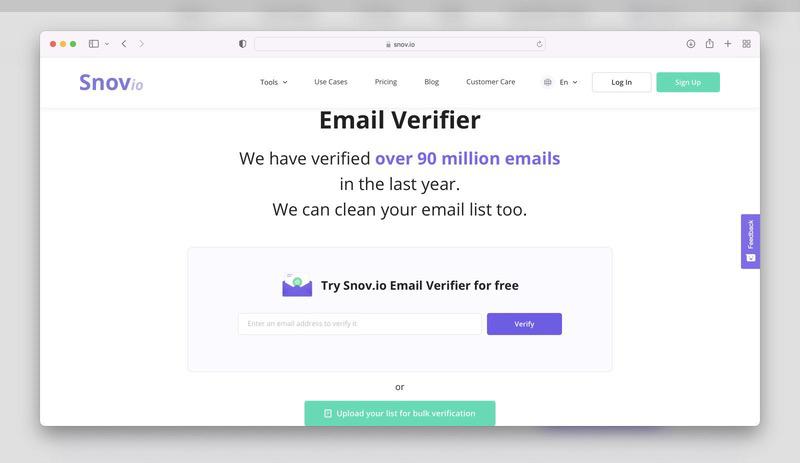 Snov.io realizes that there's no way to provide 100% accuracy and claims that the service provides an average deliverability rate of up to 98%. Snov.io also claims that the bounce rate you'll see after your address list has been verified is only 1.72%.
Besides, Snov.io's Email Verifier API can build directly into your platform for integrated email validation as soon as your leads fill in sign-up forms. Plus, you can perform bulk email address verification. The bulk email verifier is available through the API, a separate app, or you can upload your list to the Snov.io Email Finder tool.
If you want to give the service a try to determine if it fits your needs, set up a free account to receive 50 credits each month, which buys 100 verifications. And you don't need to provide a credit card to get started.
👍🏼 Pros:
High results accuracy (98% deliverability based on the latest tests)
Forever free plan that opens access to all tools
Affordable pricing
A complete outreach toolset, meaning you receive more tools for the price of Email Verifier
Integration options
👎🏼 Cons:
App can be complex for users who are only in search of a standalone Email Verifier solution
Pricing:
50 credits a month with a freemium plan
1,000 credits a month for $39
5,000 for $79
20,000 for $169
50,000 for $289
100,000 for $578
Geared toward seasoned marketers and developers, Email Hippo is a trustworthy email validation checker capable of consistently delivering fast, accurate results. All new users enjoy 15 free validations, and you don't need to share your credit card details. Using the service is straightforward since all you need to do is upload a CSV file with your email address list and wait a short while for Email Hippo to do its job.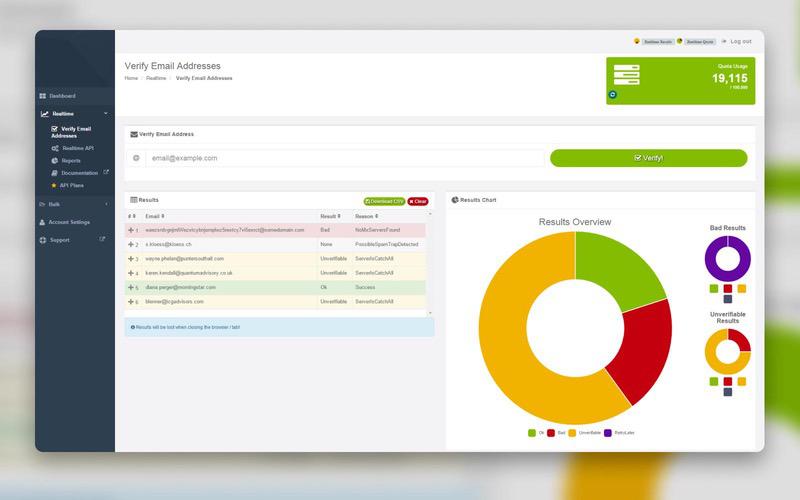 Email Hippo offers several products in addition to its bulk email address list checking tool and API. Email Hippo can also help you detect fraud in real time when people sign up through the API. If your business is vulnerable to online fraud, this is a great way to lower the number of fake sign-ups on your website and web forms. Also, if you'd like to know more about your current and potential customers, Email Hippo offers access to WHOIS data through an API.
If you need help deciding which products will best fit your marketing campaigns, Email Hippo's online solution finder will ask you questions and offer suggestions. Email Hippo offers a variety of payment plans, making it convenient for all types of needs, from occasional list checking to regular use and high-volume needs. The free account only offers 15 free email validations.
👍🏼 Pros:
Quick to generate great results
Generous free trial
High accuracy
Nice user interface
👎🏼 Cons:
Worse results with AOL and Hotmail addresses
Pricing:
50,000 one off verifications for $300
100,000 for $450
500,000 for $1,049
EmailAcademy is a unique knowledge base whose goal is to help seasoned and inexperienced marketers alike achieve great results. You'll find courses that cover everything you'll need to reduce your bounce rate, such as why emails bounce back, why bounce rates need to be low, and the difference between hard and soft bounces. You'll also find courses on how to increase click-through rates, remove an IP from a blacklist, and create effective emails.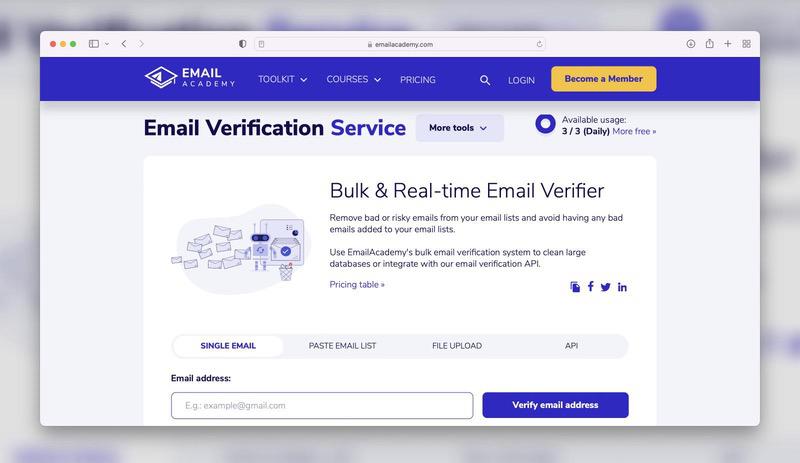 It's free to become a member, and free accounts receive 100 verifications each month along with access to the EmailAcademy toolkit. Those who have completed EmailAcademy's training courses get almost double the verifications for the same amount of money.
The site also offers an extensive toolkit that includes a great email verification service. You can check if an email address is valid by checking a single address, pasting a mailing list, or uploading a file with as many addresses as you want. The toolkit also includes a blacklist checker and monitor, bounce code analyzer, image converter, CDN image hosting, and HTML editor with email templates.
👍🏼 Pros:
Cost-effective
Integrates with other handy tools
Nicely designed user interface
Excellent learning resources
👎🏼 Cons:
Not as feature-packed as some of the other options on this list
Pricing:
1,500 verifications for a one-time fee of $19.00
40,000 verifications for $47
50,000 for $92
100,000 for $132
CaptainVerify is a hugely popular email verification service that's used by more than 15,000 companies, including Subway, iGraal, Michelin, and Restopolitan. With this service, you can check your addresses quickly to avoid losing conversions and ending up on a blacklist. After each verification, CaptainVerify generates a comprehensive statistical report, telling you which emails are valid, invalid, unknown, and so on.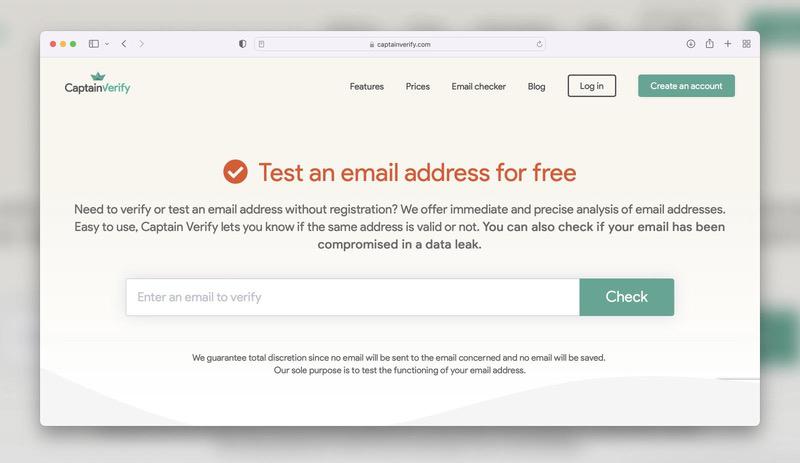 Verifications can be done by uploading your mailing list. CaptainVerify ensures the email format is correct, and then it determines if an address and the associated domain exist. It checks each address from several locations around the world using MX, DNS, and SMTP technologies. If you choose to do bulk verifications, you can download an Excel spreadsheet file with the results.
CaptainVerify also provides an API so that you can integrate email verification into your website, web forms, and other applications that collect email addresses. The API is limited to 50 checks per minute. API results are stored in a JSON table.
If you want to take CaptainVerify for a spin, open an account and receive 100 verifications for free. You'll also find a tool on their website where you can enter a single email address. The tool checks the validity of the address and determines the authenticity of the account with the email server. You can also use the tool to find out if an address has been compromised in a data leak.
👍🏼 Pros:
Simple pricing model
No obligations or hidden costs
Data privacy
Fast and easy
👎🏼 Cons:
Limited information about the checks performed
Pricing:
1,000 verifications for $7
5,000 for $30
25,000 for $75
100,000 for $200
DeBounce is an advanced email address validation solution with a fast scanning process that lets you verify thousands of addresses in no time. Its signature anti-greylisting technology simulates a well-configured email engine to reduce the number of unknowns, while its syntax eliminator immediately removes all addresses with invalid syntax from your mailing list.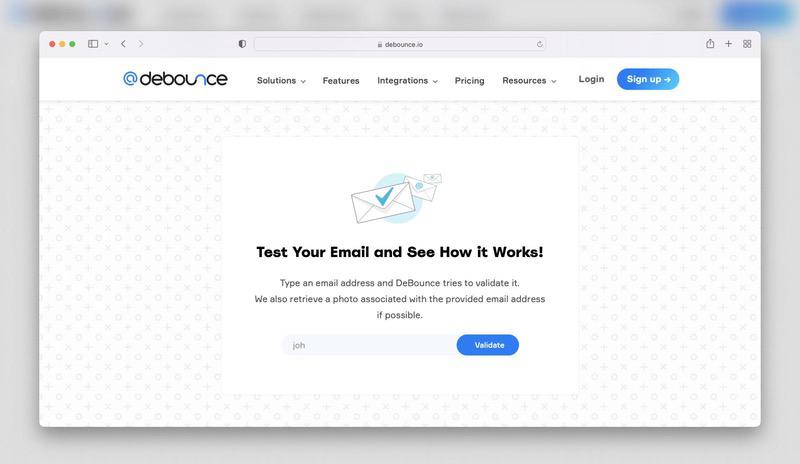 DeBounce finds a number of problem addresses that can negatively affect your marketing campaigns. Your lists will be cleaner and more effective because DeBounce identifies hard bounce addresses, disposable addresses, catch-all domains, duplicate emails, and spam traps.
It's easy to get started. When you sign up, you'll get 100 free verifications and can test the service's list cleaning tools and API. As with many validation services, you'll upload a TXT or CSV file, and DeBounce checks your list. When the validation is complete, you can download your cleaned list.
One of the benefits of using DeBounce is the detailed reports it provides along with your cleaned list. The report shows you which emails are duplicates, have syntax errors, or are catch-all or temporary addresses. The report also identifies non-existent domains, spam traps, and fake email addresses.
DeBounce claims a 97.5% or better deliverability rate guarantee across the board, but its rate guarantee depends on the domain the address came from. For AOL, Yahoo, and Microsoft Office 365 accounts, the service claims a 96% accuracy rate. It guarantees 98% accuracy on all other accounts.
👍🏼 Pros:
Very easy to use
Fast scanning process
Professional user interface
Seamless API integration
Very affordable
👎🏼 Cons:
Doesn't let you upload files larger than 20 MB
Pricing:
5,000 verifications for $10
10,000 for $15
50,000 for $50
100,000 for $90
BriteVerify claims to be the industry's longest-standing validation tool with over a decade of expertise. The company strives to be more than a verification tool by offering a range of services that can help grow your marketing efforts. BriteVerify integrates with popular marketing tools such as Mailchimp, Constant Contact, and Mailjet.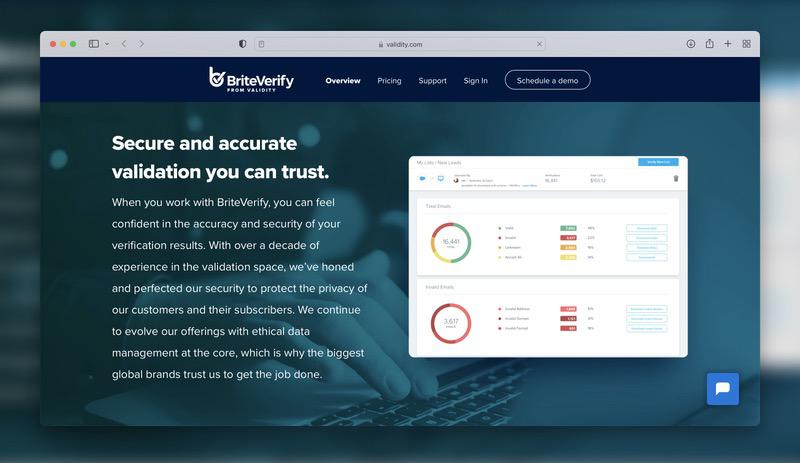 In addition to providing real-time validation of your mailing list and offering bulk email verification, BriteVerify can also check the phone numbers and mailing addresses in your lists so that you have the correct information. When you check your mailing list, BriteVerify checks the status of each email address and offers a recommendation for dealing with invalid emails.
BriteVerify is also quick, so your lists will be returned to you quickly. For a list with 4,000 addresses, BriteVerify claims to be able to process it in one minute. If you have a larger list of 100,000 emails, it takes about 25 minutes. Plus, BriteVerify boasts that it can reduce your bounce rate by 98%.
If you're concerned about the security of your data, BriteVerify holds your mailing lists in its system for seven days, and you can delete your lists from its system at any time.
👍🏼 Pros:
Drag and drop to upload a mailing list
Top-notch customer service
Multiple ways to add a list and download results
The API is straightforward to use
Pricing:
5,000 verifications for $40
10,000 for $80
20,000 for 150
50,000 for $325
When you need a full-service email campaign manager along with an email verifier, look into SendPulse. SendPulse has all the features you'll need to keep your mailing lists clean so that your campaigns only reach valid email addresses. At SendPulse, you can verify a single email address or upload your mailing list and perform the validation in bulk. When you upload your list, the service takes your original list and then provides you with a report showing which addresses are valid and which are not. You'll also receive a clean list with only valid addresses, and you can add data to the new list.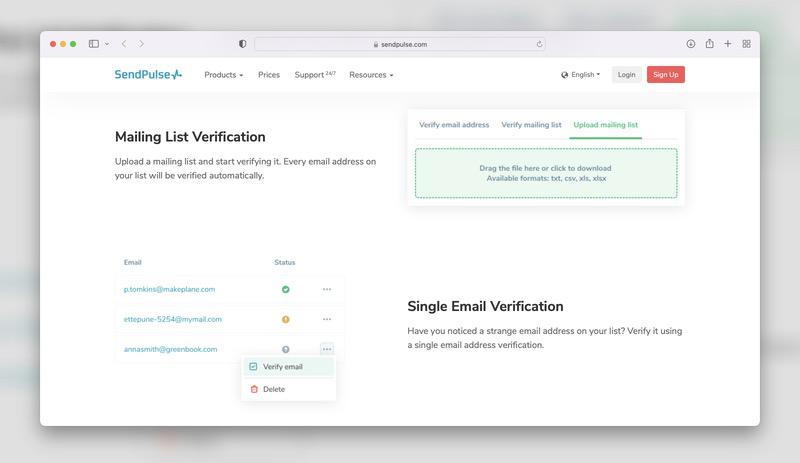 SendPulse also offers other products that are great for bloggers, e-commerce retailers, and small to medium marketing organizations. SendPulse advertises itself as an all-in-one communication platform. You can use SendPulse to create and send email campaigns and SMS messages, provide browser notifications for your customers, and develop chatbots that offer news and personalized offers through Facebook Messenger, WhatsApp, and Instagram.
As a bonus, you can integrate SendPulse with your CRM, CMS, and eCommerce platforms. And, SendPulse offers a free plan that includes 100 email verifications, sending 15,000 marketing emails, unlimited web push notifications for 10,000 subscribers, and 10,000 Facebook Messenger chatbot messages. And if you need a website, SendPulse can set you up with a free website for your personal use or for your brand.
👍🏼 Pros:
Great automation features
Price is affordable
Offers monthly subscription and pay as you go plans
Do all your marketing on one platform
👎🏼 Cons:
APIs and documentation could be improved
Pricing:
1,000 email address verifications for $15
5,000 for $35
10,000 for $60
50,000 for $150
100,000 for $225
SendGrid offers its email address validation service as an API. Its real-time API uses machine learning and mailbox provider-friendly tactics to detect invalid addresses. You can connect the API to forms, and the API will immediately identify false entries and prompt visitors to enter the correct information. The email API also features dynamic templates, the ability to send messages over the SendGrid cloud-based SMTP service, and email testing.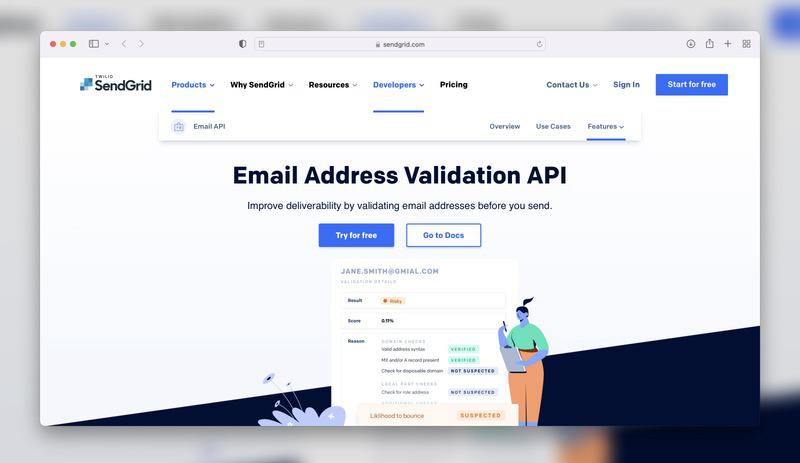 Validating email addresses is a small part of the services offered by SendGrid. SendGrid offers a one-platform solution for all your customer communications. SendGrid provides a full suite of email marketing tools to help you create a complete marketing campaign. Choose from a library of responsive mail templates and use the drag and drop tools to refine your mailings. You can also select the timing of your mail campaigns and collaborate with your team.
SendGrid's pricing model is unique in the industry. If you're looking for email validation, SendGrid's email API plans are the only ones that include this feature. However, you'll need to purchase either the most expensive plan or choose a custom plan. And if the plan doesn't have enough validations to fit your mailing list, you'll need to purchase additional credits.
👍🏼 Pros:
Integration with a mail service is easy
The service's dashboard provides good insights
Excellent for transactional mails
Provides A/B testing
👎🏼 Cons:
No free plan to test email validation features
Pricing:
2,500 email validations for $89.95
5,000 for a custom price
Conclusion
Email list validation is an essential activity for ensuring the success of your marketing campaigns. These days, nobody bothers to manually validate email addresses anymore because there's a whole host of email validation services to choose from. Such services can clean up massive lists with a few simple clicks, and they can pay for themselves in no time by dramatically improving your open and click-through rates.
---
Email Validation Services - FAQs
Why do I need an email validation service for my list?
Over time, your mailing list is guaranteed to accumulate invalid addresses. You need to get rid of them to maintain a high deliverability rate and prevent your address from ending up on a blacklist. An email verifier lets you do just that quickly and efficiently.
How does email validation service work?
An email validation service performs a number of checks to verify the validity of email addresses. The checks include mailbox verification, disposable address detection, email address format checks, domain name validation, and others.
How to select an email validation service?
When selecting an email validation service, don't focus only on features—most services are more or less identical in this regard. What you should focus on is the service's detection rate, customer support, and, of course, prices.
What are the best email validation services?
The best email verification services include GetEmail.io, Email Hippo, EmailAcademy, CaptainVerify, and DeBounce. However, there are many more options to explore, so don't hesitate to do your own research and decide for yourself.
Should I use a free or paid email validation service?
You should use the service that best fits your needs, with its cost being one of them. Generally, though, paid email validation services tend to be superior to their free counterparts in just about every way.
How can I check if an email is valid?
One quick and easy way to check if an email is valid is to send a message to that address. If the address is fake, you'll receive a replay from the mail server that states the message could not be delivered or that the address was not found. If you'd like to automate the task, check out one of the available email validation services you'll find online.
What is an email validation service?
Email validation services scan the addresses in a mailing list and identify addresses that have an invalid syntax, are catch-all addresses, belong to an inactive domain, or are undeliverable. The service marks these addresses so that you can delete them from your mailing list. Many of these services offer a free trial or a free plan, so you can compare services without it costing you a penny.
How accurate are email validation services?
Email validation services aren't 100% accurate, but many come relatively close to that number. You'll find that most services claim between a 98% and 96% accuracy rate. Still, you may experience a different accuracy rate and may see a 5% to 10% hard bounce rate after addresses are validated.