Why You Need an Email Validation Tool
It takes work to build a mailing list of prospective clients and keep that list up to date with valid and deliverable email addresses. Over time, people change addresses and spam accounts sign up for campaigns. After a while, mailings to those addresses bounce, decreasing the list's deliverability rate. The result is that the organization's marketing goals will be challenging to achieve.
When you know how to validate an email address using an email validation tool, you'll save time determining if the addresses on your lists are deliverable and not spam, reduce your bounce rate, improve your sender reputation, and be assured that your mailings reach your subscribers.
Email validation tools look for potential issues and problems in an email address. The tool performs the following tasks to find these issues:
Looks at the email address formatting and syntax to determine if it is valid and won't result in a hard bounce.
Checks the address against known spam traps so that your list will avoid being blocked by ISPs and ESPs.
Verifies the domain where the address originates from to make sure the domain is registered.
Uses the SMTP protocol to make sure the mailbox for that address exists and can receive messages.
How to Choose an Email Validation Tool for Your Business
As your mailing list grows and ages, it becomes more difficult to keep the list free of incorrect addresses and email addresses that have been closed. So, it's a good idea to clean your lists with a validation tool regularly.
When looking for the best service that fits your needs, evaluate each potential service to determine if they provide the types of email verification tools you'll need and the types of problem email addresses the service looks for. Do you need to validate addresses in bulk or perform real-time validation with an API? Does the service identify fake addresses, spam traps, catch-all addresses, inactive accounts, and role-based emails?
In addition, look at the service's accuracy rate, API and automated integrations, customer support, speed, and price. You may also want to look at the level of control you'll have over your list and the type of reports the service provides after validating your list.
Top 11 Best Free Email Validation Tools
When selecting the best email validation tools for this article, we focused not only on their performance but also on usability, security, and customer support.
While each best free email validation tool described below can validate emails for free, you won't be able to access all features and verify an unlimited number of lists without upgrading to a paid subscription plan. So, keep that in mind when you choose how to test email deliverability for your marketing campaigns.
Are you tired of poor email deliverability scores and underwhelming marketing campaign ROIs? Then you should definitely try ZeroBounce, a popular email validation tool that uses artificial intelligence to separate valid contacts from invalid ones.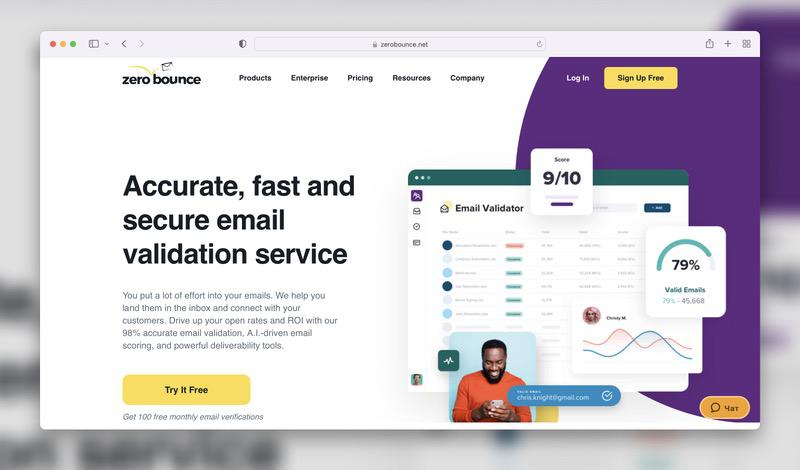 When you perform email validation with ZeroBounce, each contact in your list of email addresses is assigned a quality score that tells you how likely that person will engage with your emails. You can also test the deliverability of your emails to discover which of them are likely to end up in the spam folder, which is essential for avoiding ending up on email blocklists.
All these and more features are available at affordable prices, and you can choose between a pay-as-you-go model or a monthly subscription.
Enter the email address using the form below and try how ZeroBounce works.
👍🏼 Pros:
Excellent accuracy
100 free weekly email verification credits
Straightforward user interface
AI-powered email scoring system
Responsive customer support staff
👎🏼 Cons:
File uploads occasionally take a while to finish
Pricing:
2,000 credits a month for $15
10,000 for $64
50,000 for $278
100,000 for $385
500,000 for $1,000
Pabbly Email Verification is a free bulk email validation tool with an attractive user interface. The tool makes it easy to improve the performance of marketing campaigns by deleting duplicate emails, detecting spam traps, running scans against High-Risk Keywords and TLDs, and getting rid of addresses with syntax errors.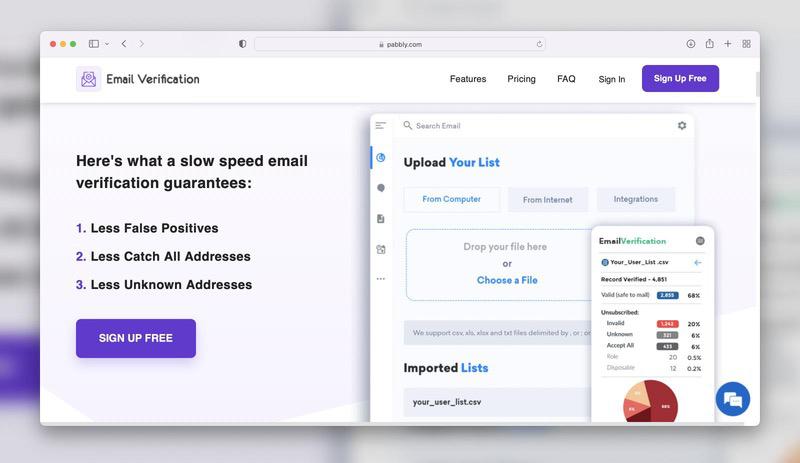 One thing that virtually all users love about Pabbly is that the customer support staff always responds to messages within 12 hours during all working days. What's more, its live chat support is available between 10:00 AM and 6:00 PM IST, so there's no reason to worry about running into some issue and not being able to solve it.
👍🏼 Pros:
Excellent customer support
Generous free plan
Plain and straightforward user interface
👎🏼 Cons:
Does not always filter out "catch-all emails"
Pricing:
1,000 verifications for $5
10,000 for $25
50,000 for $84
500,000 for $479
1,000,000 for $599
DeBounce email validation service is a tool that helps to verify the accuracy and validity of email addresses. It works by checking various parameters of an email address, such as syntax, domain, and mailbox existence. The DeBounce email validation service is particularly useful for organizations that rely heavily on email communication for their business operations.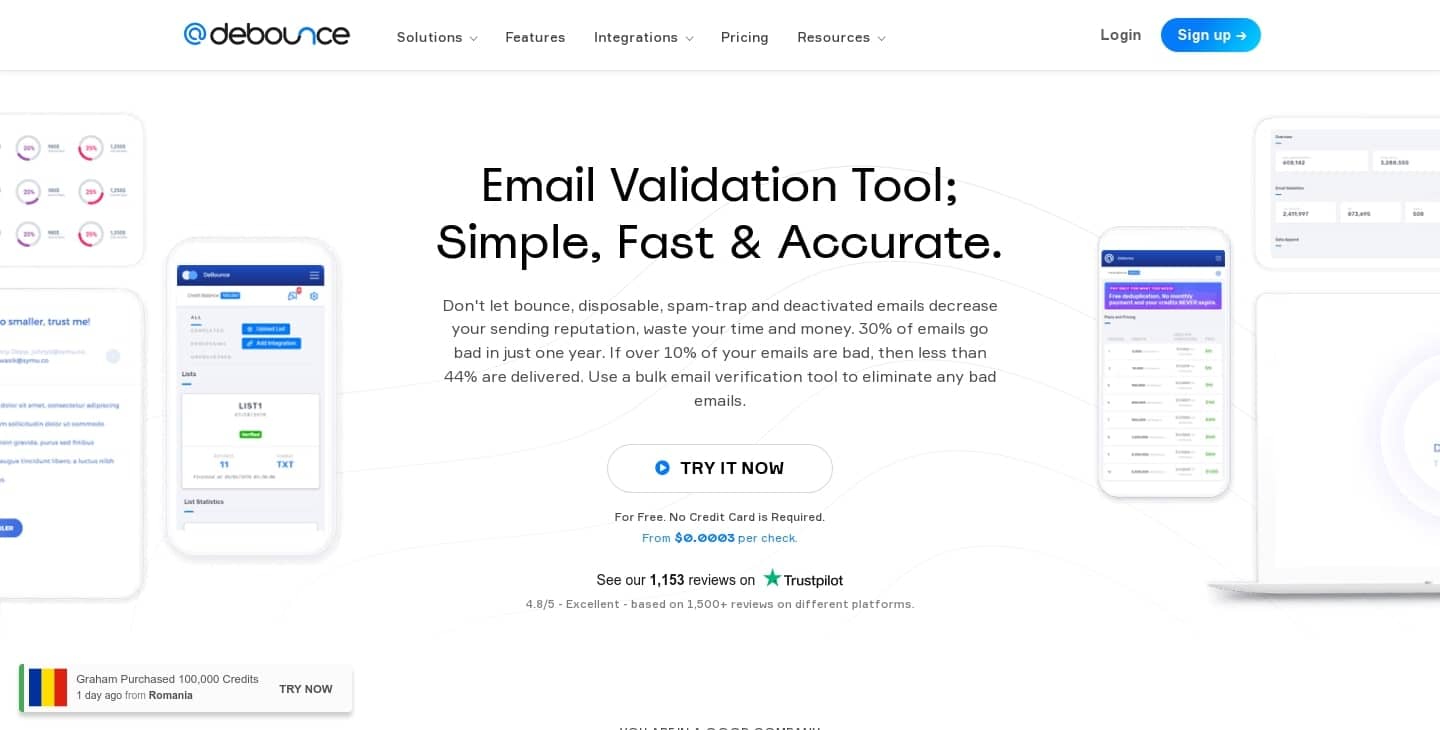 By ensuring that email addresses are accurate and valid, organizations can reduce the chances of their emails being marked as spam or bouncing back, leading to improved deliverability rates. Additionally, DeBounce offers data enrichment services that can help email marketers create more personalized email campaigns.
👍🏼 Pros:
Competitive Pricing
Great customer-base reviews (+1,500)
High Accuracy
Simple and Intuitive UX
👎🏼 Cons:
Doesn't offer 24/7 Support
MillionVerifier is our favorite email list validation tool because it delivers the best value for money. The service is known for its 99% accuracy rate and low prices. You can purchase 1 million verifications for only $299, which is half of what most similarly accurate validation tools charge.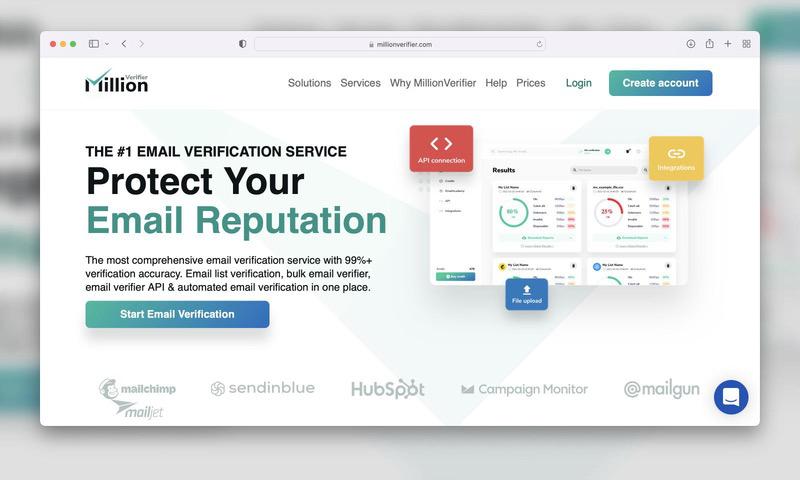 MillionVerifier makes it possible to get started with email validation free of charge in less than a minute (up to 1000 emails monthly). You simply create an account and upload your first list of addresses—no need to provide your credit card details. All EU-based businesses will be happy to discover that MillionVerifier complies with GDPR and its strict privacy guidelines.
👍🏼 Pros:
Price
Excellent value
Ease of use
High accuracy
👎🏼 Cons:
Doesn't offer 24/7 Support
Pricing:
50,000 verifications for $59
100,000 for $99
500,000 for $199
1,000,000 for $299
This free email verifier is trusted by over 125,000 users, who enjoy its quick validation process and flexible pricing. You can pay as you go based on the number of addresses you validate, or you can pick a subscription plan for a volume discount. NeverBounce excels at processing large volumes of messages, stating that it can process 10,000 emails in just 2 to 10 minutes. As such, you can complete an average of 100,000 email jobs in about 45 minutes.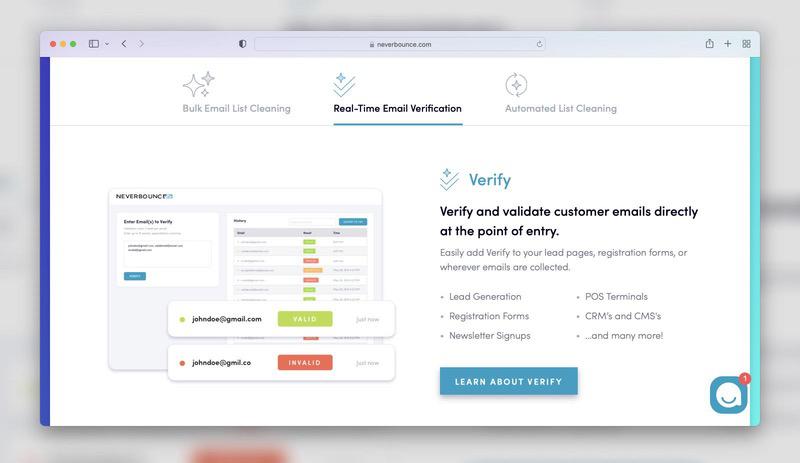 NeverBounce integrates with many CRMs and marketing automation tools, including Campaign Monitor, Active Campaign, Drip, HubSpot, Insightly, Mailchimp, OnePageCRM, Paperform, Salesforce, and others. We just wish it left behind fewer unverified addresses.
👍🏼 Pros:
Modern and simple user interface
Quick validation process
Flexible pricing
👎🏼 Cons:
Leaves a lot of "unverifiable" addresses
Pricing:
10 email addresses for free or book a demo to receive more free credits
10,000 verifications for $0.008 per verification or $49.00 per month
100,000 for $0.005 or $159.00 per month
250,000 for $0.004 or $249.00 per month
1,000,000 for $0.003 or $999.00 per month
If you're looking for an easy-to-use free email validation tool that's trusted by more than 10,000 users around the world, then MyEmailVerifier is a great choice. Its prepaid plans make budgeting simple, and the free plan includes 100 email credits, which is enough to test all features and learn how well the service performs.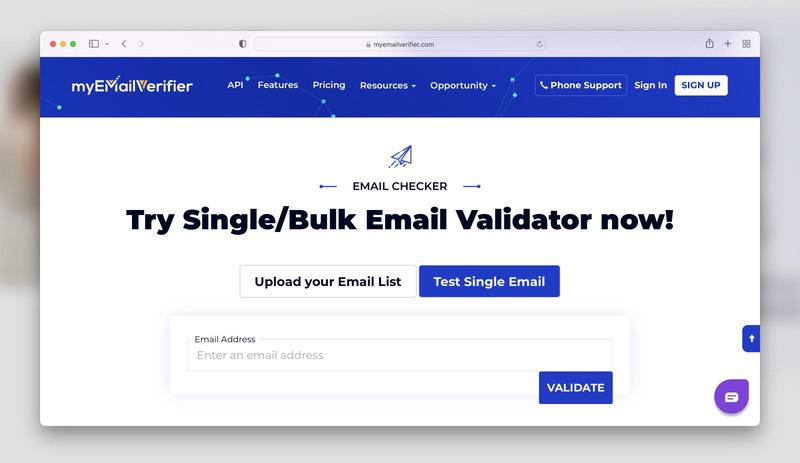 What's more, users can request 500 extra free email credits by sending a message to the support team, 2,500 extra credits for sharing their experience on social media like Facebook, Twitter, and LinkedIn, 5,000 extra credits for leaving a review on a review site, and, finally, 10,000 extra credits for creating a short video testimonial.
Speaking of features, MyEmailVerifier does everything from syntax verification to domain/MX record checking to spam trap detection and more. Its validation system works great with Yahoo addresses, which is something many other free email verification services struggle with. MyEmailVerifier offers a 98% deliverability guarantee, and it claims that 99% of its customers are satisfied with the service it provides.
👍🏼 Pros:
Very easy to use
Reliably validates Yahoo addresses
Offers a decent number of free credits
👎🏼 Cons:
MyEmailVerifier is sometimes too strict and marks valid email addresses as invalid
Pricing:
500 verifications for $2.4
10,000 for $36
50,000 for $120
500,000 for $1,000
1,000,000 for $1,500
Mailfloss is an accessible free validation tool that can automatically remove hard bounces, fake addresses, and addresses with spelling mistakes from your lists. It has a straightforward user interface that exposes all important features at a glance, allowing even inexperienced marketers to scan for invalid addresses with ease.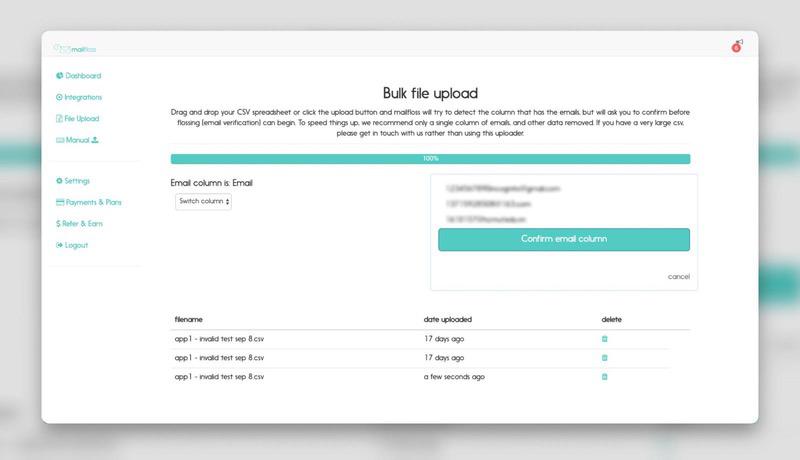 It takes a mere 60 seconds to get started. Still, be ready to wait a while to receive the cleaned list. At the time of writing this article, Mailfloss supports virtually all major email service providers, including MailChimp, Ontraport, Constant Contact, HubSpot, Campaign Monitor, AWeber, and others. Since there are no commitments and no contracts, you don't need to think twice about purchasing a subscription plan since you can ask for a refund at any time during the first 30 days and get your money back.
👍🏼 Pros:
Fast customer support
Easy to get started with
Automatic removal of bad addresses
Pricing:
Free 500 emails per month
10,000 scanned emails/month for $17/month or $14.17/month if paid annually
25,000 for $49/month or $40.83/month if paid annually
125,000 for $200/month or $166.67/month if paid annually
Proofy is an accurate email, spam trap, and hard bounce checker that also identifies disposable and duplicate addresses. It performs with a 98.5% accuracy rate that ensures addresses have the correct syntax, accept emails, and have a working mailbox. Plus, Proofy backs up their verification results with a deliverability rate guarantee.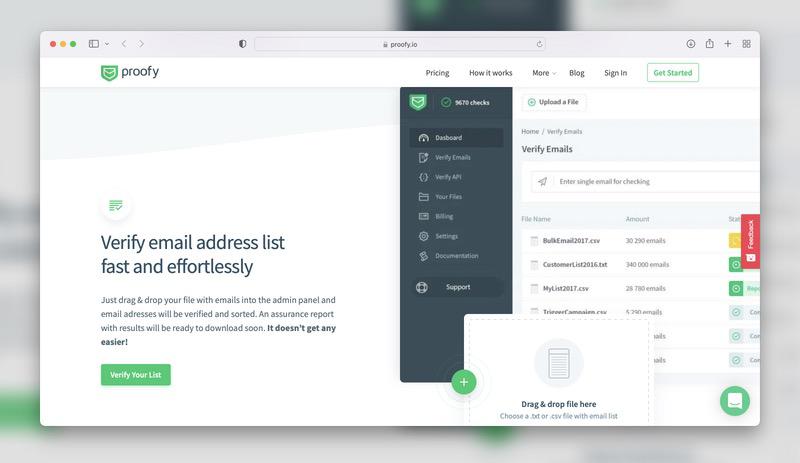 This cloud-based solution provides bulk email verification and can process a list of 100,000 emails in 45 minutes. Just drag and drop the file containing your email list or import the subscriber list from your ESP. Then, when the verification is complete, use the convenient dashboard to analyze the results.
The Proofy email verification API can be integrated with your website and mobile apps to remove invalid addresses before they're added to your mailing list. To get the API, copy the code on the Proofy website and then sign up for the service to use it.
👍🏼 Pros:
Simple to verify email addresses and clean lists
Great price compared to many of its competitors
Subscribers can earn additional free verifications
👎🏼 Cons:
Cannot import Excel files, only TXT and CSV files
Pricing:
100 free checks with the ability to earn more free credits with their program
5,000 email checks for $16
10,000 for $29
30,000 for $63
50,000 for $99
This best email validation tool offers an easy-to-use email address tester that is super simple to use. All you do is upload your list, and the service tells you which addresses are safe and which are accept-all or disposable addresses. What makes this service stand out is that Bounce gives you an indication of what you may expect after sending your campaign.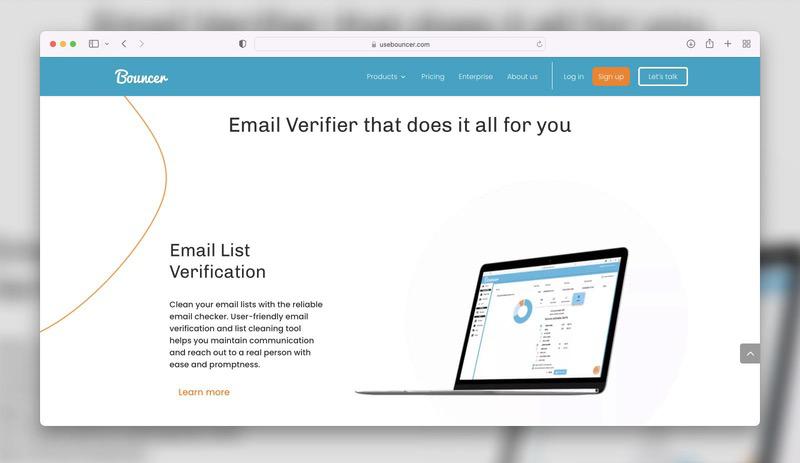 If you'd like to see how well Bouncer works, you can test the quality of your list before verifying it. Bouncer selects a random sample from your list and lets you know if the list is clean or whether it needs a validation check.
Along with a verify check, Bouncer offers an API that's straightforward to integrate into your website and offers real-time verification. The API can handle a batch size of 10,000 emails and can process 100,000 emails per hour.
Bouncer offers pay-as-you-go and subscription plans. The pay-as-you-go plans are perfect for marketers that are growing a mailing list and may not have a set number of verifications each month.
👍🏼 Pros:
Validate emails extracted from LinkedIn
Support is efficient and very helpful
A complete solution with detailed reports
👎🏼 Cons:
May take too long to respond
Pricing:
100 free email verification credits
1,000 email verifications for $5
5,000 for $20
10,000 for $30
30,000 for $90
Emailable claims their bulk email verifier can improve your email deliverability by up to 99%. You'll receive detailed reports that show which addresses are deliverable, undeliverable, risky, unknown, and duplicate. Each of these categories shows a further breakdown indicating why emails fall into that category and the number of emails affected.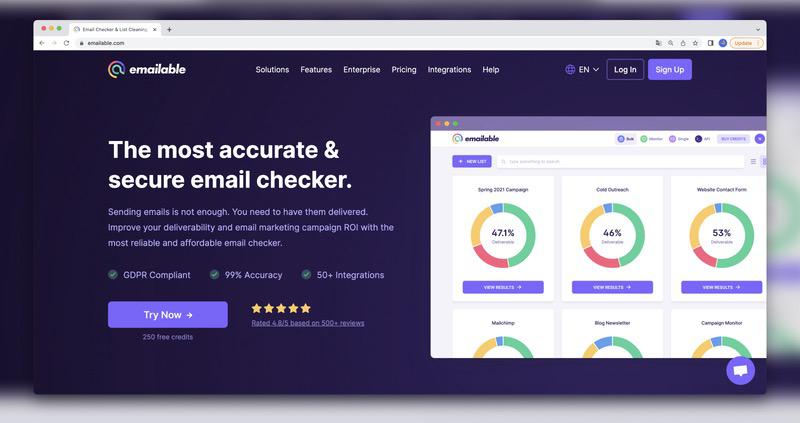 Along with bulk email checking, you can also automate the process so that your lists are verified each day. This way, you'll only have deliverable addresses on your list. In addition, you can customize how your lists are cleaned and which emails are removed. Do you need real-time verification? Copy a few lines of code into your HTML forms, customize the attributes you want to capture, and you'll be up and running in no time.
👍🏼 Pros:
Get a cleaned list in a little as a few minutes
Budget friendly and easy to use for beginners
Has a high threshold standard for email validation
👎🏼 Cons:
API and other integrations may be difficult to set up
Pricing:
250 free credits
5,000 credits for $20
10,000 for $30
25,000 for $75
50,000 for $250
Clearout wants to help you improve your sender reputation with better email deliverability. This service performs over 20 refined validation checks on your mailing lists. Along with a guaranteed 98% accuracy rate, the service also offers 24/7 customer support, GDPR compliance, and military-grade confidentiality.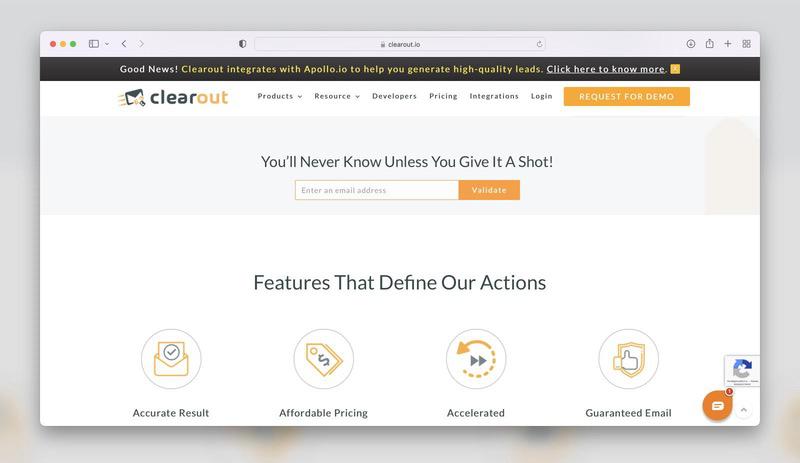 Clearout supports importing lists from the popular ESP and CRM platforms, including Mailchimp, ActiveCampaign, Moosend, and Hubspot. The service offers quick validation when you need to check one or a few addresses and bulk verification that runs your list through multiple algorithms. It also provides single and bulk email validation APIs.
👍🏼 Pros:
Quick and accurate email verification and validation
Great for collaborative teams
Great customer support
👎🏼 Cons:
May not be able to import a mailing list from some services
Pricing:
100 free credits
3,000 email verifications for $21
10,000 for $58
100,000 for $350
250,000 for $625
Conclusion
The best free email validation tools reliably catch most invalid addresses while being intuitive enough so that even inexperienced marketers can use them without much effort. In this article, we listed eleven tools that meet these criteria, describing the pros and cons of each. All you have to do to start verifying your lists is pick one.
---
Free Email Validation Tool – FAQs
What is the difference between free and paid email validation tools?
The truth is that most email validation tools offer both free and paid subscription plans, allowing you to test how they work without forcing you to make an upfront commitment.
How do free email validation tools work?
Free email validation tools perform several kinds of checks to catch all invalid email addresses. For example, these tools look for spelling mistakes, syntax errors, known spam traps, and problems with DNS records.
How often should I use an email validation tool for my list?
Most experienced marketers recommend using an email validation tool at the start of every campaign and at regular intervals during the campaign.
What is the best free email validation tool in 2023?
MillionVerifier is the best free email validation tool available in 2023 because it delivers the highest accuracy at the lowest prices (up to 1000 emails monthly for free).
What is an email validation tool?
An email validation tool is a software service that scans email addresses for syntax errors such as incorrectly typed addresses, invalid domains, spam traps, and disposable addresses. Marketing and sales organizations use these tools to increase the deliverability rate of the campaigns.