The Importance of Verifying Email Addresses
Using email campaigns to reach prospects is a good business practice. It's easy to see why when you consider that 87% of marketers use email campaigns. These marketers use email because email delivers up to a 4400% return on their investment. Still, it takes considerable time, money, and effort to reach these high returns.
Organizations spend valuable resources making sure their email marketing campaigns have the right content that attracts customers and convinces them to buy. In addition to creating content, there are costs involved in ensuring emails are viewable on desktop computers and mobile devices. Plus, time and money investments are needed to ensure the campaign is delivered at the best time and, most importantly, the email list is validated.
Why is email validation important? It's the best way to determine if visitors submitted the correct email addresses when they visited your site or signed up for your newsletters. It's easy for your email list to contain incorrect information. So, your list may not supply the desired results because of people who provided an incorrect address when signing up for an offer, set up a fake account, mistakenly mistyped their address, or no longer use the email address they provided initially.
When you verify the email addresses in your marketing list, your list will contain the correct information, your campaign will be delivered to your intended audience, and you'll improve your email deliverability. As your email deliverability goes up, your sender score improves, hard bounces go down, and you'll avoid spam complaints. A validated mailing list is also essential if you work with data brokers or pay for traffic to your site.
A free email verification service should offer all the features you'll need to develop successful campaigns. But how do you decide which free email address verification service is the best for you? The solution is to test one or more free email verification online services. These services can help you successfully clean up your mailing lists and reach more people.
Here's what you need to know about this noteworthy tool and how to go about choosing the best free email verification service for your needs.
How Email Verification Works
When you submit an address in a free email verification tool, the tool checks the syntax to make sure the address is real. If the address is real, the tool checks it in more detail. It looks at the DNS records to make sure the address is from a real domain. It then checks the MX records to make sure the mail server exists and is set up correctly.
After these checks, the tool pings the mail server to determine if an inbox exists for that email address and that the inbox can receive incoming emails.
These checks ensure that the email address is valid and improve the likelihood that the address belongs to a real person. The verification tool also looks for spam traps that may be included in the mailing lists that you purchased. Most email verification services will remove any address that is undeliverable or considered a spam trap.
Criteria for Choosing a Free Email Verification Service
Email verifying tools can be a crucial step in a successful email campaign. To understand what to look for in verifying software, consider your needs and how these services work.
The first thing to look at is how you plan to upload the addresses for verification. If you only need to check a few email addresses at a time, a single email verification service will work. If you verify large groups of addresses, look for a bulk email verification service. Or, would you rather do the verifications yourself or have the service do the work for you?
Also, do you want a dedicated software solution, or will a cloud-based solution work for you? Plus, a free bulk email verification tool should be scalable. As your mailing list grows, the validation service should be able to accommodate more addresses.
Next, look at the services each provider offers. An effective free email verification service should do the following:
Verify email syntax: Does the service look for and fix syntax errors in email addresses?
Detect servers: Does the service check DNS records? Checking the DNS records ensures that the email addresses are valid and can accept new mail. This check reduces your bounce rate.
Deliverability and authentication: What type of email deliverability test and authentication service does the provider offer? Some services provide alerts if your campaign appears on block lists or is blocked by spam filters.
Verify domains: Does the service detect email addresses from inactive or invalid domains? Sometimes these domains have a history of spam.
Ideally, the tool should also remove duplicates so that you don't double-send your campaigns. Duplicate emails are an annoyance to the recipient, plus it could increase costs if you pay by the address.
Finally, look at how well the free email verification service performs. In particular, pay attention to these areas:
Its accuracy rate: Many tools have a 98% or 99% accuracy rate and may guarantee bounce rates below 3%.
The level of automation and control: Can routine tasks be automated to save you time? Can you control which emails to keep and which to remove?
Customer support: Does the service respond to customer requests quickly?
Speed: A quick turnaround time is essential if you process email addresses in bulk. The faster the service performs the validation, the quicker you can get started on your campaign.
Now that you know the most important things to look for, here's a quick rundown of our favorite tools for free online email list verification software.
10 Best Free Email Verification Tools to Try
You'll find a long list of free email verification service providers. Many of these email verification tools offer similar functionality. When you want to make the best possible choice for your email verification, free trials and plans are a great way to compare services. Here are our top picks and why we chose them.
1. ZeroBounce
Price: Offers 100 free monthly validations. Pay-As-You-Go plans start at $16 for 2,000 credits. A monthly subscription starts at $15 for 2,000 credits.
ZeroBounce is an award-winning free email verification tool that strikes a balance between price and reliability, offering a 98.8% accuracy rating.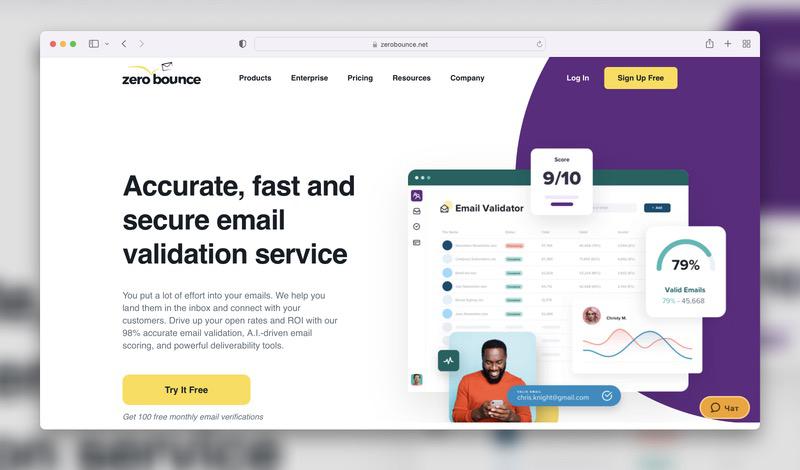 Along with a high accuracy rate, ZeroBounce offers an AI scoring system that identifies catch-all emails, adds missing contact information for the addresses in a mailing list, and provides deliverability tools to test server configurations and inbox placement.
Give ZeroBounce a free try. Use the ZeroBounce email validation tool in the box below to check if an email address is valid.
👍🏼 Pros:
Aside from straightforward pricing and no contracts, ZeroBounce also includes an email scoring feature so you can see at a glance how valid (and valuable) your mailing list is.
Credits never expire, so you can keep your investment even when your marketing campaign is put on hold.
Great for small marketers. The free account includes 100 free credits every month, real-time results, and 24/7 support.
👎🏼 Cons:
Only accepts .csv and .txt formats, so it might take some time to prep your list for validation.
Some users may find it difficult to understand the initial setup or may have difficulty uploading large files.
Free accounts can only use five credits per day.
2. NeverBounce
Price: Offers a free trial (you need to book a demo to receive free credits). Pay-As-You-Go pricing starts at $0.008 per address and goes down as you purchase more credits. Subscription plans start at $10 per month for 1,000 emails.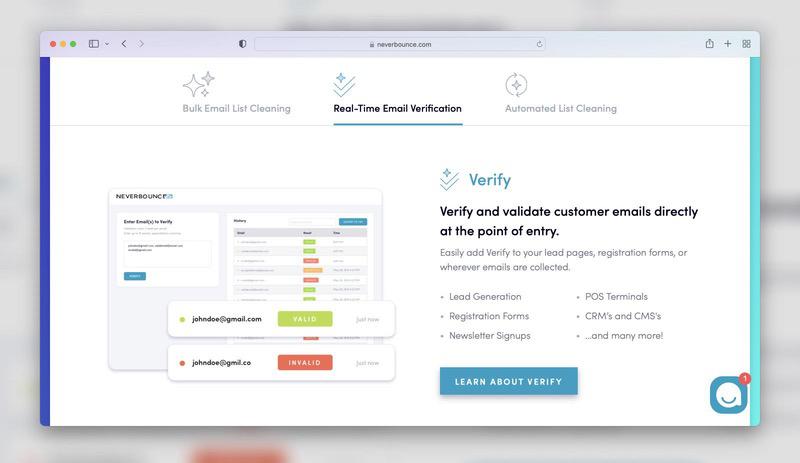 NeverBounce is used by some of the top tech companies and major brands in the world. And for a good reason. NeverBounce offers bulk email list cleaning, real-time verification, and automated list cleaning.
These products help you identify free email hosts, addresses with incorrect syntax, and valid DNS/MX records. Large organizations will be amazed at the speed at which they can process hundreds of thousands of addresses at one time.
👍🏼 Pros:
One of the most accurate free email verification software you can get, with a promise of delivering up to 99.9% of your emails.
Its real-time capabilities and automated list cleaning are huge time-savers when trying to meet strict campaign deadlines.
You can analyze your list free of charge and then decide if paying to have the list cleaned is worth the price. You'll also receive free credits when you request a demo or sign up for the service.
👎🏼 Cons:
It's not entirely free, so it might not be the best solution for large lists. However, once you use up the free credits, credits start at just $0.003 each, so it is affordable.
It may not provide enough insight into why emails are flagged or filtered during the cleaning process.
The steps to integrate it with a CRM may be unclear and require help from NeverBounce customer service.
3. MyEmailVerifier
Price: Offers 100 free credits. Packages start at $2.40 ($1.44 with a coupon code) for 500 credits.
If your organization collects a large number of mail addresses from web forms and mobile applications, consider MyEmailVerifier.
MyEmailVerifier offers an email validation real-time API, which verifies email addresses as your visitors enter the information. The API shows you which addresses are valid, invalid, unknown, cannot be fully verified, and don't respond.
👍🏼 Pros:
You receive 100 free credits without pulling out a credit card. This is a great way to try it out before you commit to a plan.
When it's time to upgrade, you can pay as you go instead of being locked into an expensive recurring subscription.
Receives high ratings for ease of use and providing more information than other free email verification software.
👎🏼 Cons:
MyEmailVerifier's success rate is 98%, which is wonderful but isn't quite the best.
It only works with the top five email platforms. Other services integrate with a larger number of platforms. Still, if you use another tool, you can make a request to have it included.
4. Snov.io
Price: Offers 50 free monthly credits. Plans start at $39 per month for 2,000 email validations.
Snov.io is a full-service outreach platform, with mailing list validation being part of its structure. It also provides tools for lead generation, email sending, and email tracking.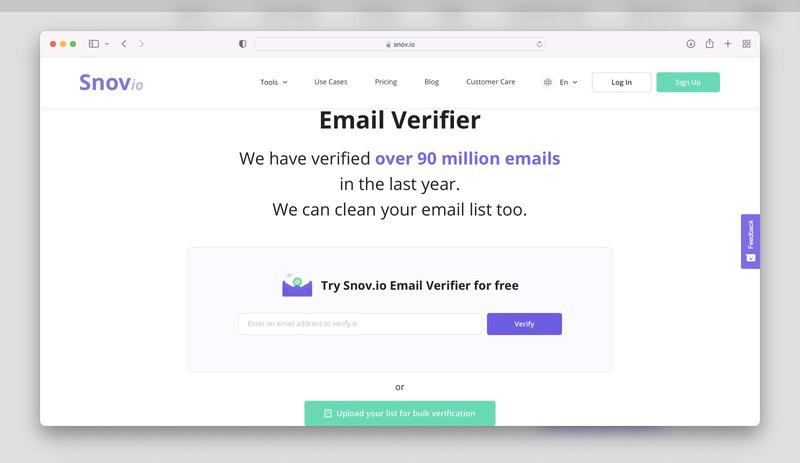 If you're looking for help with lead generation and qualification, along with trying out email address verification for free, take a look at Snov.io. It also supports email drip campaigns, has a teamwork option, and includes API and export functionality.
👍🏼 Pros:
The simplicity of the list validation feature is super helpful. You can upload a file (Google Sheets, Microsoft Excel, and CSV) or a page of scraped contacts from LinkedIn, and Snov.io does the heavy lifting.
Build your email drip campaigns directly in the platform, which can save you a step once your list has been verified.
👎🏼 Cons:
The results from the validation process can only be obtained with a paid plan, so it's not a completely free platform.
If you're looking for a verification tool only, this might not meet your needs.
5. GMass
Price: Email verification services are free. Subscriptions for other features start at $12.95 per month for an individual account and $89 per month for a five-user team account.
GMass is more than an email validation tool. It's also a powerful email marketing tool that works inside Gmail. GMass makes it possible to create personalized mass emails in Gmail and merge your mailing list from Google Sheets.
You can use GMass for email marketing, newsletters, mail merge, and cold email marketing.
👍🏼 Pros:
Use the built-in tool to verify email addresses and view email reporting analytics to see how many people opened your message and the number of bounced emails.
It's an easy-to-use and simple online email marketing and monitoring tool that provides a campaign report and automated follow-ups.
👎🏼 Cons:
It only works with Gmail and requires the Chrome web browser.
GMass does not offer phone or chat support. If you need help, you'll fill out its support form to submit a ticket.
6. Emailable
Price: Offers 250 free credits. Pay-As-You-Go plans start at $20 for 5,000 credits. A monthly subscription starts at $10 per month for 5,000 credits.
Emailable offers a single platform that includes a bulk email verifier, APIs to add email validation to your apps, automated email verification, and a real-time checker that can be added to your web forms.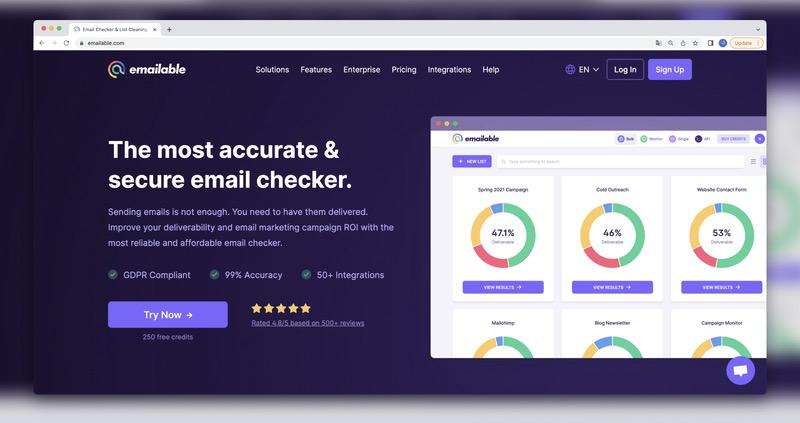 👍🏼 Pros:
It can be integrated with your current mail service provider, customer relationship manager, and marketing platforms.
Guarantees a 99 percent deliverability rate, but there are some conditions.
Categorizes emails to make it easier to understand the quality of the emails.
👎🏼 Cons:
HubSpot integration may not work as expected.
Even though categories are useful, sometimes too many emails fall into the 'unknown' category.
The user interface could be more user-friendly, and CSV files may not upload properly.
7. Verifalia
Price: Free account offers 25 email validations per day. Subscription plans start at CA$12.49 per month for 250 email validations per day.
Verifalia offers three levels of validation services—standard, high, and extreme quality. Standard quality is suitable for most campaigns, with a single validation pass and 5 second graylisting time. High quality performs three validation passes and 50 seconds of graylisting time.
Extreme quality offers nine validation passes and 2 minutes of graylisting time. To use the service, upload your data, wait for your mailing list to be verified, and then download the results.
👍🏼 Pros:
Also offers a credit system, so you only pay for what you need, and a secure HTTPS-based RESTful API.
Customer support is responsive and takes the time to help customers understand how the service works.
Easy to use. Enter your addresses in a TXT file and download a CSV file to remove the bad addresses.
👎🏼 Cons:
It may be difficult to understand the different types of results.
Less accurate than other services, with an accuracy rate as low as 94%.
Turnaround time may be long. Still, turnaround time may depend on the quality of service selected.
8. Email Validator
Price: The free trial will validate and clean a list with 1,000 mail addresses. Pay-As-You-Go plans start at $6.90. Monthly subscription plans start at $5.90 for 1,000 addresses.
Email Validator offers an online API that provides a real-time live check of the mail addresses your visitors enter on your website. The service also provides email list cleaning to remove invalid and outdated addresses.
You can import a list from Excel, a CSV file, a CRM system, or your customer database.
👍🏼 Pros:
Reports are very detailed, and using the service is intuitive.
Customer support is excellent, offering live chat, email, and phone support.
Integrates with more than 70 platforms, including ESPs and marketing apps.
👎🏼 Cons:
Takes 48 hours to clean a list. However, the service does a thorough job.
The exporting process may not work correctly. Although, the company plans to update this feature to improve it.
9. DeBounce
Price: Sign up to get 100 free credits. Plans start at $10 for 5,000 verifications.
DeBounce bills itself as a simple, fast, and accurate email validation tool. All you do is upload your list, and DeBounce cleans your list by detecting invalid addresses, spam addresses, and defunct mailboxes.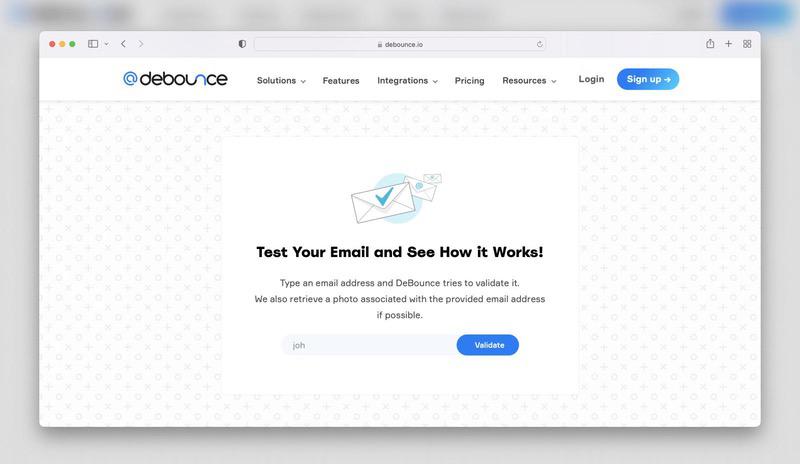 Along with its cleaning services, it also provides anti-greylisting technology, an API you can install on your website, a Spam-Trap Indicator that removes all records of spam, and team accounts.
👍🏼 Pros:
The service is easy to use, streamlined, and provides extras like email lookup.
The validation report includes all uploaded email addresses in the order uploaded. Makes it easy to compare the report to your source list.
👎🏼 Cons:
Removes columns from your uploaded data that aren't needed for the validation.
API functions are limited. Cannot pause the validation, and anti-graylisting isn't available.
10. Bouncer
Price: Free account includes 100 credits. Pay-As-You-Go plan starts at $5 for 1,000 credits. Subscription plans start at $20 per month for 10,000 address verifications.
If you want to be cool, check out Bouncer. Bouncer claims to have cool tech and caring people. Plus, the folks at Bouncer have a sense of humor.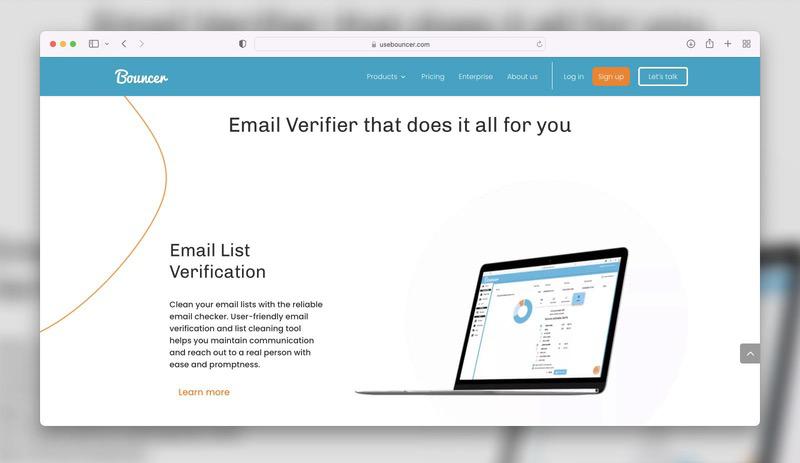 Bouncer is an email verifier that also provides a real-time and bulk email verification API and integrations for many popular mailing list services.
👍🏼 Pros:
No credit card is required to set up a free account, and credits never expire.
Offers more detailed reports than other services.
Straightforward to set up, configure, and use, making this solution a good choice for companies in the early stages of email marketing.
👎🏼 Cons:
Must pay for a more expensive subscription to get features like free catch-all verification and disposable verification.
Bouncer charges for email addresses that it labels as risky. Some people may feel that if these addresses can't be validated, they should be charged.
Improve Your Send Rates with Free Email Verification Online!
Email verification tool creators have been generous in sharing their technology for free. Now, all you need to do is choose the right tool to improve every campaign. And since you only have something to gain, why wouldn't you take the next step? Get email verification service free and watch how it transforms your ROI!
---
Free Email Verification Service – FAQs
What is the best free email verification service?
The term 'best' is subjective and depends on your needs. But if you're looking for a list validation service that's highly accurate and trusted by thousands of users, look at ZeroBounce. They're our top pick for list validation because they have a 99.9% success rate. You can try them for free, plus they remove duplicate emails and wrong syntax for free, too.
How can I find the owner of an email address for free?
If you're looking for the owner of a mail address for free, use a tool like NeverBounce or Snov.io. These services are the fastest way to clean up your mailing list and make sure you're sending the right message to the right person.
How do free email verification services differ from paid ones?
Many software tools come in free and paid versions, with paid versions offering more features and functions. This is also the case with free list validation services. You can usually process more addresses with a paid version. Also, some free versions only let you try it out once rather than providing ongoing access.
What happens if you send an email to an address that doesn't exist?
When you send a message to the wrong address, it will 'bounce' back to you as undeliverable. If this happens once, it's not a big deal. But, suppose you continue sending messages to nonexistent addresses. In that case, it could lower your sender score, making you more likely to end up in Spam folders. It's best to clean up your mailing list and improve your deliverability before you click Send.
How can I verify an email address for free?
Many email verification services offer a free trial. For example, ZeroBounce offers 100 free monthly validations when you set up an account with the service. Other services have a verification box on their website where you can enter a single mail address to see the type of results the service provides.