How to Check if an Email Address is Valid
If your marketing organization adds hundreds of email addresses to your mailing lists every week, many of them could contain typing errors or be spam. That's why it's important to check for valid emails when new addresses are added to your list. When you check if email address is valid, you can be assured that the addresses on your list will have a high deliverability rate and be free of spam traps and catch-all addresses.
If you don't check if email is valid, you risk hurting your sender reputation and increasing your bounce rate. This means that email service providers may mark your messages as spam, and you won't reach your intended audience. You may also find your messages on blocklists, which damages your reputation even more.
It only takes a few minutes and a few dollars to check if email is valid, which will ensure your messages are delivered to the intended recipient and, in turn, result in higher customer engagement and better profitability.
If you don't know how to check if emails are valid, we offer five methods to get you started.
Method 1: Send an Email to the Address
Perhaps the most straightforward way how to check if an email is valid is to send a message to it. This method works great for marketers who are just starting out and have a small marketing list. It's also a good choice if you add only a few new addresses to your list each month.
If you choose to check valid email one address at a time, you could write something like:
"Hi, I'm just checking if this address is valid. If you're reading this email, please let me know."
If you send a message like this to a fake address, your message bounces back, and you receive a message similar to one of the following from your email provider:
Message not Delivered: There was a problem delivering your message to someone@somewhere.com. See the technical details below or resend the email in a few minutes.
Address not Found: Your message wasn't delivered to someone@somewhere.com because the address couldn't be found. Check for typos or unnecessary spaces and try again.
Keep in mind that some email providers use a catch-all email address to catch messages sent to incorrect addresses. If you send a message to a catch-all address, your message is delivered but not to your intended recipient. In these cases, you won't receive a reply, and you won't know why.
Method 2: Password Recovery
Have you ever tried to recover an old email address only to be informed by your service provider that the address couldn't be found? The three major email providers—Google, Yahoo, and Microsoft—use a simple email address checker during the account recovery process. In addition to helping people recover their passwords, it can tell you if the address was entered into your forms correctly.
You can use this email address checker to your advantage whenever you receive a message from a @gmail.com, @yahoo.com, or @outlook.com domain. Simply go to the corresponding recovery page and enter the address that you want to verify:
Choosing how to check if an email is valid with this method may not always give you the results you desire, and it can take quite a bit of time. It's especially inefficient for marketers with an extensive marketing list and who add dozens or hundreds of addresses to those lists each month.
Method 3: Perform an IP Address Lookup
Performing an IP address lookup is another way how to check if an email is valid and is easier and less technical than it sounds. The purpose of an IP address lookup is to determine the geolocation of an IP address. Each email message you receive comes with the IP address of the server it originated from. Usually, you can't see this IP address because it's hidden in the source code of the message. When you view the source of the message, look under "received from" to find the IP address.
All you need to do is copy the IP address and paste it into an online IP address lookup tool, such as the one provided by What Is My IP Address. After a few seconds, you will see the ISP and organization associated with the IP address as well as its location. If the IP address is located in a country you wouldn't expect, be suspicious because someone could be spoofing it.
While this method can tell you where an address originated, it doesn't give you an indication of the deliverability of the address and if it comes from a reputable domain. It can also be time-consuming for marketers with a large number of addresses that need to be checked.
Method 4: Search the Address in Google
This method won't tell you that an email address is fake, but it can tell you that it is valid. It works because most people have a presence on the internet—some have their own websites, while others are active on social media. Major search engines like Google or Bing constantly crawl the internet, indexing everything they find. That's why most addresses that belong to real people can be found with a simple search engine query, while fake addresses can't.
Method 5: Email Checker
Fake email messages are a problem today, which is why it shouldn't surprise you to learn that there are many email checkers, also known as email verifiers, that can be used to validate email addresses with a couple of clicks. Free checkers typically limit the number of addresses you can validate in a month, and you'll need to subscribe to a service if you need to check more addresses.
When you are deciding how to check if an email is valid, there are many services to choose from, and you won't have to spend any money while you determine which service best suits your needs. While each tool is different, they are all easy to use, and some don't require you to register.
How to Choose an Email Validation Tool for Your Business
When your business runs on email marketing, you'll want to ensure your marketing lists are up to date and check email validity so that your emails can be delivered to every address on your list. If you have a large list and add new prospects to that list regularly, you'll save time when you use a validation tool.
As you evaluate different email validation tools and services, ask these questions:
Does the tool find syntax errors? All services should be able to check email validity by detecting syntax errors, and some may provide suggestions for correct addresses if the address contains typing mistakes.
Does the tool look for non-existent or invalid domains? This is another check that all tools should perform. This check looks at the domain, mail server, and email account to make sure these exist and can receive mail. The tool should also look for catch-all addresses.
Does the tool identify spam traps? Spam traps are real-looking but invalid addresses used by email providers and anti-spam groups to catch malicious senders. The tool should identify these addresses so that you don't look like a spammer.
These are the minimum services you should look for in an email validation provider. After you are assured that the tool offers the basic services and has a high reliability rate, you can then compare services based on price, customer service, availability of bulk cleaning services, and ease of use. You may also want to read reviews by others who have used the services you are considering.
To help you find the best email validation service for your business, we put together this list of our favorite free email verifiers:
Using email for mass communication with customers and business partners is not exactly easy these days. There are many things you need to watch for if you don't want to tarnish your sender reputation or get your address blocklisted.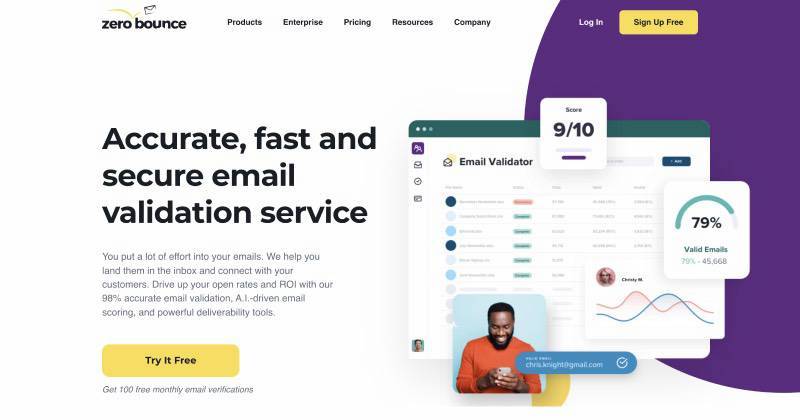 Enter the email address using the form below and see how easily ZeroBounce works.
ZeroBounce is a trustworthy email address checker that can effectively eliminate spam traps, fake addresses, invalid addresses, and addresses with spelling mistakes from your marketing lists to prevent bounces and preserve your sender reputation.
👍🏼 Pros:
Well-thought-out user interface
Many third-party integrations
Uses AI to enhance the accuracy of results
👎🏼 Cons:
Not exactly a low-cost option
Pabbly Email Verification is a powerful email list cleaner that can verify a long list of addresses with a few clicks. It has a robust and efficient cleanup mechanism that reduces false positives, eliminates unknown addresses, and removes catch-all addresses.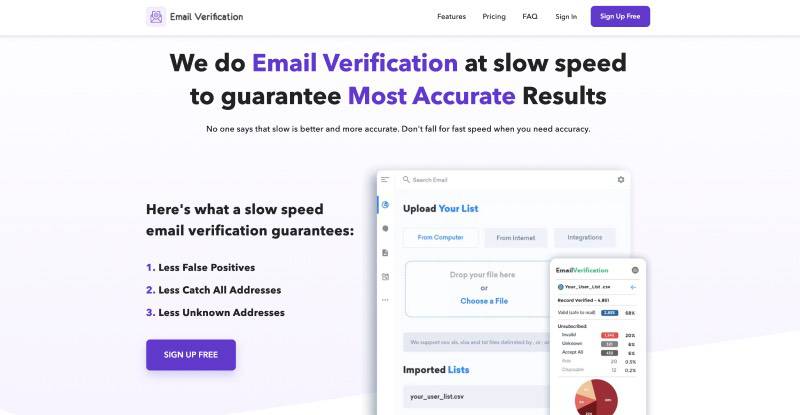 What sets this email list cleaning service apart from other tools is its efficient list cleaning process. It checks each address manually, which takes a bit longer to verify emails but ensures highly accurate results.
To avoid the bouncing of emails, it sends undetectable verification emails to invalid addresses. Further, with its handy spam checker, all spam records are removed instantly.
👍🏼 Pros:
Filters out addresses with an invalid syntax
Identifies and removes duplicate addresses
Eliminates addresses with invalid, inactive, or parked domains
Employs an efficient anti-greylisting technology
Deletes addresses that match its database of complaints
Checks high-risk keywords and TLDs
Very reliable results
👎🏼 Cons:
Validation results may take time
EmailVerifier is a highly accurate service to check email validity that relies on sophisticated AI algorithms to detect risky emails, catch-all, fake, and disposable signups. Each day, EmailVerifier performs around 50 million verifications, which says a lot about its popularity.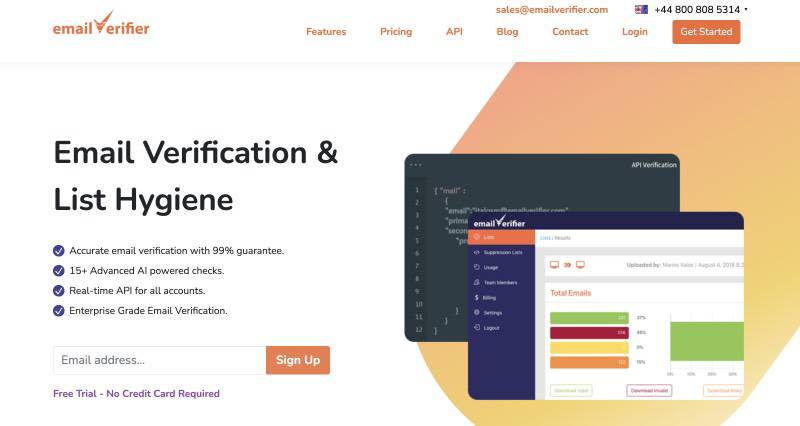 Designed with the needs of enterprise and private users alike, EmailVerifier provides a bulk email verification application programming interface (API) that can be integrated into email marketing solutions for real-time address checking.
👍🏼 Pros:
99% delivery rate
Employs advanced AI algorithms
Provides an API for bulk verification
Can perform 50 validations for free
👎🏼 Cons:
API documentation lacks important examples
MyEmailVerifier provides a convenient email validation system that you can use to remove fake and invalid addresses from your mailing list to reduce your bounce rate up to 98%. All you do is upload your list, give MyEmailVerifier some time to check it, and come back for your clean list.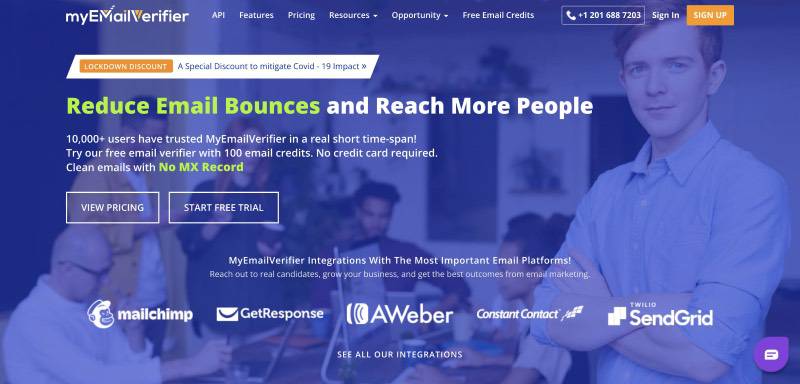 MyEmailVerifier can detect everything from addresses with syntax errors to invalid, inactive, or parked addresses. It claims one of the lowest turnaround times in the industry, and its high-performance API provides seamless integration with website registration forms.
👍🏼 Pros:
One of the lowest turnaround times in the industry
Can reduce bounce rate up to 98%
Reliable syntax verification
👎🏼 Cons:
Doesn't feature AI detection capabilities of valid but likely fake email addresses
With DeBounce, you can say goodbye to bounced emails by effortlessly catching all fake, deactivated, and spam addresses. As with most valid email checkers, you simply upload your list, let DeBounce perform its magic, and enjoy a clean email list that you can use to power your marketing campaigns and increase your sending reputation.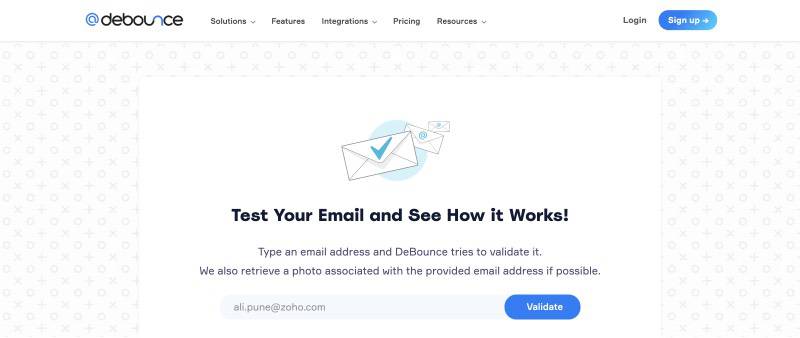 New users get 100 free credits, and additional credits can be purchased for as little as $10. Purchased credits never expire, and prices always include taxes and fees, so you're really getting what you pay for.
👍🏼 Pros:
Straightforward pricing
Anti-greylisting technology
Team account for enhanced collaboration
Excellent admin dashboard
👎🏼 Cons:
Some settings are more difficult to access than others
If you want to achieve email deliverability of up to 99% without meticulously checking every address in your list manually, an email deliverability test tool like EmailChecker is just what you need. It uses a convenient pay-as-you-go pricing model that frees you from the shackles of monthly subscriptions.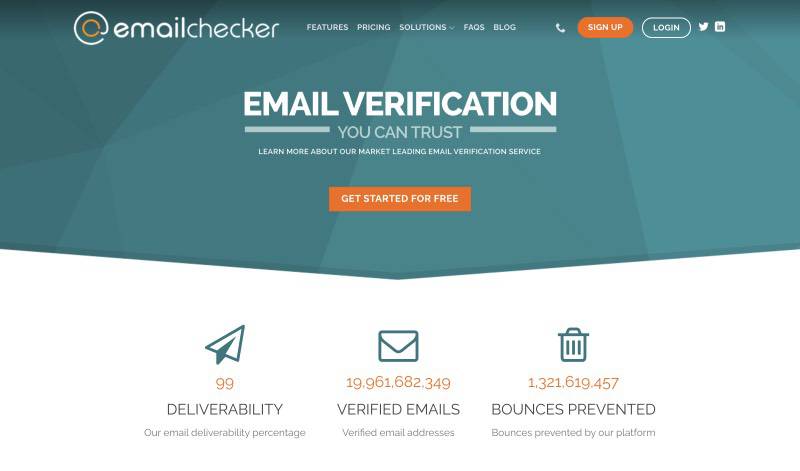 What we like about EmailChecker—besides its great performance—is its user-friendly dashboard. Thanks to its drag-and-drop user interface, even beginners should be able to figure it out in no time.
👍🏼 Pros:
Pay-as-you-go pricing
User-friendly dashboard
Verification API
👎🏼 Cons:
Returns more "unknowns" than competing services
You can call this valid emails checker Norbert if you want. Norbert can verify your addresses at an affordable price, ensuring that every email you send ends up exactly where it's supposed to by performing email deduplication, syntax validation, and domain verification.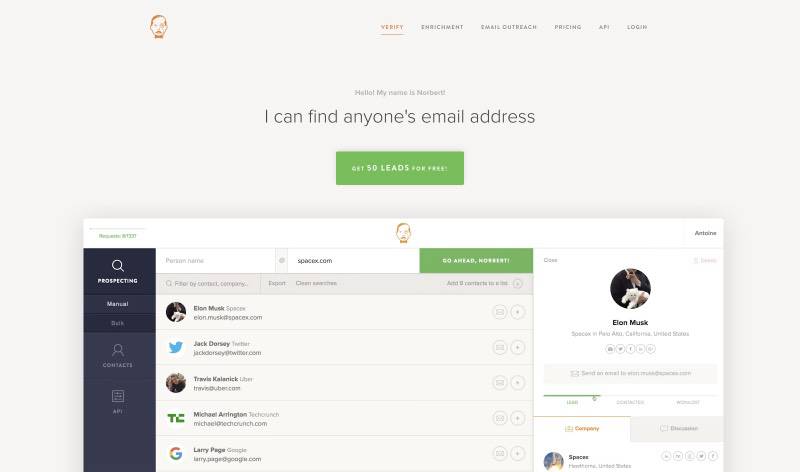 To use VoilaNorbert, you don't need to sign a contract or anything like that. All you do is open a user account, purchase as many credits as you want, and start verifying your addresses. This reputable service is used by some of the largest and most successful companies in the world, including Facebook, Airbnb, Intel, Twitter, and Oracle.
👍🏼 Pros:
Simple email checking process
Accepts CSV files from Google Sheets or Excel
Used by many successful companies
Clearout is trusted by more than 10,000 multi-sized businesses thanks to its accurate results, affordable pricing, and accelerated turnaround. Each address verified with this tool receives a deliverability score to help you determine whether or not you should keep it on your list.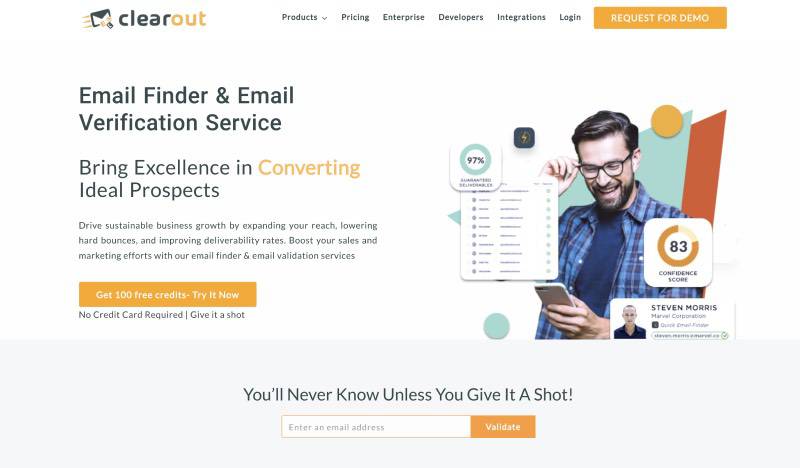 Unlike many similar tools, Clearout doesn't make you wait for results. You can copy and paste your list of email addresses and clean them without waiting.
👍🏼 Pros:
Bulk email verification
No waiting in the queue
Each email gets assigned a deliverability score
👎🏼 Cons:
No integration options with MailChimp
Imagine how great life would be if your emails never bounced back. Well, NeverBounce can turn that dream into reality with its real-time verification, automated list cleaning, and bounce checker services.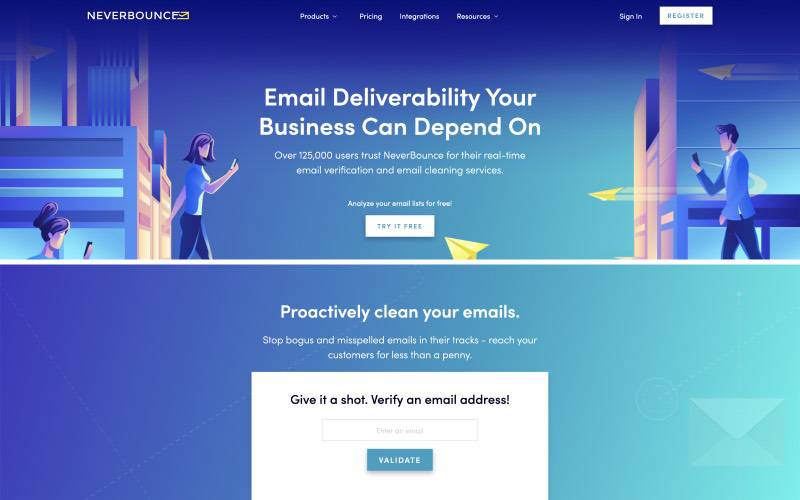 Trusted by companies like Uber, Dell, Yelp, and Doordash, this email checker is a one-stop solution with connections to over 85 third-party services and a seamless API with multiple wrappers, including cURL, NodeJS, PHP, Python, Ruby, Go, Java, and .NET.
👍🏼 Pros:
1,000 free verifications
Excellent customer support
API wrappers
👎🏼 Cons:
There are many cheaper options out there
As its name suggests, this email checker is perfect for quickly verifying long lists of addresses and removing those that are not valid. So far, it's been used by over 90,000 satisfied customers, and it costs $0 to get started with it.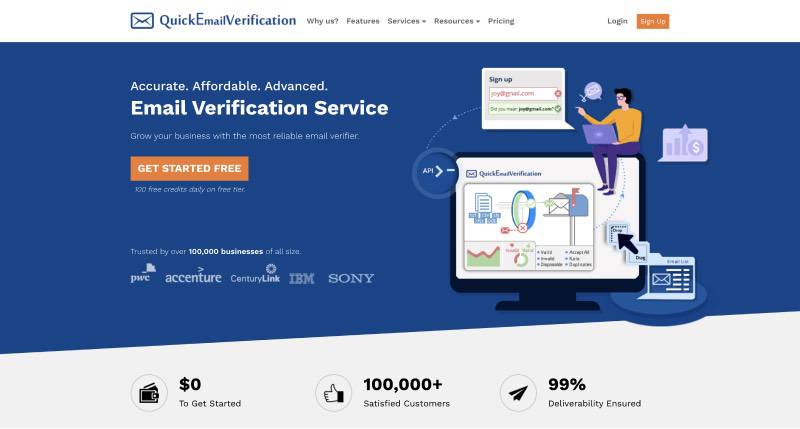 Developers can interact with it through its powerful API, while marketers can simply drag and drop email lists for verification.
👍🏼 Pros:
Integrates with many popular marketing tools
Free tier available
Team account for enhanced collaboration
Ensures 99% deliverability
👎🏼 Cons:
Slower API
Doesn't track emails that are used as spam traps
Snovio is a comprehensive solution for lead generation and email marketing. It helps you find marketable contacts, verify their addresses, and create and send complex email drip campaigns that deliver great results.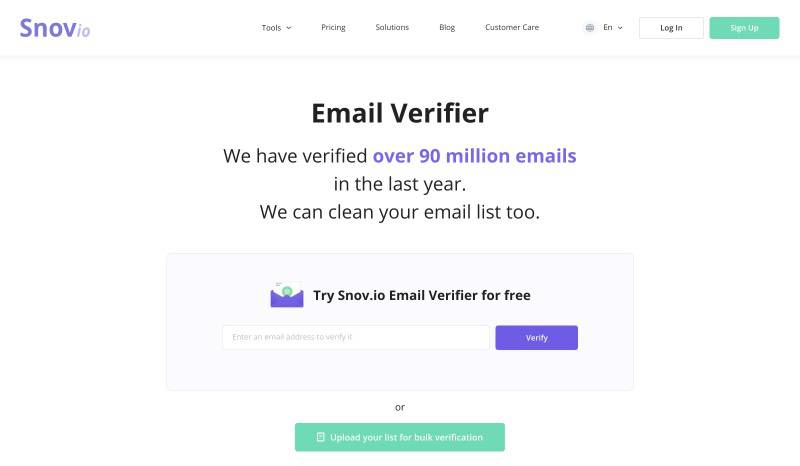 Since its launch in 2016, Snovio has been able to gather over 400,000 loyal users, who love it for its extensive features, easy-to-use interface, and acceptable cost.
👍🏼 Pros:
All-in-one marketing tool
Reliable email verification
Multiple subscription plans to choose from
👎🏼 Cons:
Many features are still under development
Limited email automation capabilities
Sometimes display an error message when trying to send emails
Follow our guide on how to check an email address online.
Conclusion
Valid email checkers and other methods on how to check if an email is valid can keep your marketing lists clean and ensure that a fake email message won't ruin your marketing campaign efforts. You want to spend your marketing dollars wisely. Ensuring that every email message you send is delivered to the intended recipient is one way to ensure your campaign's success.
---
How to Check if an Email is Valid - FAQs
What is a valid email?
A valid email address is one that has the correct syntax, is associated with an existing domain, and can be delivered to an email inbox.
How do I check if an email address is valid?
One way is to send an email to the address to see if the message is bounced back to you or if the recipient responds to the message. However, the best and quickest way to validate an email address is to use an email checker that looks at the address to see if it has the correct syntax and that mail can be delivered to the address.
How can I check if an email address is valid for free?
Use an email validation service. Many services provide a web tool on their website where you can quickly verify the address in real time. The service does all the work of checking the syntax and reviewing the MX records.
Why is my email not valid?
There could be several reasons why your email address is not valid. The most common reasons are that the address is not formatted using the correct syntax or that the email account does not exist on the email service's servers.
What happens if you send an email to an invalid address?
In most cases, the email server may not recognize the address, and you'll receive a bounce message that says the address is undeliverable. In some cases, the email may be delivered to a catch-all address, and you won't receive a message telling you the address is invalid.