Why Is Email Validation Important and Who Uses It?
For digital marketers, collected email addresses are everything. Why? Because email is the channel that produces the highest return on investment for marketers, generating $38 for every $1 spent. The problem is that lists of addresses degrade at a rate of around 22 percent each year. In other words, 100,000 valid addresses are guaranteed to become less than 80,000 valid addresses within just one year.
There are many reasons why marketing lists degrade over time:
Users stop using their old inboxes
Email providers get hacked
Confirmation emails become buried under a pile of spam
Because marketing lists degrade over time, over 50 percent of emails are labeled as spam, regardless of whether they are spam or not. And the result is always the same: low deliverability and open rates, which, in turn, lead to a worse return on investment from your marketing campaigns. What's more, they also lower your sender reputation. If you allow it to get too low, your service provider may kick you from their platform.
That's bad news for all marketers and the digital businesses whose marketing campaigns they manage. To prevent most of their messages from ending up in the spam folder and improve email deliverability, marketers need to take care of their mailing lists by performing email address validation regularly.
How Does Email List Validation Work?
Marketers use email list validation to ensure that their mailings are delivered to the intended recipients. When messages aren't deliverable, those messages may end up in someone's spam folder or be bounced back to the sender. These undeliverable emails hurt the marketer's sender score, and the marketer may find their business on a block list.
Most marketers use a service to verify their lists to avoid these obstacles. All the marketer does is upload a copy of their mailing list, and the service performs an email validation check of all the addresses in the list. After determining if the email address uses the correct format, the service checks if the address exists on a reliable domain and if the inbox accepts incoming mail. And the service does all this without sending a message to the address.
There are several methods you can use to check if an email is valid:
Real-time feedback: Some marketers add an API to their web forms that collects addresses and automatically verifies them when a visitor enters their address in the form.
Check individual addresses: For marketers that are just starting or that have a small marketing list, addresses can be verified one at a time using an online verification tool.
Bulk list checking: Large lists can be uploaded to some services. The service processes the entire list at one time and may provide you with a clean list that shows only the deliverable and valid addresses.
After the service has performed the verification, it provides a report of its findings. This report shows which email addresses are valid, those that may result in a bounce, and those that contain errors.
If you're wondering how does email validation work, you'll find many answers and a long list of validation options. Still, even though different email list validation services apply different validation techniques, the general process can be broken down into the following three steps.
Step 1: Syntax Check
When asked to enter their address, users sometimes make a mistake and don't notice that the address they've entered contains a typo or formatting error. Here are some examples of addresses that contain mistakes:
example@server.coum
peter.parker#server.com
420badboy@yahoo.com (Yahoo addresses can't start with a number)
The good news is that mail addresses follow a relatively simple set of rules that an email verification test can automatically apply to answer the question, "Is email valid?" This step alone is often enough to improve the deliverability of large lists of addresses significantly.
Step 2: Domain Verification
After verifying the syntax of collected addresses, most validation services proceed to check the DNS records associated with the domain name of each address. The domain name is the part of the address that comes after the "@" symbol. If you have an address like example@server.com, the domain name is server.com.
The goal here is to verify whether the domain name exists and accepts emails. Without this step, you would almost certainly lower your sender reputation score by attempting to send messages to non-existing addresses, only to have them bounce back.
While this step is technically complicated, validation services automate it from start to finish, so marketers don't have to worry about how domain names and mail servers work to improve the performance of their marketing campaigns.
Step 3: Mailbox Validation
The last but certainly not least important step of email validation involves mailbox validation. The goal of this step is to validate that the specific mailbox exists and can accept messages. As such, it's similar to the previous step. However, instead of focusing on the part of the address that goes after the "@" symbol, it focuses on the part before it.
One way to perform an email validation check of a mailbox is to send a message to it, but that's not optimal because you risk hurting your sender reputation score. What's more, sending a message to each address in your list would be time-consuming and inefficient.
That's why more sophisticated validation services perform mailbox validation without sending a single message. How? By pinging the SMTP server and analyzing its response code. Again, all this technical stuff happens behind the scenes and usually takes less than a second.
Third-Party Services Make Email Validation Quick and Easy
To remove invalid addresses from your marketing lists and prevent bounce rates, it's paramount to regularly verify that the addresses you've spent so much time collecting are still valid. This check can be done manually, but it's more efficient to use an email validation online service to perform bulk email verification on hundreds or thousands of addresses at the same time.
Most experienced marketers use such services. Still, they are open to anyone who uses email marketing to sell more products and services, raise awareness of an issue, or announce an important update.
If you're looking for an email validation service to help you clean up your mailing lists, here are a few recommendations.
1. ZeroBounce
If you want to work with the leader in the industry, check out ZeroBounce. ZeroBounce offers additional tools such as a deliverability test that lets you know which addresses may forward messages to a spam folder or catch-all address.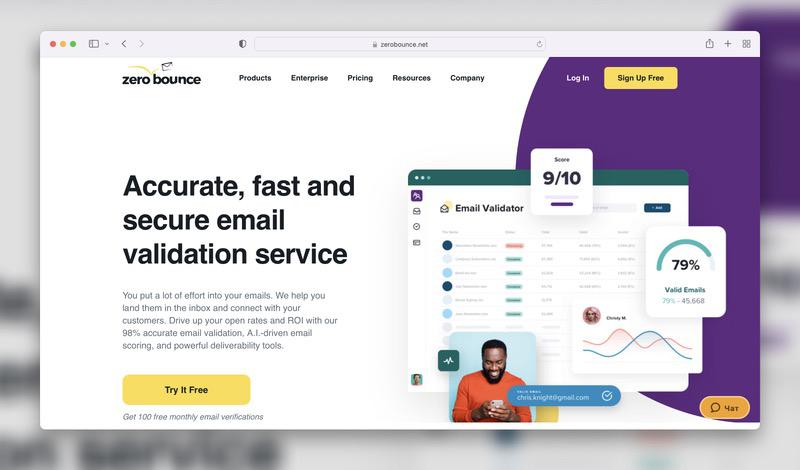 Plus, ZeroBounce may be the best free email list cleaner, offering users 100 free weekly email verification credits.
Want to try out ZeroBounce for yourself? Enter your email address below!
2. GetEmail.io
GetEmail.io is best for marketers looking to grow their marketing lists.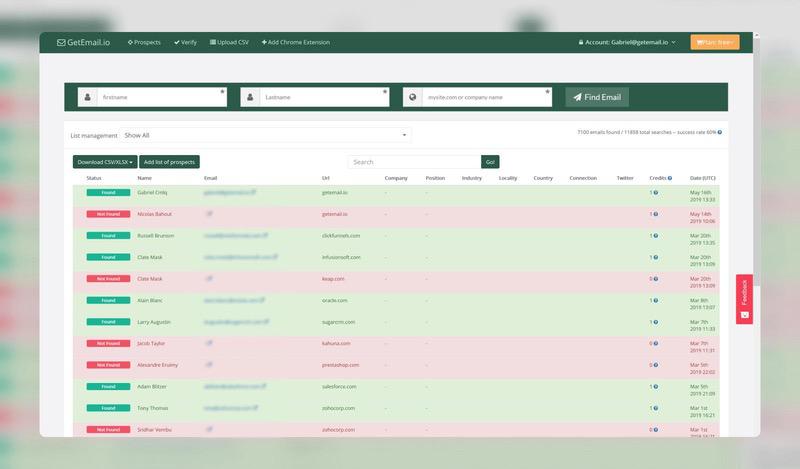 In addition to using big data and machine learning for verification, the service also provides list-building tools that help you target potential customers.
3. Email Hippo
If you find that your web forms collect too many fake addresses, give Email Hippo a try.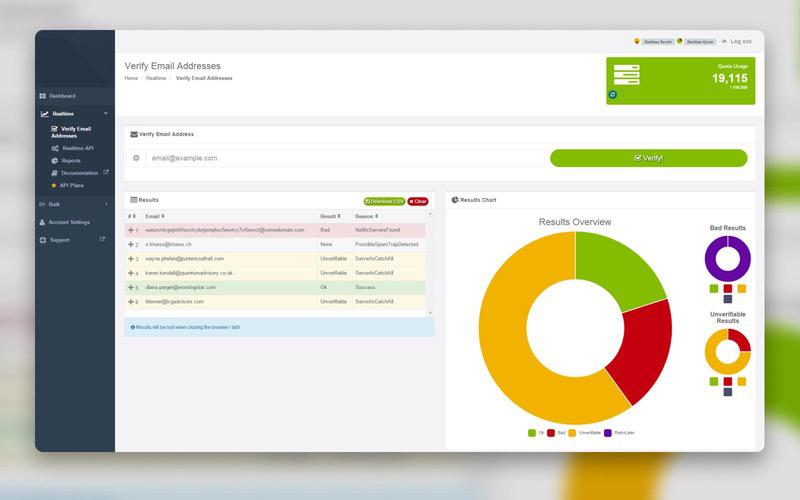 When you use their API, the API detects fraud in real time. This is a great way to reduce fake sign-ups on your web forms.
4. DeBounce
Do you need a bounce checker that identifies hard bounce addresses, disposable addresses, catch-all domains, duplicate emails, and spam traps? DeBounce will have you covered.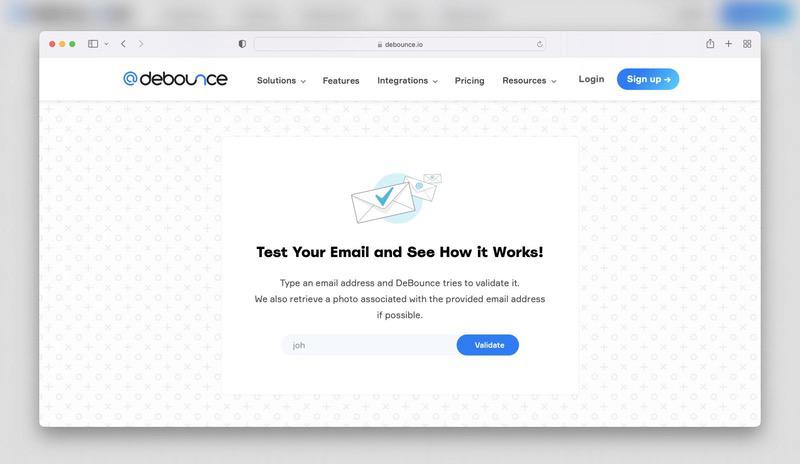 Plus, DeBounce provides detailed reports that give you all the information you need to clean up your lists.
Best Email Validation Practices
For email verification to be as effective as possible, it's necessary to follow certain best practices, which are based on the shared experience and expertise of countless marketers from around the world, and include the following:
Choose a reputable verification service. Unfortunately, not all verification services are equally trustworthy, so make sure to do your research before signing up for one.
Verify your list of addresses regularly. A single round of verification can instantly improve your deliverability, but it won't keep it high forever.
Perform preliminary verification when collecting addresses. A simple syntax check incorporated into the sign-up form can go a long way in increasing your list's ratio of valid addresses.
Avoid sending verification messages. Legitimate verification services never send verification emails because such messages can lower your sender reputation score.
Protect the personal information of your customers. As a marketer or business owner, you are responsible for protecting the address you collect from unintended disclosure.
Conclusion
Email validation is an essential practice for all marketers who want to see the best return on investment possible on their marketing campaigns. While it's certainly true that there's a lot that goes into thoroughly validating an address, marketers don't have to worry about the technical aspect of this process because they can use an online validation service and let it do all the difficult work for them.
---
What Is Email Validation – FAQs
What is email validation?
Email validation is the process of verifying whether an email address is legitimate or not. It can be performed manually, but most marketers use a bulk validation checker to quickly verify hundreds and thousands of addresses at once.
What are the validation rules for email addresses?
When performing a syntax validation of an address, it's important to check that the recipient's name is up to 64 characters long and contains only allowed characters. A valid email address must include the "@" symbol, followed by a domain name.
What are the benefits of email list validation?
The main benefit of list validation is that it helps increase email deliverability, a number that indicates how many messages have been successfully delivered. This, in turn, improves the ROI of marketing campaigns.
How can I protect my list with email validation?
To protect your list with email validation, you need to choose a reputable validation service capable of quickly recognizing and flagging all invalid addresses. You then need to use this service regularly because lists of addresses degrade at a rate of around 22 percent per year.
What types of emails does email validation check remove?
A comprehensive validation check can remove all invalid addresses, including addresses with spelling mistakes, syntax errors, as well as addresses that are no longer active.
How does email validation work?
When you validate your email lists, you verify that each address is valid and can be delivered to an inbox. Email validation checks the address syntax, makes sure the domain exists, and pings the mail server to see if the address exists.
How do I validate my email?
The easiest way to check for valid addresses is to use an email verification service. These services perform all the necessary checks and provide you with a report that you can use to remove invalid addresses.
Why is email validation required?
Marketers who want to see the best results for their email campaigns use email validation to reduce the number of undeliverable emails and avoid sending emails to spam traps. A campaign's bounce rate decreases with a clean email list, and the marketer's sender reputation improves.