Deleting a Gmail Account vs. Removing It
Deleting a Gmail accoun means it is gone, forever. No more emails can be sent or received to that mail address. If you delete your mailbox, it may be hard to recover it (learn more about how to recover a Gmail account and how to recover deleted emails from Gmail).
Removing a mailbox from your phone simply means you will no longer have access to your emails on that specific device. Your emails will still be there, your mailbox will not be deleted from Google, and you can always add the mailbox back to your Mail app or Gmail app whenever you wish.
You may want to remove a mailbox from your mobile device if you don't need these emails on your phone, if you have a new account, or if you're thinking of deleting it altogether.
How to Remove a Gmail Account from iPhone
Here's how to remove Gmail from your iPhone using the Mail app, Gmail app, and Safari.
To remove a Gmail account from iPhone Mail, follow these steps:
Open Settings on iPhone.
Tap Contacts.
Select Accounts.
Tap the Gmail account you want to remove.
Select the Delete button at the bottom.
How to remove Gmail account from iPhone using the Gmail app:
Open the app.
Tap on your Profile picture.
Tap Manage Accounts on This Device.
Tap Remove from This Device under the mailbox address you want to be removed.
Click Remove again within the pop-up.
How to remove a Gmail account from your phone using Safari:
Open Safari and search for mail.google.com
Tap the three lines in the top left corner.
Tap Gmail Accounts at the top to open the accounts menu.
Tap Sign Out of All Accounts.
Another page will open called Choose an Account.
Here you can select the Remove Account option.
Now tap the red button next to all accounts you want to remove.
Click yes, remove, to confirm!
How to Remove Gmail Account from Android
You can remove it from Android straight from your settings, you don't need to remove an email address from the Android Gmail app.
Here's how to remove your Gmail account from Android phones:
Open your phone's Settings.
Tap Accounts, or it may say Users and Accounts.
Tap the Gmail you want to be removed.
Finally, tap Remove an address to confirm.
If you happen to lose your device, or it is stolen, you can remove your Gmail address remotely.
Sign into your Google account on another device.
Go into Settings.
Tap the account you need to remove.
Now tap Manage your Google Account.
Navigate to the Security settings tab.
Scroll until you see Your Devices.
Tap Manage Devices.
Click on the missing device, then Account Access.
Click the Remove button.
Click Remove again to confirm.
💡 Note for Android users: Android phones rely on having an active Google Account since they use the Google Play Store. If you do not have an active account logged in on your mobile device, some apps and features of your phone may not work.
Organise Your Mailbox with Clean Email
Clean Email cannot help with removing Gmail accounts from your phone, however, it can help you have a clean an organised mailbox and achieve Gmail Inbox Zero.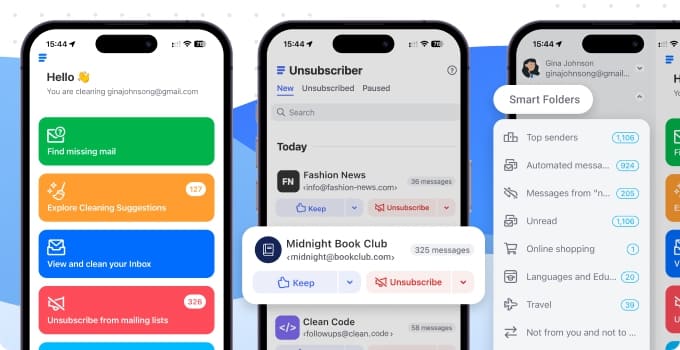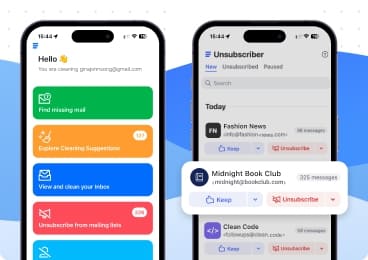 An organised inbox increases your productivity and decreases the amount of time you need to spend sorting out messages, locating emails, and deleting spam!
It is important to keep your mailbox clean to avoid stress and overload! Clean Email can help with its handy features, making decluttering emails, unsubscribing from emails, and blocking unwanted senders super easy.
Some features you will enjoy are.
Auto Clean
Auto Clean is a tool for creating automated rules. Stopping you from having to spend time manually performing email tasks ever again.
For example, you can create an Auto Clean rule to automatically send emails from a certain sender straight to your Trash folder.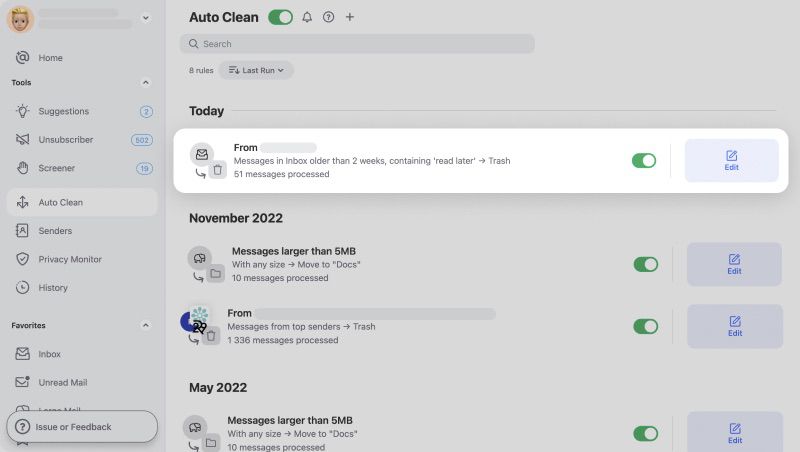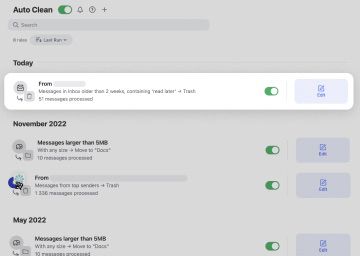 To create an Auto Clean rule all you need to do is click on the icon within the left-side action bar and follow the steps!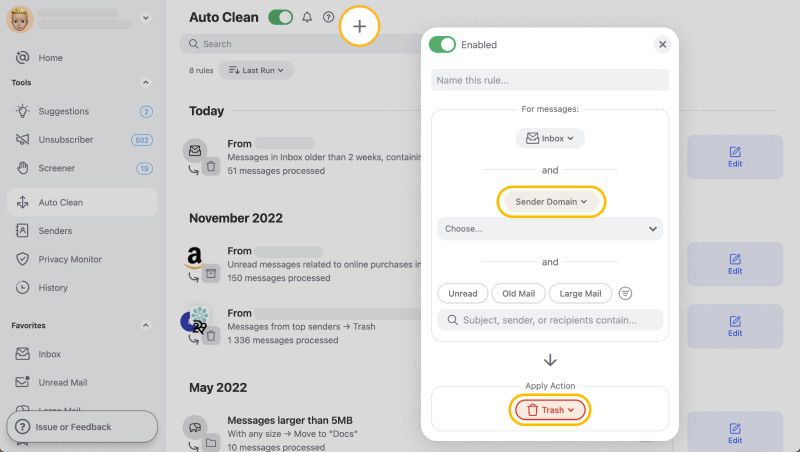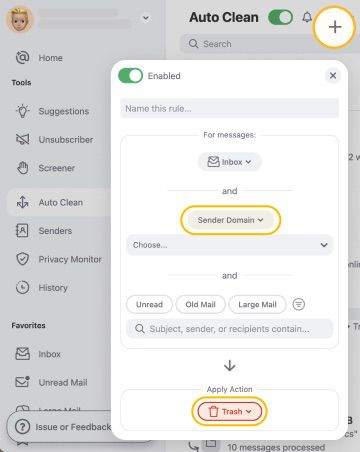 Smart Views
Smart Views will bundle all similar emails into easy-to-access groups. For example, all social media related notifications will be in one place. You can then narrow your search by selecting 'emails older than one year' for example.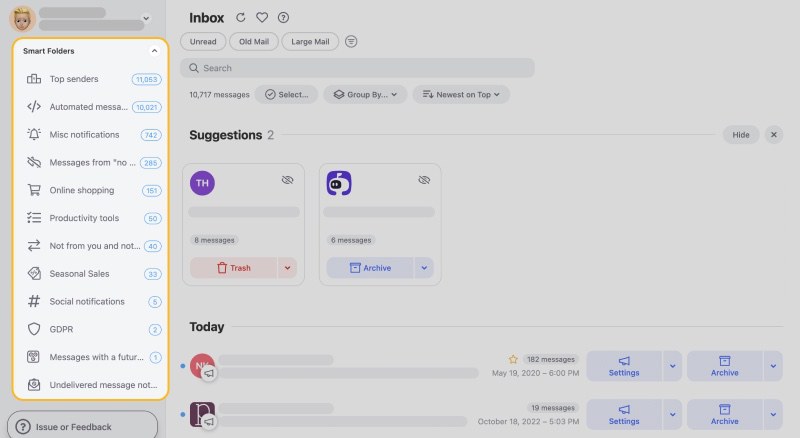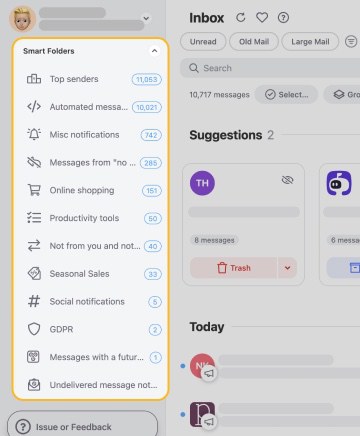 Smart Views makes locating emails easier, meaning you can focus on more important tasks and reply to emails quickly.
Unsubscriber
Unsubscriber makes removing your email address from unwanted mailing lists easy. All you need to do is click the Unsubscribe button or choose to Read Later. By choosing to read later all emails will filter into a different folder, meaning your inbox won't become clogged.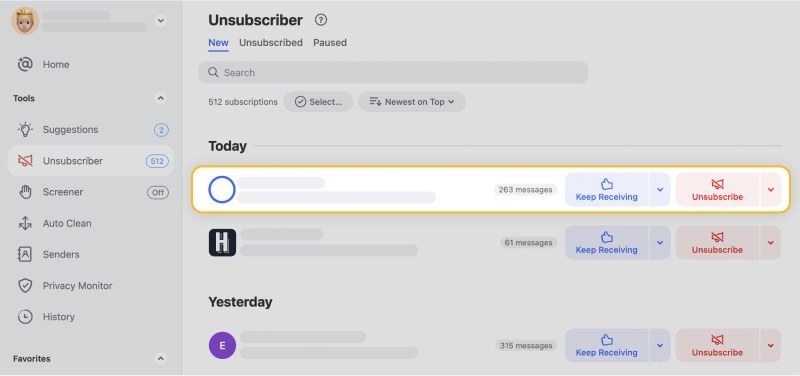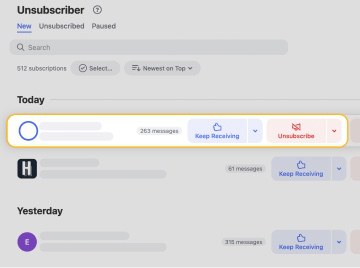 Clean Email cares about your privacy and security, so don't worry about that. The app never shares or sells personal information to any third parties.
Other helpful articles:
How to Delete Yahoo Account
---
Delete Email Accounts on iPhone - FAQs
How do I delete a Gmail account from my iPhone?
You can delete it within the Gmail mobile app. However, this will not delete the account completely, just remove it from your mobile device. To delete an account permanently, go to your Google Account settings on a desktop.
How do you remove an email account from the Gmail app?
To remove an account from your iPhone head into the Gmail app. Tap your Profile picture → Manage Accounts → click Remove.
Why can't I remove a Gmail Account from my phone?
You may have to remove it within your iPhone settings or from Safari.
How do I delete a Gmail account from my Samsung phone?
To delete it from your Android phone, head into the Settings → tap Accounts → tap the account → tap Remove.