How to Delete All Emails on Gmail at Once
Understanding how to delete emails in Gmail may seem tricky, especially when dealing with a bulk of messages. However, various methods exist for web browsers, iOS Mail, or the Gmail app. Each method has its pros and cons, check out this video to quickly run through all of them.
How to Delete All Mail in Gmail on Web Browser
If you want to delete all of your messages in Gmail (i.e. All Mail), you can do so by following these steps:
Navigate to Gmail in your web browser and sign in.
After logging in, find All Mail on the left side to see all your Gmail messages, including from Primary and other categories. (💡 Note: you may need to first click on the dropdown labeled More on the left side to see All Mail.)
Within All Mail, click on the check box on the left side directly above all of your messages.

Once you've clicked the checkbox, a message stating 'Select all … conversations in All Mail' will appear above your emails. Click this blue text to select every message in your Gmail account.
When everything is selected, click Delete (the trash can icon).

Now, all messages will be moved to your Gmail's Trash folder. From there, you can permanently delete Gmail emails to empty the account's storage. (💡 Note: Emails in the Trash folder still use storage, but they'll be auto-deleted after 30 days, freeing up space).
How to empty Trash in Gmail
Navigate to the Trash folder and select the Empty Trash now option, assuming you're certain that you won't need to recover deleted Gmail emails in the future.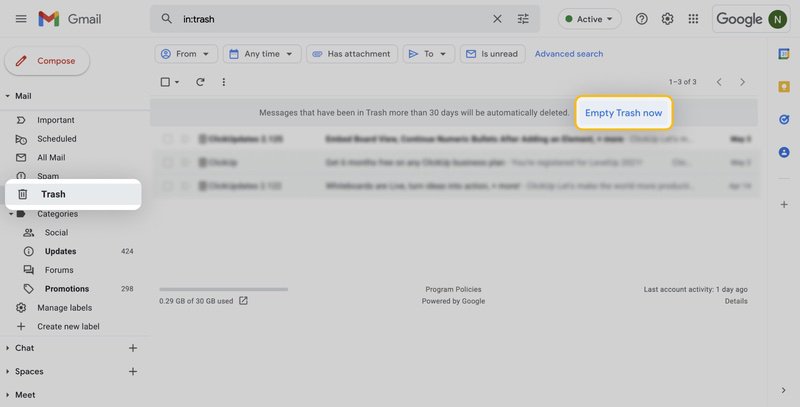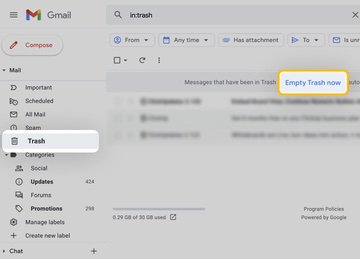 ⚠️ Warning: Keep in mind that once you permanently delete these emails, you cannot retrieve them. Additionally, Gmail automatically empties the Trash folder after 30 days, making those emails irretrievable as well.
How to delete entire Gmail inbox
Obviously, there are times when you may not want to delete every single message in your entire Gmail account, but rather just clear out messages from your Inbox.
Here is how to empty Gmail Inbox:
Pull up your Gmail account via your preferred web browser.
Select your Inbox (if not already selected). From here, you can use the checkbox at the top left to select all conversations.

This will select every conversation on the first page, but you can click on the blue 'Select all ... messages in Inbox' option to choose everything.
Click the Delete icon.

Navigate to your Trash folder and repeat the process

described in the previous guide

to permanently delete these messages.
How to Delete All Gmail Emails at Once on Phone
When it comes to deleting all Gmail emails at once, it's important to note that the Gmail mobile app doesn't offer this feature. You can, however, delete multiple emails simultaneously. Despite not being the quickest method, this approach is favored by many users for its convenience in tackling an overflowing inbox on the go.
Here is how to delete all emails in Gmail app on iOS devices:
Launch the Gmail mobile app on your iPhone.
Tap the icon just to the left of an email to 'tick' it and reveal tick boxes for all of the other messages you no longer need.

Click the Bin icon in the top right of your screen.
(optional) Click the three horizontal lines in the top left of your screen. Go to the Bin section, and click Empty Bin now at the top of your screen.
As highlighted earlier, using this method to delete all emails can be quite time-consuming, especially if your inbox has grown significantly. For a more efficient solution, we suggest turning to the Clean Email app (for iOS and Android users), which we'll discuss in detail in the next section.
💡 Not an iPhone user? Well, if you'd like to delete all emails at once on Android, you'll need to either use the tedious method listed above for iOS devices or take advantage of a third-party email management app like Clean Email.
How to delete all emails on Gmail at once using iOS Mail app
Naturally, this only applies to Apple users and so, if you are on Android, skip to the next section. If Apple Mail is your email client of choice instead of the Gmail mobile app, the steps for removing your messages are the following:
Open Mail App.
Under Mailboxes at the top of your screen, select Gmail.
Click Edit in the top right of your screen.

Click Select All in the top left corner.
Click Move and select the Bin folder to get rid of all unwanted mailings.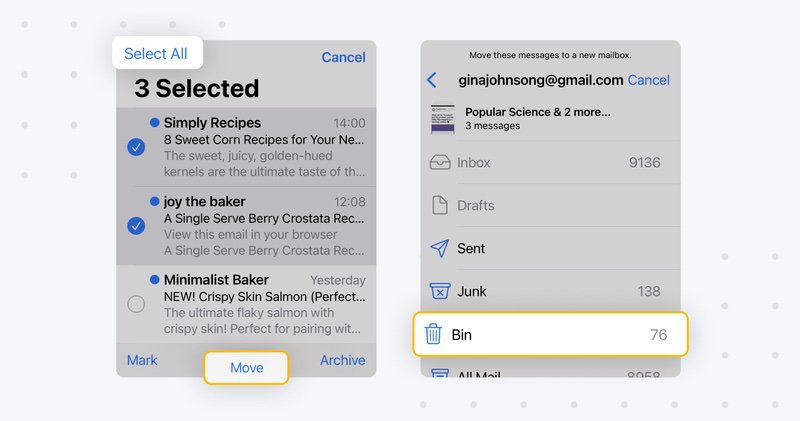 How to Completely Clean Up Gmail Inbox with Clean Email
The Clean Email app organizes your messages into easy-to-review bundles, allowing you to assign generic actions to similar emails in certain categories. This simplifies inbox management, which used to take hours, and provides an easy way to delete Gmail emails in bulk.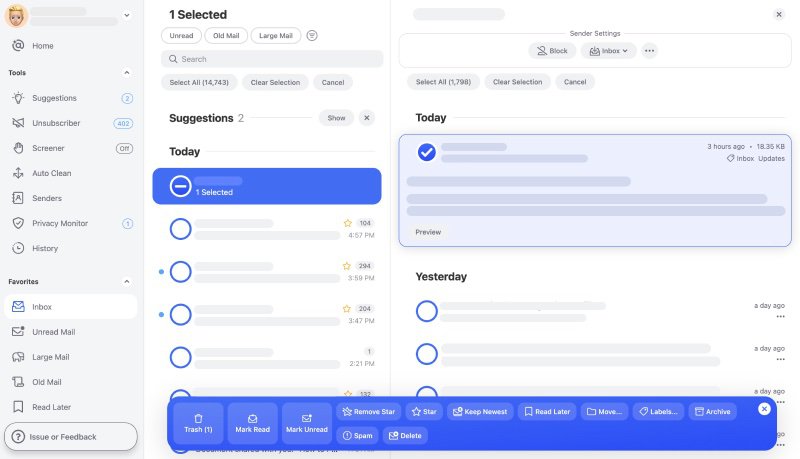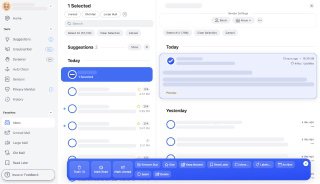 Once you set up an account with Clean Email, it's easy to use this app to clear out your Gmail inbox. In fact, the app can help you learn how to delete all Gmail emails at once without jumping through all the hoops Gmail's desktop and mobile apps have in place.
To delete email messages from your Inbox (not All Mail), follow these steps:
Go to https://app.clean.email and sign in with your account.
Select Inbox from the options on the left-hand side.
Once your inbox appears, click the Select All option under the search bar if you want to remove ALL of your messages from Inbox. In case you need to delete only several messages, mark the empty checkbox on the left of the email groups of your choice.
Once all the messages are selected, click the Trash button on the action bar at the bottom.

A confirmation pop-up window will appear. Click on the Confirm button to proceed.
(optional) If you wish to apply the same action to all future messages from a certain sender, select the email group, then click the Create Rule button. Under the Apply Action section, select Trash. Additionally, you can use the Edit button to define further rule criteria such as email age, size, and more.

Once you've set your desired criteria, click on the Create Rule button once more. This action will ensure that all future messages from the same sender are handled according to your new rule.
Once the rule is set, you will see it added to the Auto Clean dashboard. From there, you can conveniently manage your automated rules by pausing them when necessary and editing the rule criteria.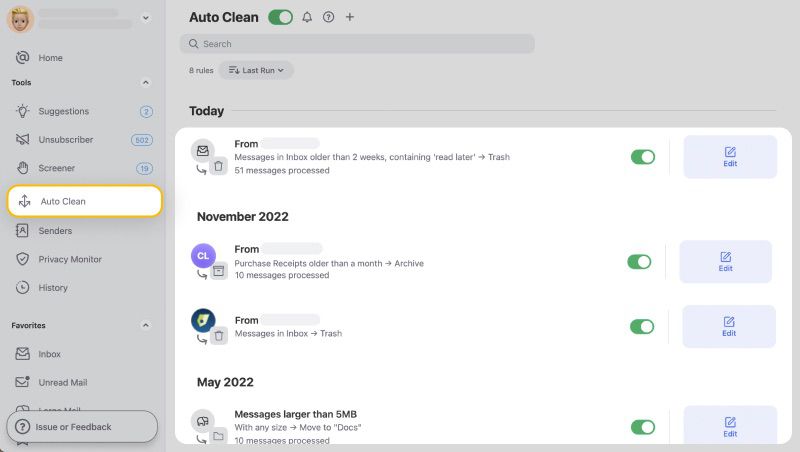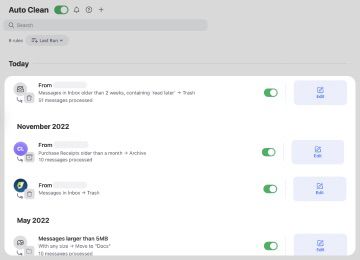 While the method above is great for a full inbox clear-out, it might not be the best if you have important or starred emails to keep. If so, you can use Clean Email's filtering options to delete only certain messages. This is really useful if you're trying to delete old emails in Gmail, or just want to delete large messages in Gmail.
To use Clean Email's filters, follow these steps:
Sign in with your mail account at https://app.clean.email
Select Inbox from the left-hand side of the page.
Above the search bar, you can choose to only see emails that are read or unread, messages older than a certain date, or narrow down the search in other ways by clicking the Filters funnel icon.

When you tap the Filters funnel icon, you can select emails based on specific labels, starred status, or even by the sender.
After setting your filters, only the relevant messages will show up. You can then select all of these using the Select All option above the messages.
Now, proceed with

Step 4 from the previous guide

.
If you deleted messages you didn't mean to, don't worry! There are ways to recover deleted emails from Gmail as long as you haven't emptied your trash just yet. Follow thes0e steps:
Find the necessary messages within your Trash folder.
Click the checkboxes next to the messages you want to retrieve.
Click the Restore button located at the bottom of the blue action bar.

Click Confirm to retrieve the messages.
You may also find the Keep Newest feature useful. It allows you to keep the latest email from a sender while deleting the rest, ensuring you have the most recent correspondence available.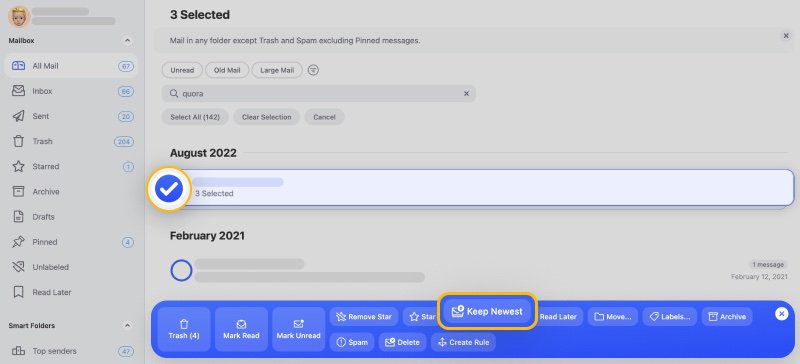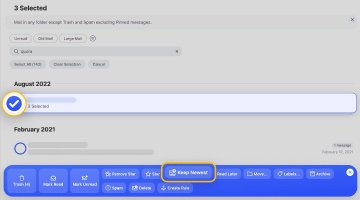 For more Gmail tips, check out our guide on how to Delete All Emails from One Sender.
How to Delete Specific Emails in Gmail
When it comes to email deletion, sometimes a full inbox cleanup isn't necessary. Instead, you might want to remove specific messages while retaining others. Let's go through the process of targeting and deleting certain emails in your Gmail account for a more personalized approach to inbox organization.
Delete Gmail emails before a certain date
Here is how to delete emails in Gmail before a certain date using a web browser:
Sign into your Gmail account in the web browser.
In the search bar type "before: YYYY/MM/DD" to show all of the email messages you have before that date.

(optional) To narrow down your search further, type "after: YYYY/MM/DD" alongside the 'before' search to show all the messages you have after that date.
Make sure to select To yourself below the search bar. This step is necessary if you want to avoid deleting your sent items as well.

Click the empty checkbox located above your messages to select all emails, and then click the Trash bin icon positioned to the right of the checkbox.

How to delete all messages in a category
When your Gmail account is cluttered with emails from different categories, you may want to focus on clearing out one category at a time. Follow these steps:
Log into your Gmail account.
Click on the desired category on the left.

Click the checkbox at the top to select all emails on the current page.
Click Select all conversations in [category] above your emails.
Hit the Trash bin icon. The emails will be sent to the Trash folder.
Just as easily, you can target and delete unread Gmail emails in your account. To do this, type "is:unread" (no quotes) into the search bar, which will then display all unread messages. This action can be performed for your Inbox, All Mail, or within a specific category or folder. For instance, typing "is:unread in:promotions" (no quotes) will display all unread email messages in the Promotions folder.
Conclusion
Keeping your Gmail inbox tidy and well-managed is crucial for effective communication and productivity. This task can be easily achieved by deleting Gmail emails you no longer need, targeting specific ones, or clearing out entire categories. If manual deletion seems time-consuming, consider leveraging tools like Clean Email for automated email management. This app simplifies the process by bundling similar emails, allowing you to delete them in bulk, thus saving time and enhancing efficiency.
---
How to Delete All Emails on Gmail - FAQs
Is there a way to delete all emails in Gmail?
Yes! You can select all messages in your All Mail folder and remove all of them in Gmail on the web. Alternatively, you can use the Clean Email app to delete all or multiple messages using advanced filters and automated email rules.
Why delete all Gmail emails you no longer need?
Deleting unwanted emails on Gmail is a crucial step toward maintaining an organized and manageable inbox. With a clean inbox, it becomes easier to locate important emails and keep track of ongoing conversations. Moreover, it helps you avoid reaching your storage limit, ensuring the smooth operation of your account. Our guide on how to delete Gmail emails will help you accomplish this task efficiently, enabling a more productive email experience.
Why can't I delete all my emails at once on Gmail?
There may be an issue with the email app you are using. You can try to delete all messages on Gmail in your web browser as you shouldn't experience any issues with this method. Alternatively, you can try the Clean Email app to remove all messages easily and fast.
How to delete all Gmail emails at once on Android?
While it's not possible to delete all messages at once in the Gmail mobile app, you can manually select multiple emails to clean up at a time. For a more time-efficient way to handle large amounts of email on the move, consider using the Clean Email app, a smart tool designed to automate and streamline email management.
How do I delete more than 50 emails in Gmail?
To delete more than 50 emails in Gmail, use the 'Select all' feature on the web. After choosing a specific category or conducting a search, select the checkbox at the top of the messages, then click on 'Select all conversations that match this search' and finally hit Delete.