What is a Unique Email Address
A unique email address is simply a form of identification for you or your brand - a name that only you have access to. It functions as a unique signature so people who interact with you can identify you anytime and anywhere. It could be a custom email such as contact@mybrand.com or simply mybrand@gmail.com. The important thing is that it is unique, it intrigues, it is only owned by you, and it can always be remembered.
Why Your Mail Account Has to Be Distinctive
There are 7 billion people on the face of the planet today. Other than the fear of global warming, being lost or unrecognized as a person or business is another thing that accompanies the problem of the world population.
While some people want to live their lives without being noticed, that does not apply for businesses. As a business, not being known is equivalent to not making an impact, and not making an impact equals not succeeding at the level you ought to. This is why everything from your business name,logo, and domain needs to be distinctive.
How to Create a Unique Email Address
Creating a unique email address for personal or business use isn't at all tricky. Being creative and attentive is how you can create distinctive addresses for business or pleasure.
Here are a few tips on how to make a unique email address for personal usage, and for your brand.
Make it memorable: Having an account that is hard to pronounce will be a problem to always remember. Ensure that the name used is common spelling and makes sense when pronounced together. For example, instead of pizadirect2ry@gmail.com, go with the known spelling pizzadirectory@gmail.com.
Make your email distinctive to you or your business: As a business or even an individual, in order to avoid being confused for another user or brand, ensure your chosen name is distinctive to you and you alone. As an individual, if you have a pretty common first and last name, it will be preferable to add a middle name. For brands/companies, ideally, your brand mail address should always be a customized account bearing your brand name. This means that picking the right domain for your company goes back to picking the right name for your business. Like picking a name for your personal account, the same principles apply. Pick a name with no name variation with any other brand.
Pick a name that reflects your personality: Whether you're crafting an address for personal emails or representing a lifestyle brand, your chosen name should resonate with who you are or what your brand embodies. For instance, if you're passionate about sustainable living and your brand reflects that ethos, choose an email variation that communicates this commitment clearly.
Stay away from rare characters: If you have to use a character in your emails, ensure you stay away from rare characters. Use only common characters.
Use popular service providers: Using service providers that aren't common might affect your account uniqueness. Always use popular service providers such as Gmail, or Yahoo Mail for your personal mail.
How to Find a Unique Domain Name
Having trouble generating your own mail address or brand name or simply just looking for domain name or unique email address ideas, here is a list of unique email address generators that can give you creative ideas.
Other domain generators are LeanDomainSearch, BustAName, and Shopify name generator. So if you have been asking the question of how do I find a unique domain name, these tools alongside the listed tips can help you achieve just that.
How Clean Email Simplifies Email Management
Instead of having to manage emails one by one, Clean Email can help make the process automated.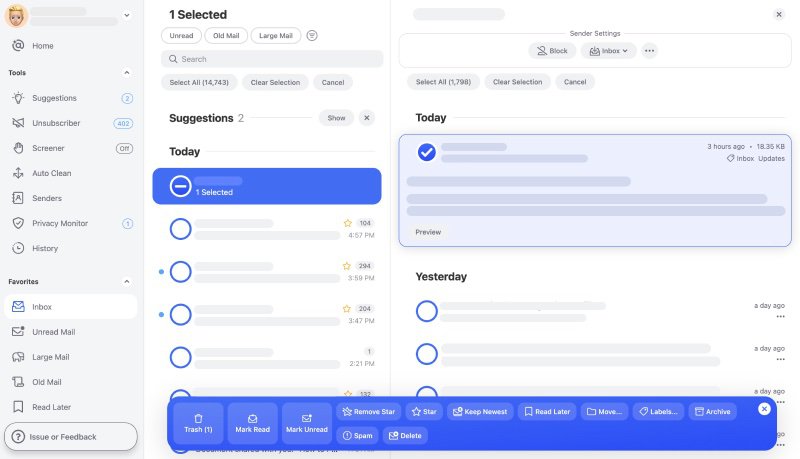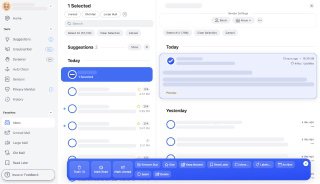 Clean Email is a privacy-conscious third-party application helping millions of users manage their mailbox. The app supports a variety of service providers and can be used across all devices.
Conclusion
Having a unique email address as a business and as an individual is very important both for business success, for ease in identification, and for professionalism. Having a distinctive mail account is not all, using Clean Email to manage your mailbox is how you can make the most out of your emails.
---
What is a Unique Email Address — FAQs
What is a unique email address?
It is an account with a name that belongs to you, and you alone. This means there are no variations of the said name. Check the full article to get into more details.
How do I get a unique email address?
Getting a unique email address is all about being creative with your use of words. With over 4.3 billion emails in existence, it is unlikely you will find your desired mail account. Learn the best tips on how to come up with a unique name creatively.
Should you use your name in your email address?
Using your full name without adding numbers or symbols is perfect. However, there is a slim chance you will get a mail address with your full name. If you find your name available, then by all means use it. However, if you did not, check out the full article for alternatives.
How do I find a unique domain name?
You can use a domain generator like Namefresh, BustAName, or LeanDomainSearch to come up with your own unique domain name.