As a business owner, it's your responsibility to protect the privacy of your customers and business partners. Even a couple of leaked email messages can wreak havoc on your reputation and cause you to lose business. To prevent that from happening, you should consider using an encrypted free business email account provided by ProtonMail.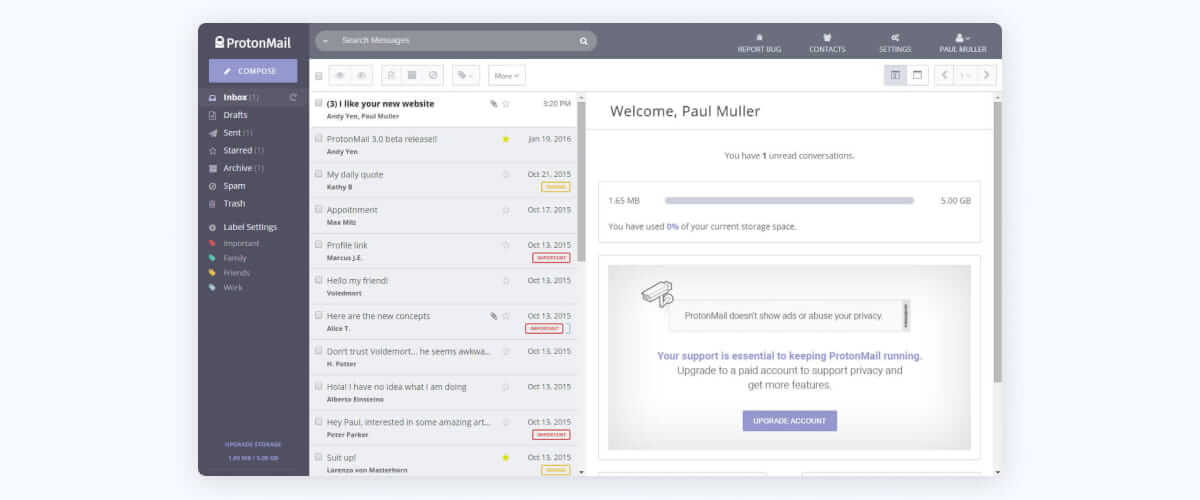 Based in Switzerland, a country with strict privacy laws, ProtonMail is an end-to-end encrypted email service designed with privacy and anonymity in mind. When setting up a ProtonMail account, you don't have to enter your real name, telephone number, or any other personal information. You simply pick a domain name, choose a secure password, and that's it.
With a free ProtonMail account, you get 500 MB of storage space, one email address, and 150 messages per day. To increase these limits, you have to pay 5.00 € a month for a Plus account, 8.00 € a month for a Professional account, or 30.00 € a month for a Visionary account. Most small business owners will be fine with a Professional account.
Pros: Excellent security, cares about your privacy, iOS and Android app, based in Switzerland.
Cons: Limited email storage space, only 150 messages per day for free.