Gmail Labels Help Organize Messages
Many people use Gmail labels to easily organize and sort messages. With these labels, you can easily filter emails in Gmail based on whatever criteria you use to sort messages into labels. Once messages are labeled, you can look at all the messages with a specific label, apply bulk actions to these emails, and more.
Unfortunately, applying these labels to individual messages takes a lot of time and energy. When you receive dozens or even hundreds of messages per day, the last thing you have time to do is sit and sort all of the mail. Thankfully, there are ways to automate the labeling process, both in Gmail and Clean Email, which we will explore in-depth later on. Below is a video tutorial available for you to learn how to filter emails by creating a rule in Gmail.
💡 Note: This guide explains how to automatically label emails in Gmail once you've created the labels you wish to use. If you find that you don't need labels later on, you can read our tutorial on how to delete labels in Gmails.
How To Make Gmail Automatically Label Incoming Emails
You can create Gmail auto label rules so that incoming messages receive an assigned label automatically. Let's take a closer look at how to automatically move emails to a label in Gmail.
How to auto label emails in Gmail web app
Open your web browser and navigate to your inbox.
In the search box at the top, click Advanced Search.

Enter terms to match specific messages. (Ex. Type in From:(sender) to find messages from a specific email address.)
Click Create Filter at the bottom of the search window.
Check Apply the Label.
Next, choose a label from the drop-down list.
Click Create Filter in the bottom right corner of the search box.
How to auto label emails in Gmail mobile app
Unfortunately, you cannot set up Gmail auto label through the mobile app. Instead, you'd need to open webmail from your device or move to a computer. A more convenient way to create email rules is by using the Clean Email app on your iOS or Android mobile device.
📌 Looking for more helpful tips? You can also auto archive in Gmail or learn how to auto delete emails in Gmail if needed.
Automate More Inbox Tasks With Clean Email
The Clean Email app offers a more personalized and customizable solution for email management than relying on Gmail's automation features. Thanks to the app's Auto Clean feature, you can set up inbox automated rules for labeling new mail, deleting messages from specific senders, mark as read/unread, and more.
Here's how to have Gmail automatically label emails by using the Auto Clean feature:
Open your web browser and go to https://app.clean.email/. From there, sign in using your email account credentials.
Locate the message you want to apply the rule to in your All Mail folder or use the app's search bar.

Additionally, the app's email filters, including Old Mail, Large Mail, and more, can be utilized to establish more precise parameters.

Select the message and click the Create Rule button at the bottom action bar.
In the Apply Action section, choose Change Labels.
Select an existing Gmail label or type a new label name, then choose "Create (label)".
Optionally, turn on the toggle for "Apply to existing messages" if you want the rule to apply to previous messages from this sender as well.
Click the Create Rule button to confirm.
You can create more Auto Clean rules to label any number of messages. However, you can also use this tool to automate other inbox tasks. For example, you can set up a Keep Newest rule to only keep the latest version of specific emails (this feature is not available in Gmail), or you can set up an Archive rule to automatically archive messages older than 1 year.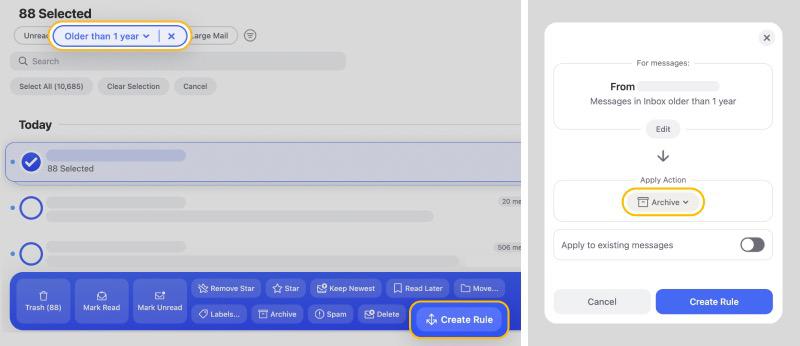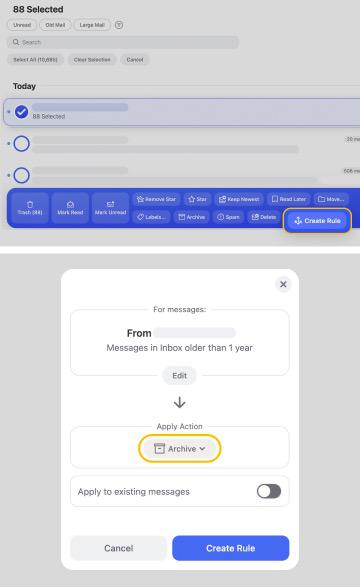 Unlike Gmail, Clean Email's Action History Summary will keep you up-to-date about all of the Auto Clean rules and other actions the app has taken on your behalf to maintain a clutter-free inbox. This is a great way to make sure you don't miss any messages along the way, and it helps you verify that the Auto Clean rules you set up are in fact working.
Also, Clean Email has the added benefit of Smart Folders, which are predefined filters the app applies to messages in your inbox. By using these filters, you can apply automatic rules to the Smart Folder rather than having to manually locate individual emails in Gmail and manage them from there.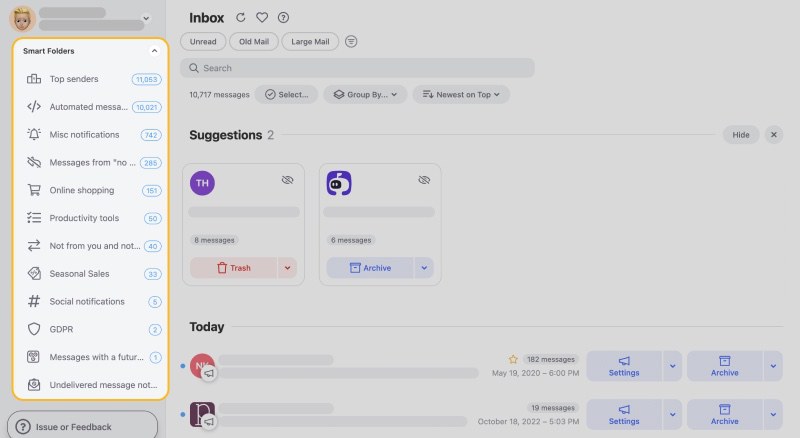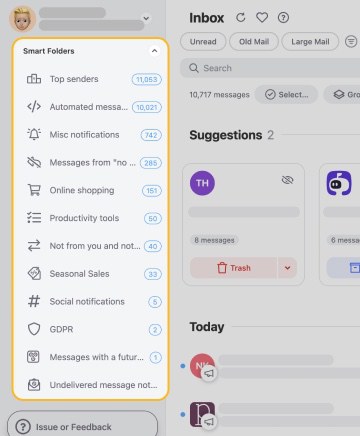 For example, you can set all "productivity tools" messages to the trash or all "finance" emails to go into a dedicated folder. This lets you quickly set up automation for large quantities of emails at once, which is something Gmail cannot do since you can only Gmail auto label from sender or keyword.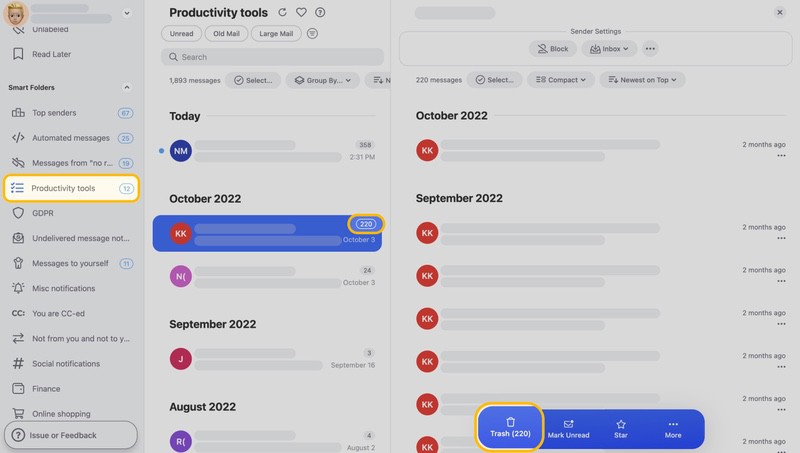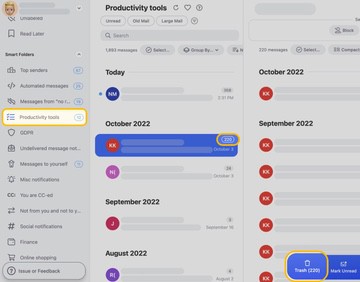 Other key features include:
Senders, which lets you control each sender found in your inbox so you can block, mute notifications, create Auto Clean rules, and more
Unsubscriber, which helps you unsubscribe from all mass mailings that clutter your inbox without having to look for every newsletter individually
Screener, which prescreens messages from unknown senders and places them in a special quarantine folder until you review them and decide to block or allow
Privacy Monitor, which checks your email address against known data breaches and helps you keep an eye on your inbox
Conclusion
Clean Email offers a range of advantages over using Gmail's built-in rules for email management. While Gmail rules can be useful, Clean Email is better suited for those who desire a higher level of customization and control over their inbox. The app's filters and automation options are more comprehensive and flexible than those provided by Gmail.
Additionally, Clean Email's focus on privacy is a key advantage for users who value the security of their personal information. Unlike some other email management apps, Clean Email does not read the contents of your emails or attachments, and will never sell or share your information with third-party companies. With this app, users can enjoy a more secure and personalized email management experience.
---
How to Automatically Label Emails in Gmail - FAQs
Can Gmail automatically label emails?
Yes, Gmail can automatically label messages. You just need to set up the labels first, then you can create a filter that will automatically do this for you. However, if you prefer the convenience of creating email rules from a mobile device, Clean Email app is the ideal choice. With its user-friendly interface and advanced features, Clean Email enables you to easily manage your emails and apply rules while on the go.
How do I make certain emails go directly into a folder in Gmail?
If you select a message and choose "Filter messages like these," you can set up messages that meet these criteria to go directly into the folder you specify.
Can you automatically organize emails in Gmail?
You can create filters that organize your Gmail messages in any way that you prefer. You can automatically organize your emails based on specific criteria such as sender, subject line, and keywords. For a more comprehensive inbox management solution, consider Clean Email's advanced automation capabilities.