4 Tips On How To Find Unread Emails In Gmail
One terrible habit that can build up over time is leaving emails unread with the intention of checking them out later. By the time you remember that there is something that you need to read, the email has slid off-screen and is lost among potentially hundreds of others.
But, with all the emails the app can store, how can you find unread emails in Gmail that you've let slide off the front page? Luckily, Gmail has many helpful features to help you quickly find messages that are not read yet.
1. Search Bar
At the top of the screen sits Gmail's search bar. If you need to know how to find unread emails in your Gmail inbox, this works great - as long as you know who sent you the email you are looking for or the keywords from the subject line. In the search bar, type is:unread. Add the keyword after is:unread to narrow your search results.

However, the search bar can be used for much more than this. Toggling the options bar (shown as three sliders on the right-hand side of the search bar on desktop) opens Gmail's Advanced Search and allows you to pick from a selection of search criteria. You can perform a Gmail search by date, whether it has attachments or many other criteria.

Check out our article on Gmail search operators for a guide to everything this feature can offer.
2. Filters and Labels
Gmail offers many ways to filter your emails. You can use Gmail labels, which are essentially folders that you can use to categorize and store groups of emails easily.
For example, if you often receive emails with marketing reports and you want to keep these to read later, but you don't want them clogging up your inbox, you could select them as they arrive and add the label 'Reports' to them.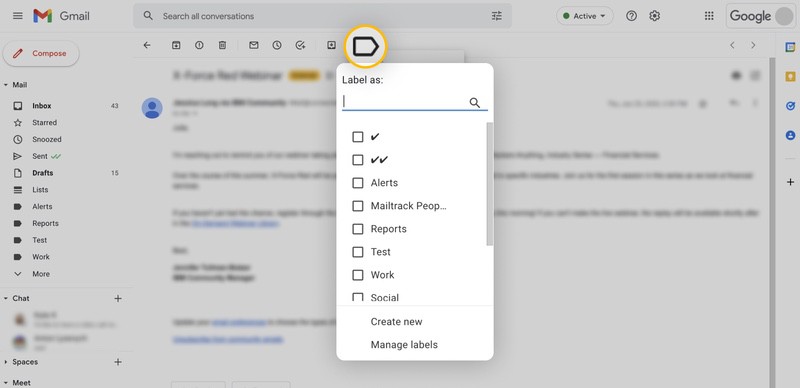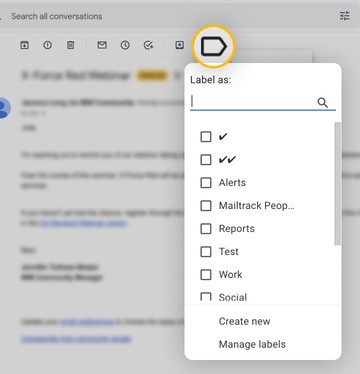 You can then apply a filter to the existing emails and apply it to future incoming emails to move them automatically to the label/folder where you want these contained, skipping the inbox.
When you want to read these unread emails, you click on the corresponding label, and you'll be shown all the emails sorted there. Check out our in-depth article on how to filter emails in Gmail if you want to know more.
If you want to know how to select unread emails in Gmail based on their label, click on the label to be shown all the messages that meet that criteria, and then click the toggle box and select Unread to filter this selection further.
However, there is an easier way to create automated rules in Gmail and you may try the Clean Email solution for this. Here is how to label unread emails in Clean Email automatically:
Go to the app's login page and connect your Gmail account.
Click the Auto Clean tool from the left-side panel on the main dashboard.
Click the + button to create a new rule.

Click the Unread filter and specify the other rule's criteria such as selecting the sender's domain (if you want to filter messages from a specific sender), keywords that the email subject should contain, and the action that should be applied to these messages. For example, you can send them to Trash, move them to a specific folder, archive or delete unread Gmail emails permanently, and more.
When all the rule's criteria are specified, click Create Rule and confirm your action once again.
Check out our other article for the full guide on how to mark all messages as read in Gmail.
3. Use the "Unread First" Feature
One of the best ways to solve the mystery of how to find unread emails in Gmail app is not to lose them in the first place. Gmail offers an incredibly helpful feature that allows you to locate emails quickly - The unread first option. When enabled, it will arrange your emails so yet-to-be-read messages appear first. Read emails are then shown below, in date order.
To enable this option:
Go to your Gmail Settings → See all settings.
Select the Inbox tab.
Change Inbox type to Unread first.
Click the Save Changes button.
Need to know how to find unread emails in Gmail app on iPhone? Whether you need to know how to search email on iPhone, Android, or desktop, Gmail has made it incredibly easy, as each version of the app functions similarly. Better yet, these settings are saved within your account, not your device, so wherever you log on, your account will function in the same way.
4. Use better mailbox management tools
Because Gmail exists in the cloud, rather than directly on your device, there are online tools that can actively sweep your Gmail inbox and help manage it for you. Clean Email is one such tool. As a bonus, it is privacy and security-centric.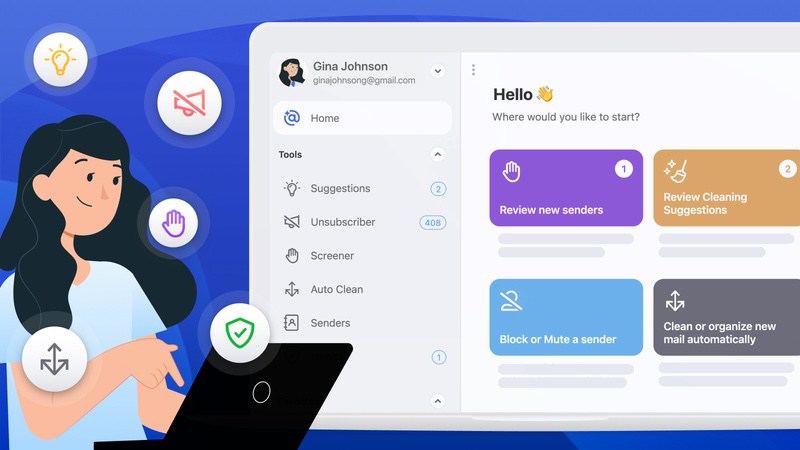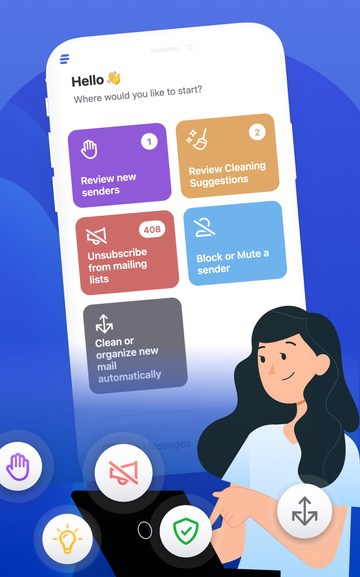 Clean Email is a handy tool that sits on top of your Gmail account, monitoring and sorting your emails. It's also able to filter out messages from unknown senders and newsletters - which can be a great help if you're looking to declutter your inbox and locate that unread email.
Clean Email will also help you set up filters to organize your emails better so that future messages are sent straight to the right folder/label automatically, thus helping you use Gmail effectively.
Using Clean Email To Find Unread Emails
As we're concentrating on how to find unread emails in Gmail primary (the main inbox), let's see how we can do that using Clean Email. This app will help make your Gmail inbox clean and organized and will help it stay that way.
Here is how to search Gmail for unread messages using Clean Email:
Launch the app and click the Unread Mail filter from the left-hand option panel (in case you want to select all of these messages, click Select → Select All).

From here, you can also sort Gmail unread messages by Newest on Top or Oldest on Top, and more (these filters are located below the search bar). A particularly handy option is Number of Messages (High to Low), which lets you spot the biggest inbox abusers.
It is easy to apply actions to those messages further. Select the messages you need and choose an action from the action bar at the bottom. For example, you can mark these messages as read, and more. The only thing you cannot do within Clean Email is to send a reply as this is not an email client.

You can also create an automated email rule (Auto Clean feature) to filter unread messages automatically. For example, if you want certain messages to be moved to another folder automatically, without sitting as unread in your inbox, select the message and click Create Rule on the action bar from the previous step.
Fill in the rule's criteria and create the rule.
Clean Email also has a feature - Smart Folders, which applies predefined filters to your mailbox (like 'Social notifications' or 'Travel' emails). For example, if you wanted to check out your unread shopping-related messages, you would click the 'Online shopping' folder and then click the Unread filter above the search bar.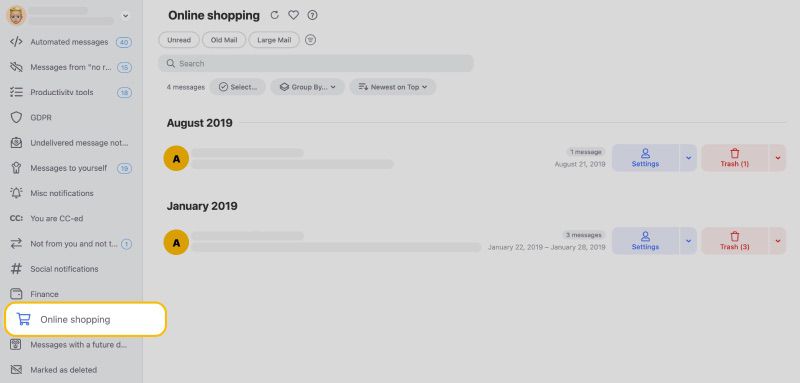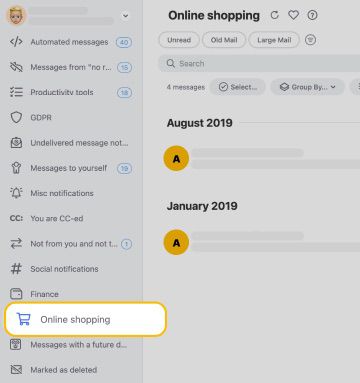 The software offers other useful features, such as Unsubscriber, which helps you force email senders to unsubscribe you upon request.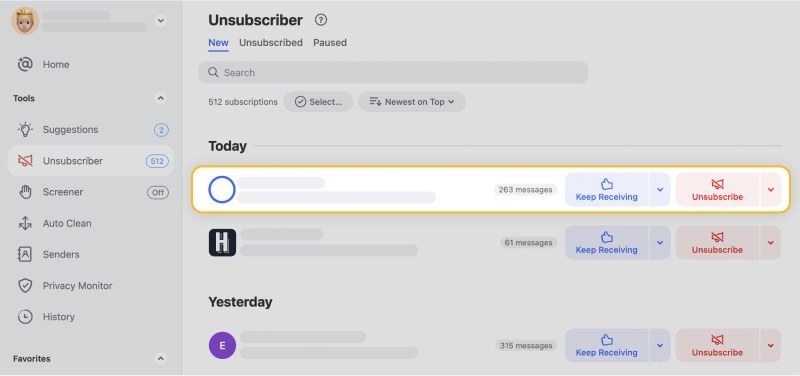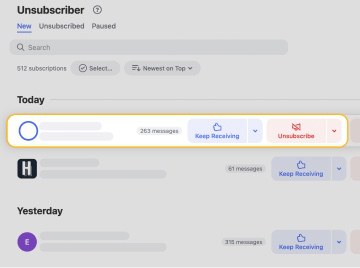 Just choose the subscriptions you no longer need and click Unsubscribe or send them to the Read Later folder to get back to them later.
---
Gmail Search For Unread - FAQs
Why can't I find my unread emails in Gmail?
Generally, there are three reasons why you might not be able to find your messages:
1. You have accidentally clicked on it, and it is no longer marked as unread.
2. You have a filter that has forced the email to skip the inbox.
3. You have so many emails in your inbox that the unread message has moved down the page.
How do I view unread messages?
One easy way to find unread emails is to click on All Mail option (top left on desktop). Then use the toggle box to the right of this to select Unread. This is how to select all unread emails in Gmail. If you only want to select unread emails under a specific label, navigate to the label and click on Unread.
How do I find unread emails in Gmail app on iPhone?
To find your unread emails on an iPhone's Gmail app, open the menu bar at the top left. Select Unread folder from the dropdown menu. All yet-to-be-read messages will appear in a list.