10 Best New Gmail Features
Google first launched Gmail in 2004 to a small group of beta users, and it has since then improved the free email service by refreshing its design (the last refresh took place last year) and adding new features.
Today, the sheer number of features of Gmail would put many desktop email applications to shame, so it's understandable that many users are not familiar with new Gmail features that were made public in 2019, 2020, and 2021. If you count yourself among them, don't worry: what we have for you here is a list of the top 10 best new Gmail features you absolutely need to know about.
1. Dynamic Email
On July 2, 2019, the Gmail development team made public a feature called Dynamic Email, which allows you to easily take action, such as leaving a comment in Google Docs, filling out a questionnaire, or browsing an online catalogue, directly from within the message itself.
The best thing about Dynamic Email is that you don't have to do anything to take advantage of it. When you receive a dynamic email from a fellow Gmail user, you can simply open it just like any other email and take action without ever leaving your web browser.
2. Quick Access Controls
It was always possible to right-click on an email in Gmail and quick take an action, but the list of supported action grew significantly in 2019. You can now move emails to different tabs, archive or delete them, assign labels, or snooze them (more about the Gmail snooze feature later in this article), just to give a few examples.
What's more, certain actions are now available when you hover your mouse cursor over an email. These options include email archiving, deleting, marking as read, and snoozing, and they make it far easier to deal with a whole bunch of unread emails (but not as easy as Clean Email).
3. Collapsible Side Panel
The chances are that you've already noticed that there's a new side panel in Gmail. Located in this panel are icons that open Google Calendar, Google Keep, and Google Tasks. By clicking the little plus icon below them, install add-ons from the G Suite Marketplace to add more functionality to the panel. The available add-ons include Trello for Gmail, Zoom for Gmail, Asana for Gmail, Slack for Gmail, DocuSign for Gmail, and many others.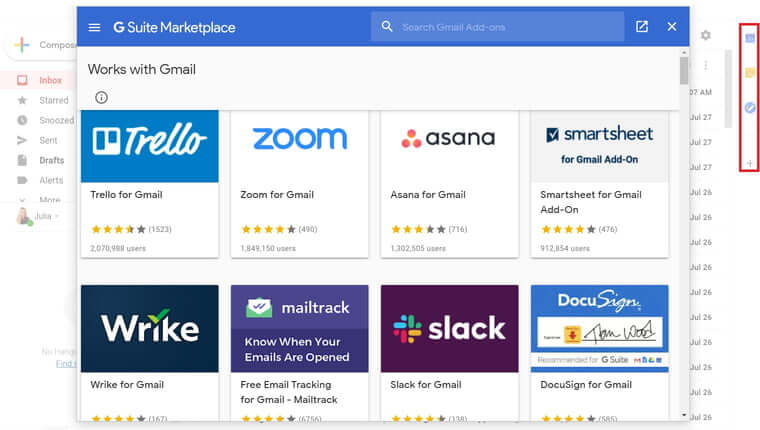 Gmail add-ons are essentially lightweight apps that provide the most essential functionality in a very convenient package. For example, that you receive an email from your significant other, who wants to know if you're free on Saturday. Instead of opening another browser tab and logging in to your Google Calendar, you can simply click the Google Calendar icon located in the side panel and instantly see your calendar.
If this new Gmail feature doesn't excite you too much, you can simply keep the right side panel collapse all the time and safely ignore it.
4. Email Snooze
Have you ever received an email, opened it, and immediately realize that you don't have enough time to write a satisfactory reply? Most Gmail users have experienced the same, which is why Google has recently added a snooze function. To use it, all you need to do is click on the little click icon that is now present right in the Gmail toolbar.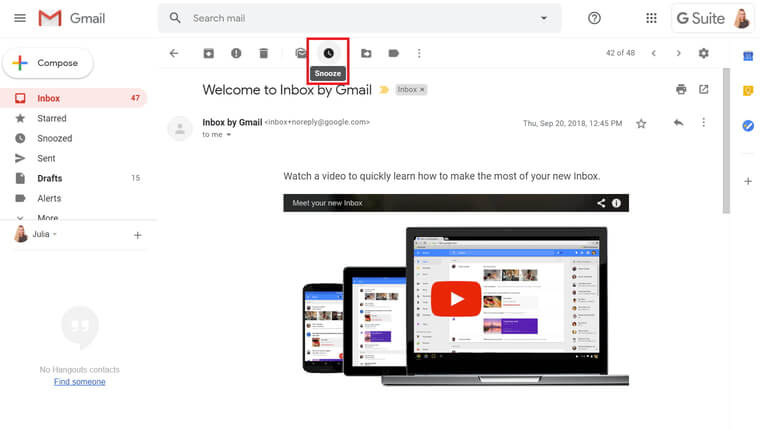 When you do so, a menu will appear and present you with several options. You can either snooze the email until later today, until tomorrow, this weekend, next week, or until any future date you pick. The email will then disappear from your inbox and reappear only when the time comes. If you accidentally snooze an email, you can retrieve it from the "All Mail" inbox.
5. Display Density
This feature includes several minor Gmail new features that we wanted to mention but decided they didn't deserve their own sections. Basically, Gmail now allows its users to pick from three different display layouts. To access them, click on the cog icon located in the top-right corner, select the "Display Density" option. You should be presented with three options:
Default: Allows you to access attachments directly.
Comfortable: This was the default display density before the recent redesign of Gmail.
Compact: Displays more emails by making the spaces between individual emails smaller.
If you tend to open email attachments often, then the Default display density is your best option because it can save you a lot of time and make the tedious task of hunting for attachments in long conversations a thing of the past.
6. Quick Settings
Gmail has an overwhelming number of settings to play with, and most users need just a couple of them. To make it easier for the average user to customize Gmail, Google recently introduced a new quick settings menu, which features some of the most commonly used settings options, including display density, theme, inbox type, and others.
One great thing about the quick settings menu is that it doesn't take up the entire screen, so you can instantly see how each change you make transforms your Gmail inbox. Regular Gmail users should already have access to the quick settings menu, while all G Suite customers should be able to enjoy it from the second half of 2020.
7. Search Chips
Search chips are one of the most exciting new Gmail features in 2020. They are essentially clickable search filters that automatically appear underneath the search box when you make a search, allowing you to easily narrow down the search results to a more manageable number.
There are search chips for displaying only emails with attachments, emails older than a certain number of days, or emails sent by a specific person. To activate a search chip, all you need to do is click on it, and Gmail will take care of the rest.
Search chips can be used together with traditional search filters, so it's not just casual Gmail users who benefit from them. G Suite users were among the first to start enjoying this new Gmail feature, but most Gmail users should already have access to it as well by now.
8. Malicious Document Detection
Even though you can't interact with it directly, this is one of the most important new features of Gmail in 2021. Of course, Gmail has been scanning emails for malware since forever, but it now has a new weapon in its arsenal: deep learning algorithms.
Thanks to these algorithms, Google has been able to increase its daily detection coverage of Office documents that contain malicious scripts by 10% and improve its detection rate by 150%. Just to provide some context for the last number, Google was able to block more than 99.9% of threats from reaching Gmail inboxes even before this update.
You can learn more about how Gmail detects malicious documents by reading this blog post. In short, Gmail users a different scanner for each file format to identify common attack patterns and decide whether the document is malicious or not.
9. Multiple Email Signatures
Email signatures are a great way to make your email messages more professional and recognizable. While it has been possible to attach an email signature to an email message in Gmail for a long time, you can now take things a step further by using multiple email signatures for different occasions.
For example, you can use one email signature for personal messages, a different one for emails you send to colleagues and business partners, and another one for replies. You can create multiple signatures in the Signature section of the General settings tab and switch between them with a single click on the signature menu in the compose action toolbar.
All G Suite customers and users with personal Gmail accounts already have this feature enabled by default.
10. Google Meet
Google Meet is a video conferencing solution and the successor to Google Hangouts. It was first released in 2017 as a commercial service, but Google has since then started to roll it to free users as well by integrating it into Gmail.
Thanks to Google Meet, anyone with a Google account can conference with up to 100 people with no time limits directly from Gmail, by clicking on a button located in Gmail's left sidebar. Google Meet users can share meeting details with guests, turn microphone and camera on or off, give presentations by sharing their screen, chat with meeting participants, and more.
Clearly, Google is going head-to-head with Zoom, which has seen a massive increase in usage and popularity following the outbreak of COVID-19. By directly exposing all 1.5 billion Gmail users to Google Meet, the search giant has a good chance of quickly becoming a major player in the videoconferencing space.
Use Clean Email to Simplify Email Management in Gmail
While it's great that Google is constantly improving Gmail by adding new features, some of the most needed features are still completely missing. To be more specific, Gmail is missing advanced email management features, including bulk email organizations and automated bulk unsubscribe.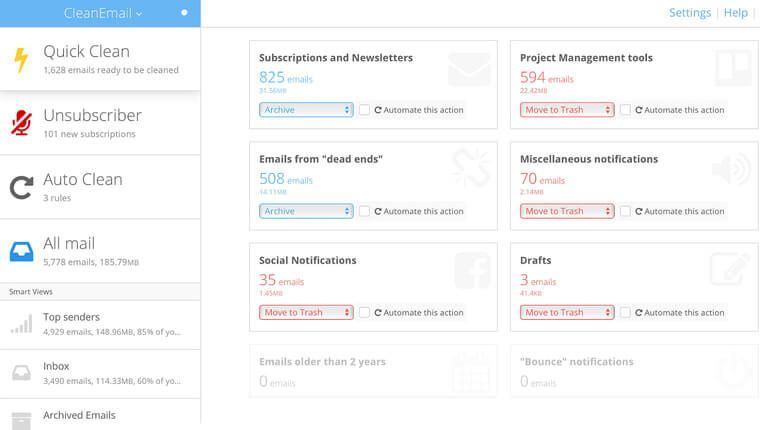 The good news is that Clean Email elegantly fills all the blanks, helping you manage your inbox and be more productive. To get started:
Go to: https://app.clean.email
Log in with your Gmail account.
Then you can tell Clean Email to automatically organize all your emails into convenient bundles or unsubscribe you from unwanted newsletters and subscriptions—all with just one click.
Conclusion
In this article, we've introduced 10 new Gmail features that Google rolled out in 2019, 2020, and 2021. The features we selected included Dynamic Email, quick access controls, collapsible side panel, email snooze, display density settings, and others. While great additions that most Gmail users will appreciate, some of the most important features are still completely missing, especially when it comes to email management. Fortunately, email management is something Clean Email excels at, and it takes just a few clicks to use it to get rid of unwanted emails.